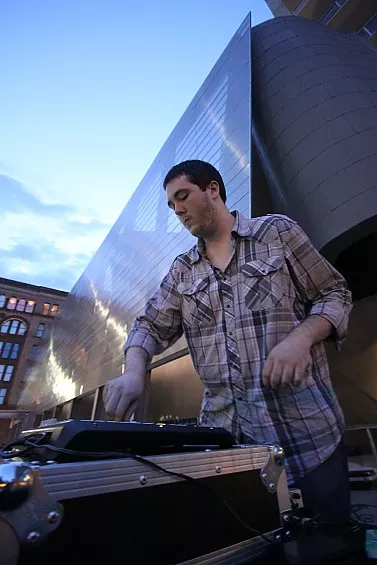 Brea McAnally
Phaseone at the Old Post Office Plaza in June 2010.
Phaseone has long been a source of pride for the St. Louis music scene and its adherents, but in two weeks' time, we can no longer claim him as our own: It is with great displeasure that we bid farewell to Andrew Jernigan, better known as Phaseone. The RFT's Best Producer in 2010 begins his ascent to that Mount Olympus of culture, Brooklyn.
You can bid farewell to Phaseone in person tonight at his farewell show at Sol Lounge. He's gathered a few friends for the soiree, DJs Superconductor and Matt Leach, as well as Parisian (of Safety Words). The event kicks off at 9:30 p.m. and there's no cover, but you have to be 21 to party.
Phaseone is one of the few local artists in town to hit the bigtime, blogwise. His artful re-twerks and liquid electronica have graced the hallowed hypertext of Pitchfork, GvsB and even topped the fickle Hypemachine charts.
While we hate to see any of our own become the cliché we secretly yearn to be, no one doubts that this move is in his best interest. Jernigan tells A to Z that the relocation has been sizzling on his brain pan for about a year. He decided to pull the plug "a little less than a year ago," he says. "Having grown up in St. Louis, I think I've done a lot creatively with dull surroundings. Being tossed into the middle of so many different things to be inspired by seemed like an exciting change."
Right away, Phaseone will be working on a new album, slated to drop in late summer 2011 for Williams Street Records, the indie label out of Atlanta responsible for Adult Swim's musical releases. He hinted at some "interesting collaborations, some for that album and some for other people's projects," but stayed mum on the specifics.
"I'm actually really grateful for having been able to develop in a place with not much else going on I could relate with musically," Phaseone says of his hometown. "I feel like if I had come up in a place like New York or Chicago, I would have been drawn to a scene and I really don't think I fit into one at this point."
His favorite show in recent memory was last summer's memorable Post Performance, curated by the fabulous folks at the Luminary Center for the Arts at the Old Post Office Plaza. "I remember thinking at the time that I would probably never be able to play music in a setting as amazing as that anywhere else, ever," he says. "I actually created a lot of music specifically for that show, and it was great to be able to play it overlooking this gorgeous modern plaza with the antique downtown St. Louis backdrop at sunset, with visuals from Daniel Shown and with my friend Ian Jones from Safety Words opening the show."
What he'll miss about St. Louis? "Of course my family, my friends, all the artists. Tower Grove Park. Forest Park Parkway between Skinker and Kingshighway. Sandrina's on the late night tip."
Show Phaseone some love tonight at Sol; you'll be able to say you knew him when.