As major record labels have struggled to adjust to the new digital landscape, independent labels have thrived by sticking to the tried and true demand for vinyl. We caught up with Kate Eddens, a former employee of both Thrill Jockey records and Vintage Vinyl, at her south city home where she stores over 2,000 records (75 of which she admits belong to her husband Sam). While her two-and-half-year-old daughter Ophelia sulked upstairs because she couldn't listen to her new favorite record, Joanna Newsom's Have One On Me, we discussed vinyl's importance to indie labels and the time the Sea and Cake's Sam Prekop introduced Eddens to the Impressions.
Last Collector Standing: Having previously worked at Thrill Jockey in Chicago, what's it like working for an independent record label? Kate Eddens: It was great. I got there in a strange way. I had been at med school in Kansas City, and I didn't really want to be there. I didn't know anyone in the music industry that was doing anything worthwhile. All the musician friends I had were bums. [Laughs].
I had a friend who owned a record store in Scotland and booked bands on tour. I was like, "Wait a second. If he can do this, then I could make a living doing this. Alright, I'm going to quit school, and I'm going to move to Chicago and work for a record label." A friend of mine who worked at the independent record store in Kansas City, Recycled Sounds, had gotten a job at Touch and Go. I hooked up with her and got an internship at Touch and Go, and my friend Rob Lowe who was in 90 Day Men was friends with the woman who owned Thrill Jockey, and I got an internship there. After two weeks of working [at Thrill Jockey] I got hired.
I was sort of a surreal because all of the sudden I got plunged into this world - I was talking to The Sea and Cake all the time, or people from Tortoise. It was totally different from where I came from in Kansas City. I also worked at a coffee shop and worked with people from Joan of Arc. It was weird being suddenly immersed in all this music that I had been interested in. What was really neat about Chicago and the independent music scene there was that it was really supportive.
I moved up there in '99, and I was there through the tail end of '99 through 2000. Thrill Jockey, Drag City, Touch and Go, Atavistic, Bloodshot, all of those labels were there and were cooperative, and kind of competitive. It was a really neat scene to be a part of. [At Thrill Jockey] I did both radio and video promotion, and then I did sales and advertising. There were only six of us.
Wow! That's surprising. It is surprising. We were all in one big room. Bettina [Richards], the woman who owned [Thrill Jockey], had this big building in the Mexican neighborhood in Chicago. We were all in one big room with all of our desks faced in a circle. It was kind of weird because you had no privacy to do your business.
One of the best parts about working for an independent label was that you feel that you are really working for the music. So much of what happens goes directly to the artist. They have their say in everything. The packaging of their music, the way their music is portrayed and heard. I really appreciated that and could get behind that. That's a really interesting time to get involved with an independent record label because '99 was when Napster was beginning. That was the first awareness the public had that music was making this huge transformation towards digital sharing. At that time, what did you think of working at a record label considering that was right when digital was starting to take off? I actually think I was pretty far removed from that. I didn't have very much experience with digital music. I still lived very much in a vinyl/CD bubble. It wasn't very scary yet for the labels. I feel that it wasn't as much of a presence then. It may have been that there was a ripple effect, and it didn't affect some of the smaller, independent labels [as much] as it did bigger [labels]. I don't think I felt the impact of it at all while I was there, or that it was very talked about.
How do you think independent record labels have changed with the onset of digital music? I think some of the differences are going to be where you are putting your "push." [At Thrill Jockey] I spent a lot of time making print advertisements. I don't know how much people actually look at those anymore. People aren't really picking up music magazines, myself included, as much as we used to. That's all you had to rely on [as well as] word of mouth, independent radio stations, the local record store clerk, and whatever live show you caught that weekend.
Now, there is obviously a much bigger push online for marketing. My favorite part of the whole digital revolution is putting the download coupons in with vinyl, because I still love vinyl. I'm much more likely to buy a new record that has a download code in it than one that doesn't. I don't like just downloading music, because I don't know anything about it then. I need to see the whole package. I need to see the crazy shit they put on the inside. [Eddens walks over to a record crate and picks up a record.]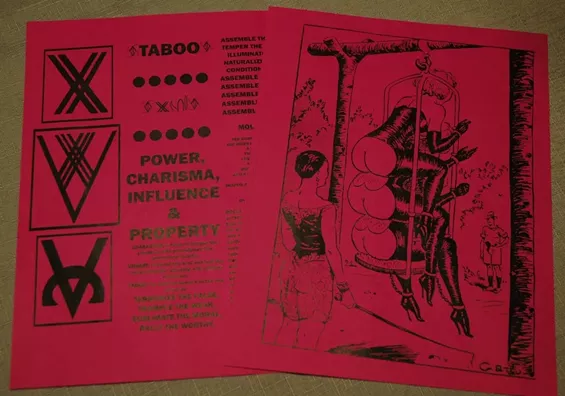 Look at this Taboo record. I don't even know if I can describe this. This is a flyer insert to this record by this band Taboo that I saw at Apop a couple of nights ago. They're a band from Maine, and there are at least two transvestites in the band. There is this drawing of this S&M, bondage, odd, three men-slash-women stack up on top of each other on this swing-slash-cage, while other people are looking on. I don't get this when I rip something off the internet.
I really think one of the most exciting things about the digital revolution, especially for someone who is still a collector, is getting those download coupons in records. That way you can cater to both audiences.
As a child did you ever think you would be involved in the music industry? I don't think I did. I'm the youngest of five. I always listened to my siblings' music. I grew up in South County, and I could walk to the Target at Lindbergh and Baptist Church Road and buy forty-fives. I bought Animotion, "Obsession" on forty-five and Poison forty-fives. I loved everything about music [but] I never thought about being in the music industry.
In college I had the total life-changing musical moment when a kid who lived in the dorm gave me Lungfish Talking Songs For Walking and Velocity Girl Copacetic tapes. I remember listening to them and being like, "What? What is this?" I had heard some Dischord rock in high school. I was in high school in '90 through '94, which was all grunge. That was a really cool musical movement anyway, but I didn't really know much stuff that was underground. That just sent me on this journey. I had to know more.
I remember having this book, which was like this big book of indie rock, essentially. You could look up Shellac, and then see every member of Shellac, and all the other bands they were in, and who influenced them. There was a page for every band. I bought this book and it was like my bible. I would go and buy a record and bring it home and listen to it. Then I'd look up this band and see who their influences were, and just branch out. I studied it. It was like taking a class that I just taught myself.
Then just really cultivating a relationship with the clerks at the record store, who I could then be like, "Hey, I listened to this and really loved it. What else is like that?" and then trusting them to lead me down a path. I think it was then that I started to think that this was something I would really like to be involved in. Literally, I was just like, "Where are record labels? Record Labels are in Chicago. I'm going to go there."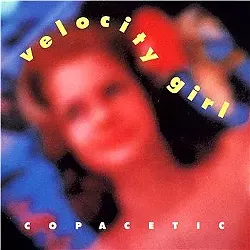 When I left Thrill Jockey I moved to New Jersey with the intentions to move to New York. I interviewed at Rawkus Records, which Mos Def was on Rawkus, Black Star, Talib Kweli. It was my favorite hip-hop label - but the economy started turning down and there were no jobs to be had. I ended up back here and [got] a job at Vintage Vinyl.
How did you start working at Vintage Vinyl and what was your favorite experience working at a record store? I was back in St. Louis for about a month. This was late '01. I was just looking for a job and I walked in. I remember handing my application to Matt Harnish and spilling a drink. I was all nervous -- and I spilled my drink all over the counter and the floor. I thought, "No way I'm going to get a job here because they think I'm an idiot." The next week I interviewed and got the job.
Overall, my absolute favorite thing about working at Vintage Vinyl was the education that you get. It was like going to music university. You're around all these people who have been around music for five, ten, thirty, forty years. People are constantly teaching you new things, and also passing that along. I talked about cultivating a relationship with a record store employee. That was really important to my musical education, and it was important for me to also pass that along. People are afraid to talk to their record store employees. "Oh, they're pretentious. They're going to be big jerks." But we're all big fucking nerds. Obviously, we work in a record store. We're like music geeks.
I really liked being able to pass that along. If some kid would come up to me with the Hives record in 2001 - being able to be like, "You should listen to the Stooges." - Being able to redirect them to where things came from. That was certainly my favorite part of it, both getting the education and passing the education along.
Is this the last generation of record store employees? I hope not. I'm going to say no, because I don't want that to happen. Then you look at something like Euclid opening in New Orleans, and it gives you hope.
I ran into Tom Ray [Vintage Vinyl owner] at the Kid Congo Powers show. We were talking about the store. His daughter, who is like a pre-teen, made some mention of wanting to go to a show on a Tuesday night. He's like, "No, you can't. You've got school the next day." "Well daddy, If I'm going to run Vintage Vinyl someday I need to be going to shows!" [Laughs] Well, maybe there is a future to that.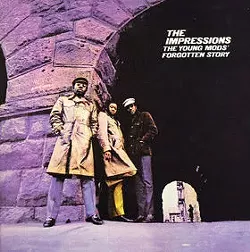 What is your favorite record in your collection? The Young Mods' Forgotten Story and This Is My Country are two of my favorite albums. The Impressions had Curtis Mayfield. They were really political. I was at Dusty Grooves in Chicago and I was working at Thrill Jockey at the time. Sam Prekop was in Dusty Grooves. He picked up The Young Mods' Forgotten Story and [said], "Do you have the Impressions?"
"I don't know who the Impressions are."
"Well, you need to buy this!"
I did and it totally launched my obsession with Chicago soul and Memphis soul. For months after, all you'd hear at the Thrill Jockey office - we would all bring in our records and it was a fight over who got there earliest and stuck their stack of records in front of the record player - I was always bringing this old Chicago soul.
What makes vinyl special to you? I love the relationships that records bring. If I burn you a CD I can be like, "Hey, go listen to this." But if I wanted to be like, "You need to hear this [record]," I need to be sitting in front of you. You put it on the record player. You're looking at the front and looking at the back, pulling out the inside, reading the lyrics. You're taking the whole thing in. Then we can talk about it. There is a very old school relationship aspect about records that is important to me - actually sitting down, relating to another human being. I think that link is there.