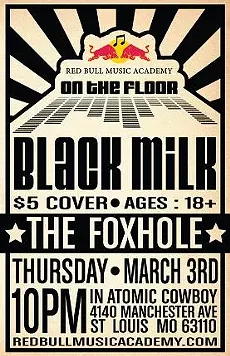 Late notice, but worth making time for: The Detroit producer/emcee Black Milk and band will be performing at the Fox Hole at Atomic Cowboy tonight at 10 p.m. as part of the Red Bull Music Academy. (Check out a song below to get a sense of what you can expect.) Black Spade is also performing. Admission is $5. Black Milk's latest album, Album of the Year, was released last September via Fat Beats.
"Give the Drummer Sum"
BLACK MILK "Give The Drummer Sum" from Yours Truly on Vimeo.