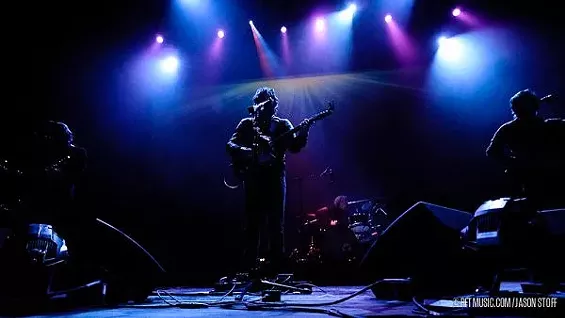 It is an inexplicable force of nature - like a tornado in February - that so many people will leap to the defense of mediocre musicians. Pete Yorn may not be a core-shaker, but last night's show at the Pageant has inspired this writer's existential crisis: Is it the place of an underwhelmed reviewer to nitpick a performance that so many seemed to enjoy?
Surrounded by a tight bunch of players powering a full-throttle sound, Yorn put on a solid, melodic rock show for a vocal and good-sized Sunday night crowd. For 80 minutes, Yorn and his band - which featured bassist Zak Shaffer, drummer Scott Seiver and standout lead guitarist Mark Noseworthy -- played an eighteen-song set, of which nearly half came from his 2001 debut album musicforthemorningafter.
View a slideshow of Pete Yorn and Ben Kweller at the Pageant
Yorn could go the Starbucks-singer-songwriter route and perform at, say, the Old Rock House's Listening Room Series. Instead, the veteran of millennial modern rock attempted bombast. The band was loud, the stage show featured sometimes-strange images projected on a big screen, and Yorn - looking tall, dark and scruffy, L.A.-style - wore a black-leather hoodie.
The band opened with a cover of "I Feel Good Again" -- a thumping, highway-speed version that began with a northern-Mississippi groove but ultimately bore little resemblance to the Junior Kimbrough original. Yorn soon jumped into the first single off his Frank Black-produced 2010 self-titled album, "Precious Stone"; the song recalled the downbeat and tinny propulsion of his big hit, "Strange Condition." Next up was the first single off Yorn's first album, "Life on a Chain," which showcased Yorn's performance strengths -- singing within a mid-high vocal range and delivering a harmonica solo with verve.
Though Yorn is extremely consistent, there were a couple of offbeat moments. "Social Development Dance" from 2009's Back and Fourth featured cringe-inducing lyrics, "You kissed the best/You had enormous breasts," and employed a skittering drum machine that didn't mesh with the song's otherwise "Thirteen"-by-Big-Star vibe. But the weirdest track is new song "Rock Crowd," a manic imploring of Yorn's fans to "throw your arms around me/I feel glad when you all surround me." The only distraction was Noseworthy's contribution of some pretty slide guitar.
In less-forced intervals, Yorn displayed laidback good humor, as when he played a soft solo acoustic rendition of the musicforthemorningafter hidden track "A Girl Like You" -- a request made via note left in his dressing room. He introduced the song by saying, "If you came to rock...this is gonna be like Oasis, 1993, Glastonbury."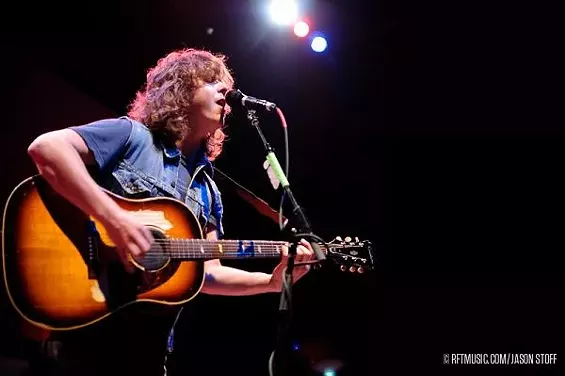 By the final encore, "Murray," the pit was full of pogo-ing thirtysomethings, who had been cheering and supportive throughout. Crowds like that enhance the experience (and are heartening for St. Louis music fans), but still, I found the show enjoyable but not memorable. Yorn's brand of rock may provide the wistful soundtrack to ten thousand barroom romances, but it's harmless music that resonates at a distance, like lightning striking -- only very far from here.
Critic's Notebook: On the other hand, Ben Kweller rocked without reservation. Commanding the stage alone with just a keyboard and a beat-up acoustic guitar (which he manipulated via pedal and transformed it into a shredding metal monster), Kweller was on-point and off-the-cuff. His versatile voice moved easily between sweet and sardonic, whether channeling early-'70s pop-rock, country-folk, slacker-punk or even the piano-bar rag of "Sawdust Man." Like the still-young, but seasoned performer he is, Kweller's got humor, chops and riffs that grow like lichen in your ear.
Pete Yorn Setlist: 1. I Feel Good Again (Junior Kimbrough cover) 2. For Us (Nightcrawler) 3. Precious Stone (Pete Yorn) 4. Life on a Chain (musicforthemorningafter) 5. Just Another (musicforthemorningafter) 6. Social Development Dance (Back and Fourth) 7. Velcro Shoes (Pete Yorn) 8. A Girl Like You (musicforthemorningafter) 9. Lose You (musicforthemorningafter) 10. Rock Crowd (Pete Yorn) 11. Strange Condition (musicforthemorningafter) 12. Stronger Than (Pete Yorn) 13. Closet (musicforthemorningafter) 14. For Nancy (musicforthemorningafter) Encore: 1. Burrito (Day I Forgot) 2. Crystal Village (Day I Forgot) 3. The Chase (Pete Yorn) 4. Murray (musicforthemorningafter)
Ben Kweller Setlist: 1. Walk On Me 2. Don't Know Why 3. Wantin' Her Again 4. Falling 5. Thirteen 6. In Other Words 7. On My Way 8. Fight 9. Sundress 10. Sawdust Man 11. Penny on the Train Track/Wasted and Ready