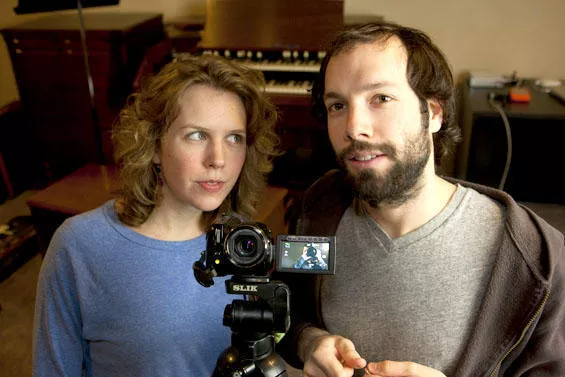 This week's cover story comes from our sister paper in San Francisco, the SF Weekly. Music editor Ian S. Port went into the studio with Jack Conte and Nataly Dawn, who are otherwise known as Pomplamoose, and found out exactly how the duo are making a comfortable living doing music -- whether these tunes are covers of tunes by Lady Gaga and Beyonce or ads commissioned by Hyundai. From the story:
Pomplamoose doesn't release music on CD or any other physical media. The group has no deal with a record label. It also doesn't tour -- in three years, it has played only three live shows, all of them in San Francisco. The band has no publicist or traditional manager; the only outside professionals it uses are a lawyer and an accountant. Conte and Dawn handle every other aspect of Pomplamoose themselves: arranging songs, recording and mixing tracks, editing video, posting new songs online and even marketing to new fans. And they retain a sense of humor through most of it.
Any list of Pomplamoose's appealing aspects would have to begin with the teasing, sarcastic and flirtatious relationship between Conte and Dawn. Their deadpan jokes and natural banter make viewing the band's "video songs" -- which show all the instruments used in the song and no lip-synching -- feel like more than just watching two talented musicians in a room. Filmed at home, the videos are two-thirds performance and one-third messing around. There's no psychedelic footage or legions of writhing dancers. There's just Conte and Dawn recording, flashing homemade signs, eating cereal and making faces.
Yet despite the levity -- or, actually, because of it -- Pomplamoose has attained a level of success that is rare for any independent artist, and unique in the way it was achieved. The band's releases have found their way onto the Billboard charts and major television networks. Its videos have been watched millions of times. And it sells digital songs at a rate that provides Conte and Dawn with a pretty desirable lifestyle: instruments galore, a spacious home and studio set among rolling hills and the freedom to do nothing but write and record their music -- just the way they want to.
You know Pomplamoose even if you didn't realize it; a few videos below.
Lady Gaga, "Telephone"
"Up on the Housetop" for Hyundai: