Jason Stoff
Taylor Momsen
Bottle blonde guttersnipes split the city into two factions last night. Gossip Girl actress Taylor Momsen rocked hard with her black-clad band the Pretty Reckless, while Ke$ha put on a trash-tastic set for a sold-out crowd at the Pageant. Ke$ha must have won the tween contingent, because the crowd at the Firebird was skewed slightly older than expected. (We were hoping for a Gaga-esque turn-out of fangirls in GG inspired fashions.) Still, the audience seemed to have shown up for the music moreso than for the the gawking potential.
View a slideshow of the Pretty Reckless at the Firebird
It was a homecoming for Momsen; the St. Louis native had a house in town while she was a young actress. She starred in her first commercial at age three, and received her big break as bug-eyed charmer Cindy Lou Who in 2000's How the Grinch Stole Christmas. In 2007, she was cast as Jenny Humphrey, the Brooklynite fashionista desperate to break into the fiercely-guarded Upper East Side social register.
Fans of the show were perplexed by Jenny's increasingly scuzzy look onscreen--scraggly blonde weave, kohl-rimmed eyes and ripped fishnets. Little did we know that her evolving look was the outward manifestation of her now well-documented rebellion against Hollywood. Since then, Momsen has been striking fear into the hearts of moms everywhere with her recent descent into foul-mouthed debauchery. Smoking cigarettes in interviews, espousing her fondness for sex and drugs, telling reporters she could give two shits and a rat's ass about the Gossip Girl franchise that catapulted her to name recognition.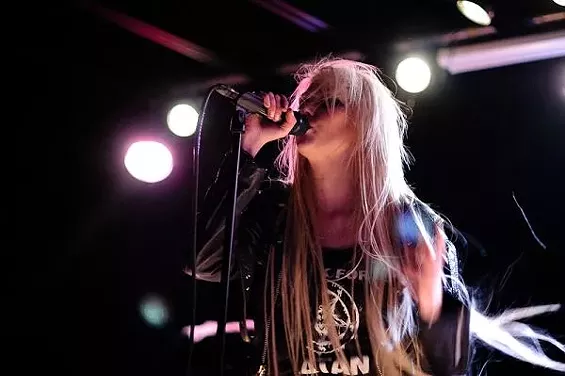 Jeff Burton of the Point's (105.7 FM) Thom and Jeff show introduced the band, saying Momsen had been on his show earlier in the day and that she "was very very very nice, but she's going to tear this shit up." The crowd cheered, but not loud enough for her lead guitarist Ben Phillips, who quipped, "You've gotta scream louder than than or she'll go home."
Scream they did, and Momsen walked on stage -- no easy feat, as she was sporting six-inch spike-heeled platform boots. Wearing her signature raccooon eyes and blood red lipstick with a black T-shirt that read "I Fuck For Satan," black leather panties and latex thigh-highs with a complicated garter, Momsen looked every inch the angsty sexpot.
"Since You're Gone," an ode to a sexually repressed ex-boyfriend, kicked off the performance with a bang, though the lyrics were nearly indistinguishable in the rhythm section's fusillade. Momsen prowled across the stage, whipping her waist-length blonde locks around like a sexy Cousin It. She's a belter, and her voice sounds at least two decades older than she is. "I guess you can call this the beginning of our U.S. headlining tour. This is our second single released in the U.K., 'Miss Nothing,'" Momsen said. Fans of the band prior to the show sang along, and all the rest gamely bobbed along to the acidic riffs.
Momsen shed her leather jacket and started to loosen up for "Zombie" and "Just Tonight," two blistering cuts that showed the strength of her gravelly voice, despite the fact that her mic wasn't loud enough to compete with her band. Though the lyrics were indeterminable, her smoky tones sailed over the controlled chaos of "Goin' Down," the innuendo heavy track about blowing a priest after murdering an ex.
"This is a song by one of our favorite bands," Momsen said, before presenting their cover of Audioslave's "Like A Stone," which came out in 2003, when Momsen, age-wise, was just hitting double digits. Someone in the crowd yelled, and Momsen responded, "Did someone just call me a slut? Because I'll kill you." She impressively belted Chris Cornell's vocals and the audience sang along, and while few can do justice to Tom Morello's guitar work, Phillips managed it well.
The Pretty Reckless' sound is very '90s, grungy guitar rock, with a bit of metal, so the cover was fitting. Sadly, they scrapped the other cover on their pre-printed setlist, a Muse and Oasis mash-up of "Supersonic" and "Time is Running Out," probably due to the politely vague crowd. A stagehand brought Momsen's guitar out for the drug-addled anthem "My Medicine," one of the standouts from their 2010 debut Light Me Up. It was a goodwill gesture to the hard rock devotees in the crowd who were likely already so impressed with her endless legs and jaded sex kitten demeanor, even if it was just for show.
She flipped the crowd the bird before spitting the final "Somebody mixed my medicine."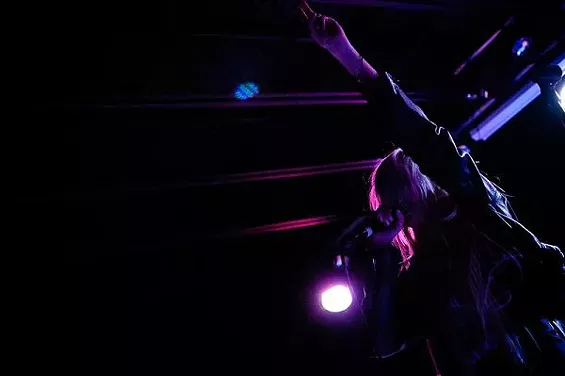 The Crowd: Surprising lack of prostitots, and fewer fashionistas than expected. Way more men, too. Oh wait.
Random Comments: Very angry, very insightful man after Runner Runner: "That was the worst fucking band I've ever seen...They fucked up the whole vibe! Like, get your shit together man. You know how hard it is to make California look bad in Missouri?!"
I agreed with his sentiments; Runner Runner was rather terrible. Do you know how many funny cat videos I could have watched in the time it took the band to come in and smear musical excrement all over my eardrums? Many. Having dimples, the right haircuts and musical ability doesn't give you the right to call yourself a band.
Crowd member before TPR launched into "Like A Stone": "It's actually a pretty good song, I wonder how they'll fuck it up."