Forget what you know - or think - about Ke$ha, the sleazy pop sensation everyone loves to hate. Her very-sold-out show at the Pageant was full of ridiculous spectacle, with generous doses of camp and schlock thrown in for good measure. And oh yes, don't worry - there was glitter. And keytars.
View a slideshow of photos from Ke$ha at the Pageant
The stage set was industrial-looking and sparse, a cross between Janet Jackson's Rhythm Nation and parts of Lady Gaga's Monster Ball. Ke$ha's band and back-up singers were somewhat obscured by caged wire; the skeezy diva herself had an elevated mad-scientist's lair full of synths, electric drums and other goodies smack dab in the middle of the stage. During "Dirty Picture" she conjured creepy with a theremin; for "Take It Off," she unveiled a KAOSS pad (the effects sampler that musicians often use to create scribbled-like sounds), placed it right over her crotch and gyrated and thrusted. A glowing parallelogram of tubing framed this enclave, a futuristic match for her glittery silver leotard.
Later in the set, Ke$ha descended to the stage, grabbed a mic and showed off that she can actually sing. While the background singers, dancers and musical accompaniment created sensory overload - if it wasn't throbbing techno and blinding strobes or rock guitars, it was laser-beam synthpop and manipulated robotics - her clear vocals frequently rose above the din. "Backstabber" was power-pop kitsch featuring dancers in drag; "Blah Blah Blah" was 8-bit gasket-blowing with cheerful digital bleeps. A collection of slower songs near the end of the set wasn't quite as successful, however. "The Harold Song" was weak and thin, and the Broadway-sappy "Animal" sounded a bit like Alanis Morissette gone techno.
Still, Ke$ha is a natural performer who seems entirely comfortable on the stage; she never looked awkward or tentative. This confidence is a large part of her popularity, especially among teenage girls - she's carefree and careless in a way that's very appealing. She has the tough attitude so many adolescents wish they had, as they navigate dating, social minefields and teenage boys. For all of her party-girl poses, Ke$ha is an idol because she's fun, fearless and doesn't take shit from anyone.
Correction: Anyone, but especially men. She introduced the Ladyhawke-like electropop delicacy "C U Next Tuesday" as a song "about a guy who was pretending he didn't have a girlfriend." Before "Grow a Pear" - which has the lyric, "I just can't date a dude with a vag" - she described it as a tune inspired by a dude who wanted to talk instead of getting it on. Ke$ha flips the dating script without being sanctimonious - and she's talking about real, concrete things that actually happen to women. It's at once pop escapism and pop sympathy.
But in all honesty, the secret to appreciating Ke$ha is recognizing the humor in her music. "D.I.N.O.S.A.U.R." - whose electric guitar and cheerleader-from-hell chant is a musical kissing cousin of Salt-n-Pepa's "Push It" - completely mocks geezers hitting on pretty young women: "D.I.N.O.S.A./You are a dinosaur/An O-L-D-M-A-N, You're just an old man/Hitting on me, what?/You need a CAT scan." During last night's performance, her troupe of dancers hauled out old-man walkers as props and waved them around for effect.
Another highlight, "Cannibal," was a delicious new-wave campfest. As tribal-like drums galloped along, one of the dancers was strapped to a giant V - and then magically transformed into a skeleton, low-budget-b-movie style. And "Grow a Pear" was beyond ridiculous: Ke$ha asked if any of the men in the audience liked "being abused," and then brought a fan named Clay up to the stage. (She asked his age and then giggled, "Jailbait!") After saran-wrapping him to a chair, Ke$ha and two dancers - one dressed like a pear and the other dressed like a gigantic penis with oversized balls - came out and danced around awkwardly. (Ke$ha also motorboated the balls of the costumed cock, but that's neither here nor there.)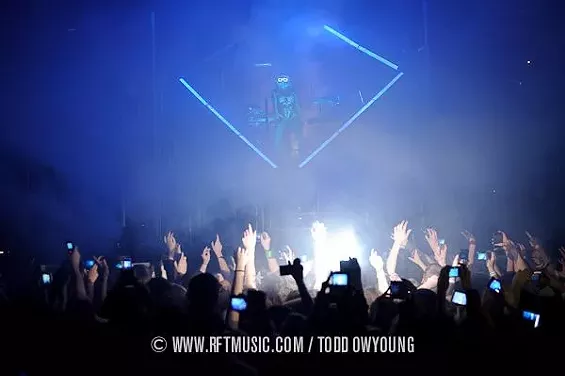 By the time glitter cascaded from the ceiling over the audience during "TiK ToK," the audience was nearly delirious with joy. In fact, the positive message Ke$ha went out of her way to reinforce after the encore gem "We R Who We R" - that people should be free to be themselves - was a nice touch, and completely in line with the rest of the concert. Ke$ha's show wasn't deep, and it wasn't rocket science - but its frivolous fun was more than enough.
Critic's Notebook: Ke$ha's dancers were also completely fun. They dressed like street urchins, and donned costumes like good sports - everything from wearing skeleton suits to stuffed-animal heads. They staged a mock-fight during "Party at a Rich Dude's House" (complete with a high-hat cymbal being lowered from the stage and a lawn chair). Oh, and someone was dressed up as Santa Claus and wandered on and off stage, too.
The show was predominantly under 21. The over-21 section was dominated by parents, it appeared.
Showed up late and wasn't able to see Beardo. What did I miss?
Personal Bias: My mom was super jealous I saw Ke$ha.
Setlist: Sleazy Take It Off (Fuck Him) He's a DJ Dirty Picture Blow Blah Blah Blah Party At a Rich Dude's House Backstabber Cannibal The Harold Song C U Next Tuesday Animal D.I.N.O.S.A.U.R. Grow a Pear Your Love Is My Drug TiK ToK
Encore: We R Who We R (You Gotta) Fight For Your Right (To Party) (Beastie Boys cover)