The number of chain record stores nationwide has dwindled. However, St. Louis has become an unlikely safe haven for indie record shops as well as for DJs who prefer to spin the black circle instead of scrolling their iPods. In this weekly column, we'll focus on personal portraits of St. Louis' record aficionados and the rooms where they store their treasures. Meet the last collectors standing. (Know a collector who deserves the spotlight? E-mail us.)
With his familiar British accent, DJ Les Aaron has become an unlikely St. Louis radio staple. His long-running New Music Sunday program has survived multiple station changes, and now finds its home on The Point (105.7 FM) every Sunday at 7 p.m. While musical fads have come and gone, Aaron has found his niche in doing one fantastic thing for the Gateway City: turning people on to new music. Aaron was the first person I ever heard play the Ramones on commercial radio way back in the mid '90s. I still remember how exciting it was to hear "I Wanna Be Sedated" on Aaron's retro lunch program and rushing out between high school classes to buy Ramones Mania.
For decades Aaron has introduced local radio listeners to new music. This week Last Collector Standing aims to find out the albums that have been most important to him throughout his career. We met at the The Point's studio at Union Station where Aaron reminisced about the world of commercial radio, his platinum Cranberries album and his love for Tyrannosaurus Rex.
Last Collector Standing: During your 21 years of hosting New Music Sunday, have you witnessed changes in the radio business? Les Aaron: Drastically. [Laughs] Unfortunately, for the worst. When I first came to St. Louis I was on WMRY. We still had vinyl when I went there, which was '86 when I first came to St. Louis. It was a station started by Mark Klose, obviously a St. Louis legend, and it was freeform radio back in those days. We had 3,000 albums in the library, and when Mark gave me the job he said, "Play whatever you like." This was all vinyl. If it had a little white wax mark through the track that meant there were swear words -- so you couldn't play it -- but anything else you could play.
Nowadays, everything is on the computer. Some DJs get a little bit of freedom to put something [unique on]. New Music Sunday is fantastic for me, because it's my hour. Nobody tells me what to play. Even the program director doesn't tell me what to play. Tommy Mattern leaves me completely in charge. I play whatever I want, as long as it stays in the same basic format of alternative rock.
There are [far fewer] positions for DJs these day, because a lot of the time slots have been voice tracked. On a lot of stations, it's morning and afternoon drive which are the only [slots] that actually have DJs on them. Other than that, everything's computerized, and of course, the corporatization means that there is a playlist of two or three hundred songs. It's basically the same thing that everyone else is playing around the country in the same format. It's nothing like it used to be when I first came here.
Over the years, what has been the ongoing response to New Music Sunday? It's always pretty consistent. It had its heyday before the Point came along. It's 21 years old, --The Point is not that old. For three years it was on Hot 97, which was a top 40 station. I made my name as an alternative rock DJ at WMRY, because of the freeform format and the 3,000 albums. They had things like the Cure, The Smiths, Depeche Mode. Nobody else knew what that stuff was. I was playing a lot of that stuff because I was from Britain. When WMRY went away, I went to Hot 97 and said, "I would like to play this stuff and would like to have a specialty show doing it."
They gave me one hour originally. I started playing R.E.M. and stuff like that, because this was '89. It was so popular that within a month it was two hours, and within a couple of months it was four hours. Back in those days, because there was no alternative radio station, people were absolutely in love with it.
[I was playing] the Sundays all the time. When the Sundays came [to St. Louis] they sold out Mississippi Nights basically on plays from New Music Sunday. The people down at Mississippi Nights would call me and say, "Front 242 is going to be here tomorrow night. They've only sold 50 tickets. Can you play them tonight, Les? Can we get them to get in touch with you on the show?" Then about half an hour later Front 242 is on the phone and they're talking to me. I do a little spot on them and the next day the show is sold out. It was just so popular.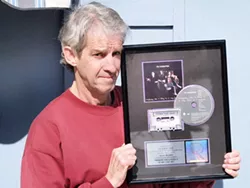 courtesy of Les Aaron
The DJ and his Cranberries platinum certification
Obviously, then the Point itself came along and there was a major full time outlet for alternative rock, so it went down a little bit. Over the years, alternative rock has become more mainstream, and New Music Sunday has cut back in popularity. It still's not the same as back in the heyday, but people love it. It's really nice when I go out and somebody will say, "Hey, I heard a song on your show the other week and I just loved it and went out and bought it." It's nice to expose people to music they wouldn't hear otherwise, at least on commercial radio.
When you turn somebody onto a song, does it have any more meaning to you to think that the listener went out and purchased a CD or album versus just downloading it for free? [Laughs] I guess it would. I hadn't even thought about that. It's been fantastic to have people rattle off seven or eight bands that they heard on New Music Sunday that they wouldn't have heard before and [went] out to buy the CDs for their collections. It's great to think that New Music Sunday has had that effect. I would obviously prefer that they actually went out and bought the CD so that the artist got some sort of credit for it as well, rather than downloading illegal ones.
Is there any particular record you feel you helped "break" by playing it on New Music Sunday? Back when I was on The Point full time I was exceedingly honored by getting two platinum disc that were actually in my name, not in the radio station's name. When The Point first came on, the program director came in with the idea for bandit radio. They did a survey in St. Louis. The survey said, "No we don't want that -- we want an alternative rock station in St. Louis." He wasn't that familiar with [alternative rock] so he was willing to listen to any suggestions that I had and also to the suggestions that the listeners had. Back in those days, New Music Sunday was four hours long on The Point. On Monday and Tuesday, the morning shows would get people phoning up and saying, "Can you play this song we heard on New Music Sunday?"
For instance, Sixpence None The Richer. Back in their really early days they were a little indie band from Texas. There was a track called "The Fatherless and the Widow," which was a really good song, and I played that. My listeners were fairly used to them. When they came out with the new album which had "Kiss Me" on it, I played that. People were calling me the next day wanting to request "Kiss Me." It was a very commercial song. Apparently, no other station in the country was playing it. All of a sudden they were getting really big sales in St. Louis for "Kiss Me" even though nobody was playing it full time.
At that time, The Point had a change in program directors and they decided ["Kiss Me"] was too light for them. Sixpence None The Richer got a hold of me and said, "Could we come up and play an acoustic set for your program director? Do you think he would actually add us to the playlist?"
I said, "No, I don't think he will. It's too light and fluffy for The Point, but we have a sister station called The River. Why don't you come up, because if they add you it would be great." The program director really liked it and added it to the playlist and all of a sudden it became a huge hit in St. Louis. Because it was a huge hit in St. Louis, it spread to another city, and then ended up being a national hit, and then ended up being an international hit, and because it did that I got a personalized platinum disc. It has "Les Aaron" written on it.
The same as the Cranberries' first album -- that was another one, which was picked up from New Music Sunday and added to The Point's playlist. In those days, that one was acceptable for The Point, and because of all the inundation of phone calls from hearing it on New Music Sunday it got added to the main playlist [and became] a huge hit in St. Louis. The came and played at Blueberry Hill, because there was nowhere else in America for them to play. No one else knew them so they were still playing at little tiny places. Because of their appreciation of getting the ball rolling for them, they gave me a personalized platinum disc.
Is there a different mindset to collecting records growing up in England in comparison to the states? I think people's tastes in Britain are much more diverse than they are in the United States. In a way it's a good thing, but in a way it's a bad thing. Over here [United States] there are so many different radio stations to listen to. Most of the stations have found their own format. You've got country and western on this one. You've got rock on this one. Classic rock on that one. Jazz on that one. Back in Britain we were not blessed with all these radio stations, especially when I was growing up. You only had the choice of [BBC] Radio 1. [Laughs]
Radio 1 changed a bit over the years, but it still adheres to the same sort of format. It was a top 40 station from seven o clock in the morning to seven o clock in the evening. The rest of the time it was specialty shows. It would sound like a professional version, I'm not saying that derogatorily, of KDHX. When I was growing up, there was a DJ by the name of John Peel, who is world famous these days. If you listened to that, you absolutely never knew what to expect. He could go from garage punk that had never been released to jive stuff from Africa within five minutes. [It] was just amazing how good an ear he had, because so many of the bands that started on [his show] got to be huge after a while.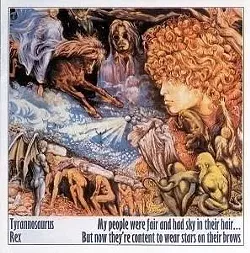 Bands like the Smiths and the Cure, for instance, started on the John Peel show. I'm not saying that they wouldn't have taken off without him, because they were so good that they would have, but he was the first person to acknowledge that they were fantastic bands. Even going back to the '70s with bands like Family, Led Zeppelin, T. Rex, probably their first ever radio gigs were on the John Peel show.
[Radio 1] was just a mish mash of everything. That's why a lot of the bands, particularly in the '70s, picked up on the blues and various other aspects of music. The Beatles are a prime model. They went all over the place in their musical career, and that's probably one of the reasons why -- whenever they listened to radio they got exposed to different types of music.
What were some of the earliest albums that you owned? Britain is more of a singles market than an album market like over here. My brother was ten years older than I was. He was very much into rock & roll when it first came out. He turned me onto it. My first album would have been The "Chirping" Crickets by Buddy Holly and the Crickets.
I'm a huge Tyrannosaurus Rex fan. The early T. Rex was fantastic too, but the further it went on the more [derivative] it got. [Writer's Note: Both Tyrannosaurus Rex and T. Rex were musical projects for Marc Bolan] My People Were Fair and Had Sky in Their Hair... But Now They're Content to Wear Stars on Their Brows was probably... I had no idea who Marc Bolan was or who Tyrannosaurus Rex were, but when I saw that album cover and that title that went with it I thought, "Got to have that!" [Laughs]
I remember listening to your Retro Lunch program back in the mid '90s, and you played quite a bit of The Cure. What is your favorite Cure album? Disintegration. It's an album that is very dark, yet it is invigorating at the same time. "Pictures of You" has got to be the epitome of The Cure. It is really weird how he manages to add those dark, goth-y moments to his songs, yet they still feel happy. That's Robert Smith for you.
With the current resurgence of vinyl, what do you think is the future of music? Well, I'd like to see it go back to vinyl, obviously. I was brought up with hands-on music. you know, where you've got a sleeve, pictures, information on the track and the artist. I think the kids will get bored with just having music on an iPod with nothing to go with it. Rock & roll does go in cycles. It's always reinventing itself.