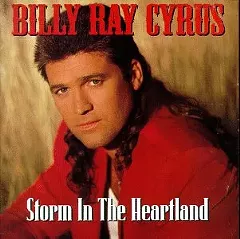 (Via TMZ, via Mike A) GQ just posted a lengthy interview with Billy Ray Cyrus. The country star-turned-actor opens up about the troubles of his daughter, Miley, the effects of the TV show Hannah Montana on the family, his divorce and an impending new album. Relevant to us: Cyrus says that he canceled a world tour after Cobain's 1994 suicide. According to him, the Nirvana singer's death was a blow, because the two were friendly.
See also: -The 15 Most Ridiculous Band Promo Photos Ever -The Ten Worst Music Tattoos Ever
He was one of those guys that became a friend to me that I never expected. We met at a venue one night, some big coliseum somewhere--his rig was pulling out and mine was pulling in--and I was standing in the shadows, 1 a.m. in the morning, and he's 'Hey man, congratulations--you pissed the whole world off.' We shook hands, and I said, 'Thanks, man... I love what you all do.'" After that, Cobain congratulated him at an awards ceremony when most of his peers did not. "We crossed paths a couple more times," says Cyrus, "and then I was in St. Louis..."
He asks whether I'd like to see something, and leads me into a dark hallway. Framed on a wall, scribbled on the small pages of the St. Louis Regal Riverfront Hotel stationery, dated April 8, 1994, is the poem that he wrote upon hearing of Cobain's death. "It was about what we do as entertainers," he says, and recites it to me. "It came so fast," he says. The final page:
But after all was said and done
And the big top now came down
No one could ever doubt the fact
The circus came to town
When I say they seem like unlikely friends, he points out that they'd both just had baby girls--Frances Bean, Miley--within three months of each other. "That's what we talked about, that we each had a little girl...."
First, we had Elton John's record collection sold in St. Louis, and now we have Billy Ray Cyrus' poem about Kurt Cobain penned in our fair city. True life is sometimes stranger than fiction. Read the rest of the article here.
Cyrus live in 1994: