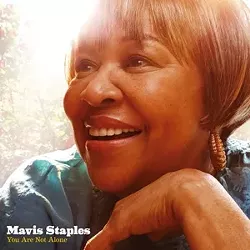 Miss the Grammys telecast? Couldn't care less about the awards? Either way, A to Z watched the entire show - and even some of the pre-show -- so you didn't have to. Here are ten highlights from the night.
Mavis Staples winning her first Grammy If you weren't watching the pre-show telecast, you missed Mavis Staples winning her first Grammy for You Are Not Alone, her Jeff Tweedy-produced-album. The soul legend was overcome by emotion as she accepted the award, and promised she'd be back again. Thankfully, although her speech went long, she wasn't cut off or rushed off the stage -- a fitting nod of respect as she reveled in a long-overdue honor. (Incidentally, Staples also thanked local boys Tony Margherita and Tweedy for their help.)
Arcade Fire Performing "Month of May" and Winning Album of the Year In a bold choice, the band rolled out The Suburbs' "Month of May" -- an amped-up, balls-out, Canuck-punk version of "Month of May." As tons of strobes disoriented the crowd, several bikers rode all over the stage (with camera-helmets!) and the group bashed through the song. After the song came even a bigger shock: In a clear upset, the band won Album of the Year. Stunned, what did the Arcade Fire do next? Why, jump back on stage and do another song "cause they like music," as it said in the acceptance speech. Cue "Ready the Start."
The Aretha Franklin Tribute Aretha Franklin has recently been ill, although in recent days she attended an NBA game in Detroit and stressed that her health was "superb." Nevertheless, the tribute to the Queen of Soul seemed perfectly timed -- and was a positive way to start off the night. Christina Aguilera made us remember what a beautiful voice she has, while Jennifer Hudson made singing Aretha look easy. (Plus, she had the appropriate amount of diva-sass for the occasion.) Florence Welch (of Florence and the Machine) held her own, as did Martina McBride and a lovely Yolanda Adams. Franklin herself even appeared in a pre-taped video - looking every inch the glamorous diva while dressed in white.
Mumford and Sons/Avett Brothers/Bob Dylan A to Z joked over at Twitter that everybody in America turned off NPR when this performance started. But in reality, this trio of artists turned in one of the best performances of the night. U.K. folk-rock sensations Mumford & Sons started things off with a rousing, energetic version of "The Cave" -- so huge and so soaring, it's hard to believe the band played at (relatively) tiny Off Broadway last June. A stylish, saloon-styled Avett Brothers followed up with an equally rollicking "Head Full Of Doubt / Road Full Of Promise"; the traditional performance felt beamed in from 1888.
And then the legendary Bob Dylan stepped up to the mic. Sounding more than a smidge like Tom Waits, he sang "Maggie's Farm" with gravelly exuberance. Both bands (and several other auxiliary musicians) backed him up, and you could tell that every member of Avetts/Mumford & Sons were probably silently freaking out at backing up Dylan. The song made it even more obvious that Dylan's the patron saint of the Avetts/Mumford scene -- but it's clear that the torch isn't ready to be passed on completely anytime soon.
Cee-Lo Green, the Muppets and Gwyneth Paltrow Yes, you read that combo right. Cee Lo Green sported a feathery costume with plenty of red -- he looked like he was wearing the remnants of Toucan Sam -- and pounded out a clean version of "Fuck You." Around him, Muppets -- including a chipper costumed dog, a drummer with a brain outside his head and three glittery back-up singers -- added psychedelic levity. Then, well, Gwyneth Paltrow showed up (why not?) and vamped her way through some accompaniment, when she wasn't sprawling on the piano singing all up in Cee-Lo's face. Totally hilarious, totally lighthearted -- and totally a solid performance.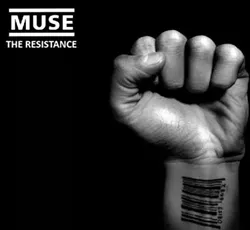 Muse performing "Uprising" Long-known as a stellar live band, Muse lived up to reputation with its performance of "Uprising." Above the trio, three huge columns of video screens projected images, everything from currency to fire; in front of the band, insurgents mock-fought with each other. The band itself channeled this intensity into a passionate and fierce performance. Vocalist Matt Bellamy looked like an evil disco dictator in a silvery sparkly suit -- and brought out the double-necked guitar at the end for good measure. Oh, and for the record: Muse eventually won Best Rock Album for The Resistance.
Eminem's Performance Although Rihanna looked fantastic -- what with a red bob and flowing dress -- her vocals on "Love the Way You Lie" sounded pitchy and shaky. Eminem, on the other hand, was on fire. He's been around for so long now, it's easy to forget just how talented he really is. He inhabits his music with every fiber and nerve of his being when he's rapping; his lyrical speed, meanwhile, remains impossibly quick. (The censors had a helluva time keeping up with him.) When Dr. Dre came out to add his parts on "I Need a Doctor" and the two men rapped together, their rhymes locked in like a jigsaw puzzle -- and the magic we first saw a decade ago sparked again. Eminem later won Best Rap Album for Recovery.
Mick Jagger Paying Tribute to Solomon Burke The impossibly skinny Stones singer -- who is 67 years old, mind you -- bounded all over the stage in honor of the late Solomon Burke. Sporting a natty turquoise vest and jacket, Jagger strutted, pouted and owned the horn-burnished performance.
Lady Gaga Performing "Born This Way" The meaning of the curious egg apparatus became clear when Gaga performed the new single, "Born This Way": She climbed out of the now-glowing object to start the song, in a very-obvious birth metaphor. Now, this performance wasn't her best, and the costumes were actually rather tame; she sported some tan latex-looking thing with shoulder horns and a skirt/drape of the same color. However, the sleek techno-pop was different than anything else on display tonight-- and her dancing was much more precise and polished than it's been in the past. And heck, she even made a small detour to a piano decorated with severed doll heads and pounded out a
Phantom of the Opera
-esque scary interlude.
"Need You Now" Sweeps the Grammys Although this song was originally released in late 2009, the poetic drunk-dial garnered award after award, including for the coveted "Record of the Year" category. Lady Antebellum played a slowed-down version of the song on the broadcast -- a follow-up to the straightforward performance of the tune on last year's Grammys.