Roy Kasten
Fitz and the Tantrums at the Duck Room
Saturday afternoon and evening in the Delmar Loop, the icepocalypse was finally subsiding after weeks of sadistic winter. Gutters and parking lanes yet proved treacherous, but the scene at the sold-out basement bar, Blueberry Hill's Duck Room, did what it could. Bottle and package the heat of the first proper Fitz & the Tantrums show in St. Louis and leave the eco-atrocities of Ice Melt behind.
"Proper" because the LA-based, neo-revivalist, blue-eyed soul sextet had already that afternoon smoked an in-store gig at Vintage Vinyl and laid down a quick session at KDHX (listen here). And last April, the band had appeared on the UMSL campus for an event, details of which not even the Michael Fitzpatrick (Fitz) could remember when originally queried.
No surprise, then, that the cut-rate ticket price of this show would lead to an early sell-out and the drooling of motherfuckers scalpers. Even after a blizzard of publicity, high-profile TV slots, commercial spots, blog frenzy and a web-casted concert at Daryl Hall's house (geezers know broadband), the band is still in the building stage, meeting and greeting after the show (mugging-with-Fitz now dominates Facebook profiles in a 30-mile radius of University City) and laying everything down, as a growing band must, persuading an audience for some 90 minutes that sweat and soul trounces hype.
The opening act, in other words, had its work ahead of it. Jon Hardy & the Public got the nod just four days before the show; the St. Louis rock & soul band sounded like they'd been waiting by the phone for months. Opening with Marvin Gaye's "Baby Don't You Do It," a cover that most would elect for a closer, Hardy and his smartly dressed ensemble quickly owned the already full room. Whether or not Hardy and Glenn LaBarre knew that the headliner would be guitar-free (not counting bass), the two backed into taut, scraping guitar lines, pushing the song even (yes, I'll say it) past the Band's version.
With baritone and tenor sax, subtle keyboard tones and a charging, sure-as-Secretariat rhythm section, the set focused on the band's best album,
Working In Love
, though a cover of Randy Newman's "You Can Leave Your Hat On" and the newer songs, especially "A Hard Year" (from the EP of the same name), managed that small amazement of live performance: a perpetual feeling of building and building and building again, like the energy reserves in a single good tune would never peak. And now that Egypt is free and a new era of justice reigns over the world, would it be OK if Hardy's song "I Will" becomes the hit it deserves to be?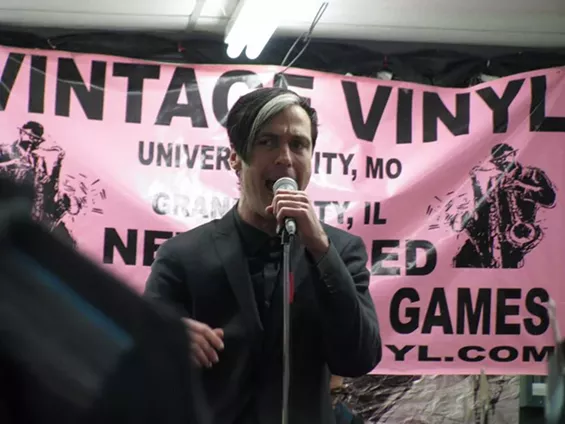 Annie Zaleski
Fitz & the Tantrums at Vintage Vinyl
At 10:10 p.m. the headliners emerged from the green room and lined up on a minimalist stage: two small keyboards (no amp visible, run direct), a compact bass rig, mic stands for a saxophone, a simple drum kit (emblazoned with a word: PEACE) and two microphones for the singers. Fitz and singer Noelle Scaggs (who doubles a bit as hip-hoppy MC and crowd control expert; I'll explain) had plenty of room to move, and they did, slinky and joyous into the first song, "Don't Gotta Work It Out." The conscious choice to dispense with the electric guitar, a defining rhythmic instrument for soul music, can sometimes be overstated in Fitz's case, and yet that absence really does make all the difference to the live show. Any listener would focus on Jeremy Ruzumna's deeply pocketed keyboard parts, warm and fuzzy on songs such as "Picking Up the Pieces," and an expert rhythm section, especially drummer John Wicks, who ditched his glasses three songs in, and relished every break to rise up from his stool and lean out into fleet rolls and fills.
As a front man, the lanky and loose Fitzpatrick has been compared to Bryan Ferry and David Byrne, and you can almost see it (if not hear it). With shrunken thrift-store jacket, worn Air Jordans, and a bleached stripe across his bangs, Fitz has the charisma of a studio nerd who says, what the hell, and makes a hilarious and sincere attempt at the Robot and finds some hang time with spontaneous scissor kicks. His vocals and movements never approximate the desperate force of classic soul men; he never pretends to do so. There's nothing ironic going on, and the emotion he conveys draws on the easy-going chemistry with Scaggs and the excellence of his songs. When you can make a keeper like "Winds of Change" your second number and shuffle in memorable new melodies (as on "6 AM"), you've got the makings of a real catalog with songs fans have already begun to learn by heart. Nor does it hurt to have a sax and flute player such as James King behind you; the solo on "Breakin' the Chains of Love" met an ecstatic crowd response.
"MoneyGrabber" at Vintage Vinyl:
To sum up that crowd: We were about as diverse as a group of white people could be. Oldsters with point-and-shoots jammed to the apron,
Alive
Magazine-types stoned and happy, kids who likely never knew the Duck Room existed, the recently breast-implanted, indie bros and brunettes, and the inevitable, monkey-drunk assholes. Two of the latter received a stern talking to from Scaggs, whose bantam-weight build and tattoos (devils, angels, dragons or all three?) indicated that there is no shit she will take, especially not from fist-pumping, track-suited jag-offs.
As the main set closed with an extended cover of the Eurythmics' "Sweet Dreams (Are Made of This)" -- just before a tripartite encore of "We Don't Need Love Songs" (an old number), "Saturday's Child" (a Scott Walker cover), and "MoneyGrabber" (the band's only quasi-hit) -- Fitz and Scaggs trained the audience in call-and-response, and then accomplished the risky trick of bringing the entire room, back wall included, down to its knees or yoga squats, before signaling a full-on group spazz out -- the kind of ecstatic and silly rite-of-pre-spring ritual for which we'd all been long waiting.