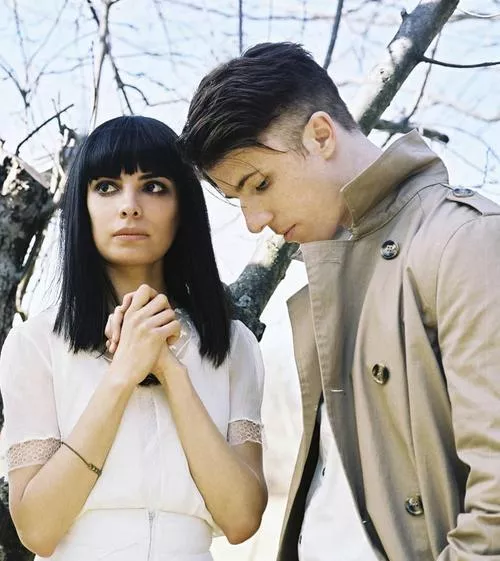 Tonight at the Pageant, Interpol is returning to the venue in support of its latest, self-titled album. (Tickets are still available.) Along for the ride is the dreampop act School of Seven Bells. In this week's paper, Diana Benanti spoke with that band's Alejandra Deheza about how her band met Interpol, the joys of doing a split with Active Child and the power of lucid dreaming. In outtakes, Deheza also revealed that the group is working on writing a new album -- which it hopes will see the light of day in January 2012 -- and discusses remixes, dance-pop and the role of magic in School of Seven Bells.
Diana Benanti: With lucid dreams and tarot cards included in your box set, is it safe to assume that you've got a thing for magic? Alejandra Deheza: I'm really, really interested. It's all about intentionality. I don't really think that anything happens out of thin air. I don't think the universe likes to be told what to do. It's a really great way to figure out where your own intentions are, why you want certain things. As far as tarot goes, it's all based on symbols so why do these symbols mean these certain things to you? Or why is it that when you see this card, it's supposed to mean a situation -- which situation are you thinking about and why are you thinking about the situation in those terms? Do you view yourself as someone who is in power of that situation or someone who isn't in control? It's a cool way to know yourself, or to try to get to know yourself. I wouldn't use it for a life-changing decision. It's interesting to know where your head is at.
Do you make a practice of it? I think it's interesting to get your cards read. It's not something that I practice regularly, It's just another exercise. I wouldn't say I'm dedicated to it. I don't always feel like I'm in control or anything like that but I'm not sure how important that is. As long as I'm not imposing what I think should be happening on a certain situation, then I think it's fine, I think there's no resistance, things just kind of flow. Not to sound like a complete hippie or anything. I think the struggle for control creates tension that doesn't need to be there. Everyone has a natural intelligence. And each situation has a natural way for it to go, harmoniously. There's this power struggle in every day life, what you want and what you don't want, it's all in your head.
That's such a brilliant sentiment. I've been thinking about getting something to that effect tattooed, because it's true, everything in your experience is a product of certain paradigms, it's made up in your own mind. [Laughs] That would be a great tattoo: It's all in your head. It's funny because some people would be like "Man, what a bummer!"
But that's why it's so freeing. So why do you think people overlook the dance music element of your sound? I think it's easy because of our other bands. They just already have this idea of what we're supposed to be, we're supposed to be a guitar band. Which is fine, people are going to hear it however they want to hear it. But a lot of people who came to know us through Ghostly, that's what they see. It just depends on where they came from, if they were fans of our other band or just knew Ghostly bands, you know? I think there's an equal amount of attention paid to both sides. Now we have a live drummer that we mix with our electronic drums. For a while we didn't have a live drummer because we wanted to keep it electronic. With this new record, we definitely wanted to have both. I remember getting a lot of comments about that, that there should be live drums. I feel like people like it both ways and people are always going to find something Should be live drums and stuff like that. I feel people like it both.
Have you heard any outstanding remixes of your songs? Or does the experience of having someone remix your work alter the way you look at your own music? Every time I hear a song I have a different mix in my head. One remix that I thought was amazing was the White Sea remix of "Dust Devil." I mean, she took that somewhere completely wild. I've never heard that song like that. If you haven't heard it you should definitely listen to it, she's incredible. Really great producer and she's a really good songwriter. But what she did with this particular song is just crazy. I don't know where she got the idea. I try to see where she came from and I have no idea. Those are the best ones.