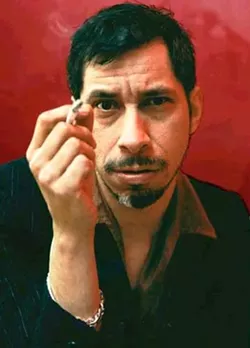 You've heard of garage rock. But Kid Congo Powers - co-founder of the Gun Club, guitarist for the Cramps and Nick Cave and the Bad Seeds, and prolific, eccentric, solo rock & roll maestro -- doesn't play garage rock. He plays gymnasium rock. His forthcoming album, Gorilla Rose and his 2009 album Dracula Boots, were both cut in an old high school gym in the middle of nowhere Kansas. The space - big, dusty, noisy and haunted with teenage history - is just like his musical vision.
A to Z caught up with Kid as he was packing to fly out to Kansas for practice. His current tour with the Pink Monkey Birds (named after a line in the David Bowie song "Moonage Daydream") brings the band to St. Louis for a show at Off Broadway on Sunday, February 13.
Roy Kasten: Where are you calling from? Kid Congo: Washington D.C., Dupont Circle. It's kind of the central, groovy area.
How long have you lived there? Four years now. I'd been in New York for twelve years, and parts unknown prior to that. New York wasn't giving me what it was before. I grew up enamored with New York. I was a 14-year-old who said, "I'm moving to New York!" I was that type. I was infatuated with everything from the New York Dolls to punk rock to CBGB. I finally made the big move and spent 12 years there.
Are you saying that Dupont Circle is now ground zero for cutting edge rock & roll? It's an incubator and waiting room and launching pad. Actually, ground zero for Kid Congo and the Pink Monkey Birds is a town called Harveyville, Kansas. For the past couple of years we've been recording there, including Dracula Boots and Gorilla Rose and our box set. Our drummer, Ron Miller and his girlfriend live there and own a high school, an old 1940s, brick high school. They've turned it into an artist retreat. He's a tattoo artist and musician and his girlfriend does yarn work and is something of a guru-ess of that. Everyone from writers and choreographers and musicians come and stay there. It's a small town of 250 people. There are no distractions, no noise, just a lot of space. It's a perfect work space.
So you literally record in a gymnasium? Yes. Scorecard, basketball hoops, clock in a cage.
That opens up all kinds of percussion possibilities. No extra reverb needed. We can gauge the reverb by how we close the curtains on the stage in the gymnasium. I really love live recording. If you can record live and make it sound amazing, it conjures up this weird magic, to be able to record like that, so freely. In the middle of nowhere you have no sense of time. You can imagine all the things that happened in high school, all the crazy proms and the kind of trouble that came up in there.
That would be completely different than a basement studio. The room actually creates space in your music and in your head. It's a great place to let your imagination run wild. With a physically confined space, I suppose if you're a master meditator you can transcend that. This space gave me more scope and room for imagination.
I like the way your vocals and the percussion sit on the last album. That's all done live? It's entirely live. It's just the sound of a huge, wooden room. Play vintage equipment in a vintage room and you get an amazing vintage sound. Rewinding a bit, you grew up in La Puente, California. Yeah. It's even east of East LA. In the late '50s it became a suburb, where middle-income people could buy houses. It was a mostly Hispanic area. Industrial. Where I grew up was right on the cusp of a place called "City of Industry," and there was a Mattel toy factory where my sister worked. She would bring me discarded seconds of Hot Wheels. I grew up smelling ketchup one day, and jam the next. It was right next to a factory where they made ketchup and jam. Pretty weird place. The Burroughs Corporation, of the William S. Burroughs family, was just a few blocks away. I could see two drive-ins from the roof of my parents' house.
Was the guitar your first instrument of choice? It was. I was forced to play guitar by Jeffrey Lee Pierce of Gun Club. We'd seen each other around at shows, and we were at a Pere Ubu show at Whiskey a Go-Go. That would have been maybe 1977 or 1978, probably 1979. He said we should have a band together. You remember 1978. You just said things like that. And then you say, "Yeah of course!" We'd seen each other at every punk-related show in Los Angeles. We were record collectors. There was a big record swap meet at the Capitol Records building in Hollywood. That was a big meeting place for people. In the post-Glam rock, late '70s disco nowhere land, that was a place for underground rock fans. It was a real hang out. Every kind of weird person, I don't know why, was there. I once saw Catherine Deneuve there. That's how eclectic it was.
I had already traveled to New York and London, and Jeffrey was writing for a monthly punk newspaper, Slash. He had been to Jamaica, was interested in reggae, and he'd been to New York. We were both having these strange adventures, and he said we should have a band together. I said, "I have a friend who will loan me a guitar." He said, "OK, I'll teach you to play it." That's what happened. He said, "Blues guys play it like this," in open tunings. Slide guitar. To this day I still play in open tunings. So the choice was made for me.
You were talking about the scene, and what you were exposed to in New York. I'm not sure I've ever had a scene. I grew up in Salt Lake City. But it sounds like talking to you, you had a community, an environment. It was a community. It's funny, to this day, with Facebook, this community endures. I have a lot of friends from that time who are still my friends, the ones who are still alive. It's a community that goes on. People are writing books about it and we all remember it fondly. Everyone says how much they owe to it, whether it's writers, photographers, musicians, people who went on to do more than just hang out in punk rock clubs. It was quite a moment.
One of the things I like about your last album, Dracula Boots and your music in general, is how you channel your Chicano heritage. Are you conscious of that? That consciousness of heritage doesn't just come from me. It comes from the whole band. Kiki Solis our bass player is a Mexican American, Ron our drummer grew up in Austin and Las Cruces and El Paso. The song "La Llonera" was Ron's idea. The song "I Found a Peanut," originally by Thee Midniters, that came from me growing up in LA. I had older sisters who would go see Thee Midniters. I remember being 10 years old, and I so badly wanted to be a teenager. I remember the palpable excitement they were having of going to a dance where Thee Midniters were playing. It was a big deal to them. They were probably 16. I was just like, what is that? Whatever Thee Midniters is I want to do that!
I knew what the Rolling Stones or the Beatles were, but I didn't have any idea about local bands. But Thee Midniters were their band, a Chicano band who were getting played on the radio and making it. That always stuck with me. Years later I heard Thee Midniters and they were incredible. Their R&B and rock stuff was some of the wildest, rawest music, so much fun. They did a live version of "Land of a 1000 Dances." It sounds like it was recorded in a high school gymnasium, so when Ron proposed that we go there, I thought this will be perfect. So that sound influenced the direction of Dracula Boots. The sound was loaded with childhood memories and it became real on that record.