Review + Photos: JJ Grey and Mofro at the Pageant, Saturday, February 5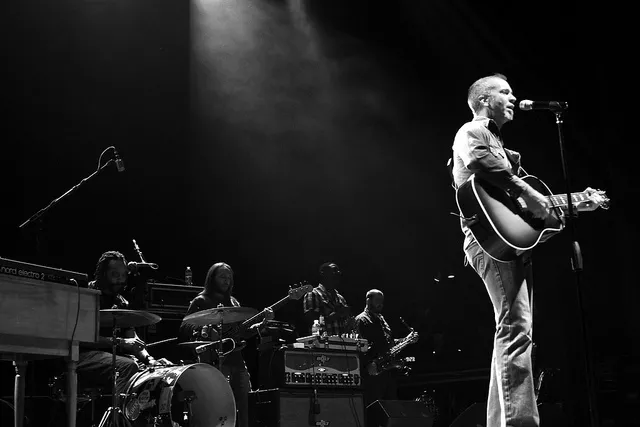 Nate Burrell/KDHX
JJ Grey and Mofro at the Pageant
KDHX was all over Saturday night's JJ Grey and Mofro show at the Pageant. Not only did it post an in-studio session with the group -- hear that below -- but the station's blog also ran a review and a set of photos. Nate Burrell is responsible for the latter portion; you can find his work here. The review by Amy Burger is over here on KDHX's blog -- and it's very complimentary:
Grey's band, Mofro, gives perfect context to his gruff and emotional voice. Notes dripped from Andrew Trube's guitar like honey at times, then bore through like a steam train at others. Anthony Farrell "took it to church" on the organ and keys, adding elements of gospel and even '60s psychedelic rock. The horn section comprised of trumpet player Dennis Marion and tenor saxophonist Art Edmaiston brought flavors of New Orleans jazz and blues (and some delightful backup dancing). Native St. Louisan Todd Smallie (formerly of the Grammy-winning Derek Trucks Band) laid down the funky bass line while Floridian Anthony Cole kept the beat (and then some) on the drums. The sound they produce as a whole can be summed up in one word: joyous.
Riverfront Times works for you, and your support is essential.

Our small but mighty local team works tirelessly to bring you high-quality, uncensored news and cultural coverage of St. Louis and beyond.

Unlike many newspapers, ours is free – and we'd like to keep it that way, because we believe, now more than ever, everyone deserves access to accurate, independent coverage of their community.

Whether it's a one-time acknowledgement of this article or an ongoing pledge, your support helps keep St. Louis' true free press free.