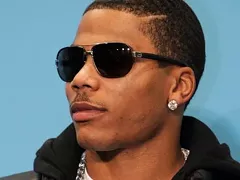 Dreaming of warmer weather, no doubt...
Even the city's cuddle-thug is being swept up in the snowmageddon, it seems: Nelly is part of the Blizzard Music Tour, which kicks off March 1 in South Dakota. The lineup for the trek is interesting and very diverse: Besides Nelly, the show features Denver hip-pop duo 3OH!3, Aussie rockers Sick Puppies and Cali Swag District, the group behind "Teach Me How to Dougie." You know this song. Video below.) Big Reeno and Dextrious are also along for the ride. Now, the tour isn't coming to St. Louis; it's sticking to cold-weather climes such as Iowa, Wyoming and Montana.
"Teach Me How to Dougie"