As the sound of a soul-funk emcee roaring like a crazy man boomed over the Pageant's soundsystem, Ben Folds and his four-man backing band ran around the stage. They climbed over their instruments, made lots of clanging noise, acted ridiculous - the piano man even shook his tush toward the audience -- and generally incited (and exhibited) the kind of panic usually only found at area grocery stores before winter storms. Folds even picked up his piano stool and threw it at the instrument several times, like the geekiest Incredible Hulk ever.
That was how Ben Folds' two-and-a-half-hour set at the Pageant started last night.
View a slideshow of Ben Folds photos from the Pageant
Folds launched right into two songs from his latest album, Lonely Avenue, after the dust settled from the grand entrance. Sporting a smart newsboy's cap and earthy tones, he looked rather English-major-like - fitting, since noted author Nick Hornby penned Avenue's lyrics. While its jazz-combo feel was solid, the sentiments within "Levi Johnston's Blues" unfortunately already sound dated. The next song, "Doc Pomus," fared a bit better, thanks to a French horn and a wave of choir-boy harmonies. Still, the momentum built by the antics-filled beginning fizzled due to song choice.
Things picked up several songs later on Rockin' the Suburbs' "Gone," which marries malt-shoppe-love-song music to bitter breakup lyrics, and then a version of Ke$ha's "Sleazy." Folds prefaced the song with a long story explaining, well, why they were covering it - but he didn't need to make any excuses: The straight reading of the electropop tune - with Folds replicating Ke$ha's celebutante monotone and his band burping out the recurring "Get sleazy!" call and drumline rhythms -- underscored the absurdity of the tune, but was way more amusing than it had any right to be.
Folds was more engaged with the crowd - and more important, with his music - than he was on last year's solo tour. Credit the presence of a backing band, which freed him from having to carry the night's charisma, music and energy all by his lonesome. Guitarist/percussionist/tambourinist Chad Chapin multi-tasked like mad in the back, most amusingly on "Saskia Hamilton," which zigged and zagged with whiz-bang synths and manic roars. Andrew Higley contributed (among other things) melodica and French horn; the latter especially enhanced "Still Fighting It," especially when paired with Folds' plaintive vocals and suspense-building keys-pounding. Drummer Sam Smith and bassist Ryan Lerman's contributions - especially their vocals - added the right amount of color.
Todd Owyoung
BEN FOLDS HULK SMASH!!!
The band also enhanced Folds' catalog in all the right ways. They stayed subtle on a pretty "Cologne," although their easygoing harmonies and the almost jammy feel of "Bastard" felt oddly like a pep band covering the Band. (Not a bad thing, mind you.) "Zak and Sara" careened forward faster than normal, and "Effington" was jubilant. Even familiar tunes - such as "Landed" and "You Don't Know Me" - felt more satisfying. The former emerged (again) as a perfect bittersweet pop song, while the latter featured double drumming and a pronounced hip-hop feel.
However, Folds' focus especially became clear during a solo-piano set near the end of the night. After a solid version of the new "Picture Window," he performed several deep-cut Ben Folds Five songs by request. A guilt-wracked version of Whatever and Ever Amen's "Evaporated" was genuinely moving, while a jaunty "The Last Polka" felt like askew Broadway. (The description is apt: Later, Folds performed "The Secret Life of Morgan Davis," which he described as a "fucked up Broadway song" written to fulfill a publishing deal.) And he dedicated the perennial wedding-first-dance/Suburbs favorite "The Luckiest" to the people at Pi (who apparently fed the band before the show), and it was downright incredible - tear-inducing and heartfelt without being saccharine.
After this, the rest of the night was a joyous, exuberant run-through of Folds' live favorites -- from the always-charming "Annie Waits" to a celebratory "Army" and the long-time favorite "Kate." Ignoring the 11 p.m. set-curfew, Folds played over twenty minutes past his scheduled set-end time.
Earlier in the set, Folds off-handedly mentioned, "It's good to be back at the Pageant." While a guaranteed way to curry favor with the crowd, in his case, it means much more than that. Judging by his engaged, dedicated performance, Folds is at his absolute best when he's playing there.
Critic's Notebook: Anyone disappointed by last April's Ben Folds show at the Chaifetz Arena should feel completely better after yesterday's concert.
In the middle of the set, he filmed the crowd singing several a cappella lines, for a video of a song he's creating/crafting based on audience contributions on this tour. (He's posting this stuff on YouTube, and St. Louis footage should be up soon.) During the interlude, one fan grew restless and yelled out, "Play a song!" The entire crowd rained boos on the heckler - so much so that Folds made note of how he was "shamed." The message: Do not interrupt Ben Folds' geeky mad-scientist project, or risk the wrath of his fans.
Folds' tossed-off stage banter is always full of hilarious one-liners. Last night was no exception.
During that crowd participation moment noted above, someone else was heckling or generally being inappropriate, and another fan called out that he was going to punch the guy (on Folds' behalf). From the stage, Folds said, "Violence is not the answer - and neither is being a jackass."
Within the long, rambling story to explain why they're covering Ke$ha's "Sleazy": "The music business is changing everyday as it goes into the shitter." (Several minutes later: "The music business is based on death panels.")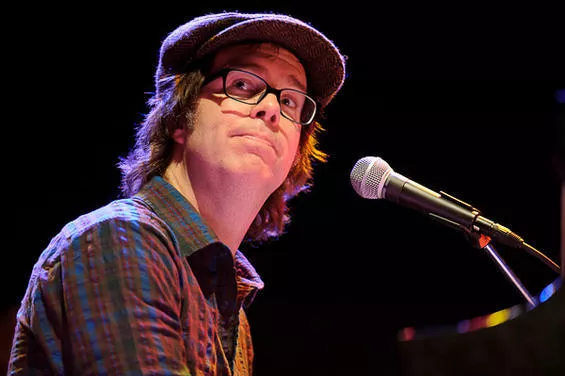 After someone in the crowd inexplicably yelled out, "Tommy Lee!!," Folds told a story about how the Motley Crue drummer once rocked out side-stage as they played a cover of "Bitches Ain't Shit" at a radio show - a cover they were specifically asked not to play, but did anyway.
When Smith had to have a snare drum replaced - twice, in fact - Folds improvised ditties about the experience, with lyrics such as, "My drummer don't care for snares/He just fucks them up." During the second improv, Folds quipped, "I'm an embarrassment to fake jazz."
Personal Bias: Perhaps one of the best, if not the best, Ben Folds shows I've ever seen - and I've seen him five or six times since 2001.
View a slideshow of Ben Folds photos from the Pageant
Setlist: (BFF = Ben Folds Five song) Levi Johnston's Blues Doc Pomus Gone Belinda Sleazy (Ke$ha) Busted snare drum improv song You To Thank Cologne 2nd busted snare improve song Saskia Hamilton Bastard Still Fighting It Working Day/YouTube film with crowd Effington Landed Claire's Ninth
Folds solo: Picture Window Evaporated (BFF) The Last Polka (BFF) Emaline (BFF) The Luckiest The Secret Life of Morgan Davis (BFF)
Annie Waits Hiroshima Zak and Sara You Don't Know Me Bitch Went Nutz (fake version) Army (BFF)
Encore: Philosophy (BFF) Kate (BFF)