Bob Kusky
Chuck Berry was alive and very well last night at the Duck Room.
After Chuck Berry collapsed during a show in Chicago on New Year's Day, fans began to worry. Was this it for the duck-walking one? Would they forever regret that they never bothered to catch one of his monthly shows at Blueberry Hill's Duck Room?
People should really have more faith in Chuck. The dirtiest old man in rock and roll was alive and well at the Duck Room last night, humping his guitar and basking in the adulation of the crowd, especially the fifteen women who spontaneously jumped on the stage to dance with him during his final number, "Johnny B. Goode." As long as Berry, now 84, can sing about his ding-a-ling, he'll outlive us all.
(OK, so he had a cold. Joe Edwards gave him some chicken rice soup and a towel that he used to wipe his runny nose. No one should speak ill of Blueberry Hill's chicken rice soup ever again.)
Now, about the show. It's futile to critique a living legend. Let's just say that Berry was in better form than he was at his Pageant show back in November when he stumbled over guitar chords and forgot song lyrics and even sometimes what song he was supposed to be singing. (Not that it mattered then: The man still had more presence than the absolutely forgettable opening act, which was technically perfect and totally boring.)
It's true he did sit down to rest about halfway through last night's show, after the first line of "(I Love You) For Sentimental Reasons." "That's the way it is," he told the crowd as he settled into the folding chair beside his keyboard player. "I rested up in Chicago and it made the front page."
But then he got up again and attacked the considerably more up-tempo "Roll Over, Beethoven."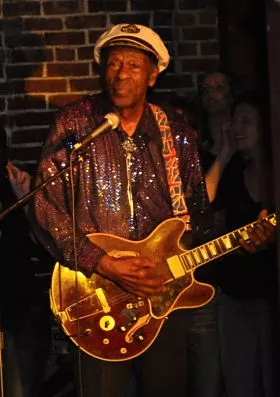 Bob Kusky
Berry and his adoring fans.
Berry no longer sings, exactly. He recites the lyrics now, like a slam poet. "I get the point over with clean words and clean music," he informed the crowd. Which is kind of what Edwards had said in his effusive introduction when he quoted Berry as saying that diction equaled respect.
Besides, when you've written classics like "Maybellene," "School Day," "Sweet Little Sixteen" and "Johnny B. Goode," you can pretty much depend on your audience to help you out. The crowd obliged most energetically with "My Ding-A-Ling" while Berry strummed his guitar and grinned his sly, dirty grin.
The Duck Room was packed, as it usually is when Berry plays. It was curious, though, that St. Louisans, who usually freak out and declare snow days at the first sign of bad winter weather, showed up in such force. Either their love and concern for Berry overrode their fear of the roads, or snow is only an excuse to avoid things you don't want to do, like go to work or school. Whatever the case, Berry made the sacrifice worthwhile. During "Maybellene" he considered doing a duck walk, then decided against it. "I don't wanna fall, y'all!" he explained. But by the time "Johnny B. Goode" came around, he threw caution to the wind and duck-walked across the stage with his guitar strapped across his body. He made it to the other side and the crowd went wild. It was at that point that the women leaped onto the stage.
"He sure knows how to work the crowd," observed one man standing alone and watching Berry and the women. "The crowd and my wife."
The energetic New York City quartet the Postelles opened for Berry. The last time they were in St. Louis was back in the summer during what lead singer Daniel Balk euphemistically referred to as "the pigeon incident." This could have been taken as an ill omen for Berry except what are the odds of one band being present at two catastrophic events? (Or, if there was any connection, the fact that Berry made it through his hour-long set unscathed could be viewed as some sort of commentary on the behavior of the Kings of Leon.)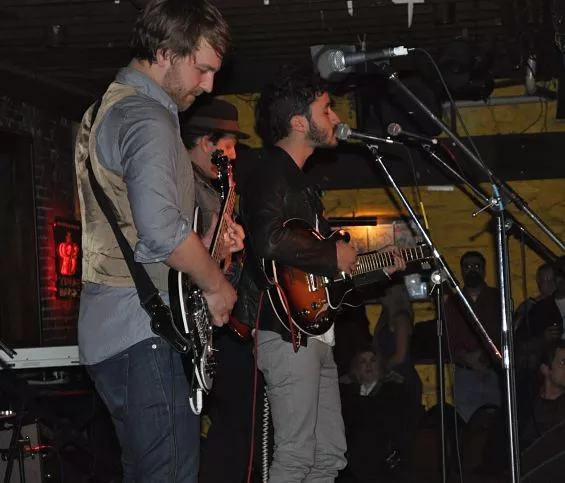 Bob Kusky
Three-quarters of the opening act, the Postelles.
But none of the many ducks in the Duck Room were alive and shitting, so the Postelles played a terrific half-hour set of upbeat, rockabilly-tinged pop unmolested. This is the start of a national tour for them, and they proved that they are a band worth listening to, not just a time-killer and an excuse to have a few drinks before Berry took the stage.
Chuck Berry's setlist: 1. Carol/Roll Over Beethoven 2. Memphis, Tennessee 3. School Day 4. In the Wee Wee Hours (I Think of You) 5. Sweet Little Sixteen 6. My Ding-A-Ling 7. Let it Rock 8. (I Love You) For Sentimental Reasons 9. Roll Over Beethoven (again) 10. Nadine 11. Maybellene 12. Rock Me Baby 13. Rock and Roll Music 14. Around and Around 15. Johnny B. Goode