Tonight, Girl Talk returns to the Pageant for what will inevitably be a sweaty, calorie-burnin' good time for those who possess an affinity for pop culture and a lack of attention span. In light of this event, A to Z was contemplating the (debatable, perhaps illegal) art of the mashup, and came up with some juxtapositions of our own. If you didn't snag tickets to the sold out show, by the way, don't forget you can still download All Day for free.
Minaj and Gaga: Fashion-forward queens of pop weirdness.
Kanye West's "Monster" (featuring Nicki Minaj) Vs. Lady Gaga's "Monster" I know Nicki Minaj totally resents the Gaga comparisons, but seriously, how could we not? Lady Gaga, that bold fashionista who injected weird into mainstream pop, and Nicki Minaj, the badass who made it okay to be a hard, weird, ultra-talented female rapper, and created a cult following of "barbies." Despite Gaga's reputation of being a controversial artist, many of her songs (especially the non-singles) are pure saccharine pop. Noted, "Monster" definitely has a weird factor (Gaga chanting in a robot-esque "he ate my heart, he ate my heart") it's still sing-a-long pop - "That boy is a monster / m m m monster." Set against Minaj's verse in Kanye West's song of the same name, Gaga is oh so very mild. Minaj howls and the end of her utterly fierce rant, "I'm a motherfuckin' MONSTER." This paired with Gaga's early pop excursion would be nothing short of cute.
Saliva's "Click Click Boom" Vs. Ke$ha "Tik Tok" "Click Click Boom" is one of those ridiculous songs that somehow became a big hit and in retrospect makes most people shudder and roll their eyes. This is also how I react when I hear a Ke$ha song, and the lyrical simplicity of "Tik Tok" is on par with that of "Click, Click, Boom."
Chuck Berry "Johnny B. Goode" Vs. Nelly's "Country Grammar" And now, for a St. Louis mashup. This one is actually practical: "Johnny B. Goode" is classic, and "Country Grammar" is right up Girl Talk's '90s pop alley.
David Bowie "Rebel Rebel" Vs. Bikini Kill's "Rebel Girl" Everybody loves David Bowie, right? He could almost be singing about Kathleen Hanna, right? (I mean, if he wasn't singing about dudes.) And really, I wouldn't be surprised if Bowie were the queen of her world, either.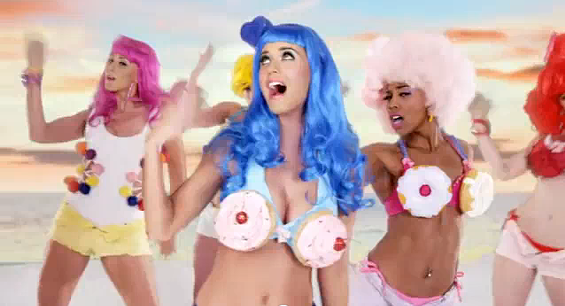 The always subtle Katy Perry.
T. Rex's "Teenage Dream" Vs. Katy Perry's "Teenage Dream" Marc Bolan wanted to know what ever happened to the teenage dream. I'm pretty sure it's snug in Katy Perry's cotton candy-scented cleavage.
Rihanna's "Only Girl in the World" Vs. David Guetta's (featuring Akon) "Sexy Bitch" "Sexy Bitch" was quite possibly my favorite ridiculous pop song of 2009. In case you've somehow missed it: "I'm tryin' to find the words to describe this girl without bein' disrespectful... DAMN! You's a sexy bitch! You's a sexy bitch!" ("Chick" is used in the edited version, which is still amazing.)
Although he's failing, he's trying to be respectful. Although Rihanna probably deserves better, maybe that's all it takes to make her feel like the only girl in the world. Maybe.
Cee-Lo gets to the point.
Cee-Lo Green's "Fuck You" Vs. Usher's "You Make Me Wanna..." This one sort of explains itself. R. Kelly's "In the Kitchen" Vs. R. Kelly's "When a Woman Loves" R. Kelly really has a great voice, okay? He's actually very talented - and that talent is best served, in my opinion, when paired with his penchant for over-the-top, sexed up, dirty, dirty lyrics and delusions of grandeur. So upon the 2010 release of Love Letter, I was both proud of him - it looked like R. Kelly was starting to act a little more like a grown-ass man - and disappointed that I might now live in a world with no new, hilarious R. Kelly songs to look forward to. While the new album is a pretty good soul record, and Kelly definitely shows off his pipes, I truly hope it's only a phase. Given the opportunity here, I'm making hypothetical lemonade by mixing Kelly's breakout, sensitive hit, "When A Woman Loves," with the endearingly explicit "In the Kitchen." Because girl, R. Kelly understands you, but he's also ready to toss your salad - whatever the moment calls for.
...but seriously, don't let R. Kelly in your kitchen.
Aaliyah's "Are You That Somebody?" Vs. Kings of Leon "Use Somebody" Super-iconic '90s pop song (and one that still sounds great today) mashed up with almost as iconic '00s pop song by the band that dominated music headlines and was the butt (pun not intended) of poop jokes for months.
Justin Bieber's "Baby" Vs. The Five Stairsteps' "O-o-h Child" Yes, yes, it's so obvious. Yet, this theoretical mashup is probably my favorite. For one, its existence would be the pop culture snake eating its own head, and the absurd, contrived, ridiculous entity that is the infancy of Justin Bieber and his "career" is sort of a joke in its own right.