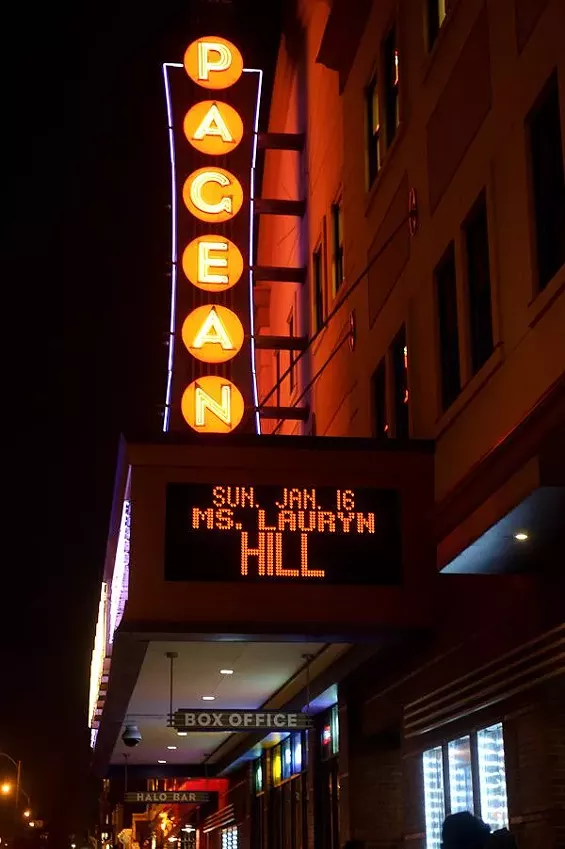 Ms. Lauryn Hill's difficult reputation precedes her. She shows up for most shows way past the scheduled start time. (And that's if she shows up at all.) She's been known to berate crowds which heckle her -- and she's radically reinvented many of her best-known songs, so much so that they're almost unrecognizable. (And that's not even counting performances that might charitably be described as "shaky.") In other words, being a Hill fan is often a frustrating proposition.
Anyone expecting a trainwreck last night at the Pageant would come away mighty disappointed, however. Hill's concert was incredible.
View a slideshow of the scene at last night's Ms. Lauryn Hill show at the Pageant
Yes, incredible. First, the build-up to her appearance onstage - which occurred at 11:52 p.m., a little over 50 minutes after the supposed start time - had just the right amount of anticipation. As DJ Rampage merrily spun hits in the background, her band casually sauntered onstage: two guitarists, two keyboardists, two bassists and a drummer. A few minutes later, three female backup singers assembled themselves in a row. And then ten minutes after that, Ms. Lauryn Hill, her hair arranged in a close-cropped, helmet-like afro, emerged from backstage.
The crowd went absolutely berserk at the sight of the 35-year-old, who was sporting a smart cream-colored tailored pantsuit over a dark brown shirt. Notably, Hill also wore a shrug that had a gigantic fur collar; it kept slipping off her shoulders, but she kept it on all night. Immediately, she announced her intentions for the concert: "We're going to do old music in new ways."
And that she did, for the first half of the show. "When It Hurts So Bad" featured prominent watery piano and a tortured, scorching guitar solo in the middle, while the laid-back hip-hop of "Lost Ones" morphed into a hyperactive soul-funk revue. An early highlight, "Final Hour," was even more ferocious; it became an amped-up rap-rock song. Hill spat the lyrics furiously and at dizzying speed. (Eat her dust, Nicki Minaj.)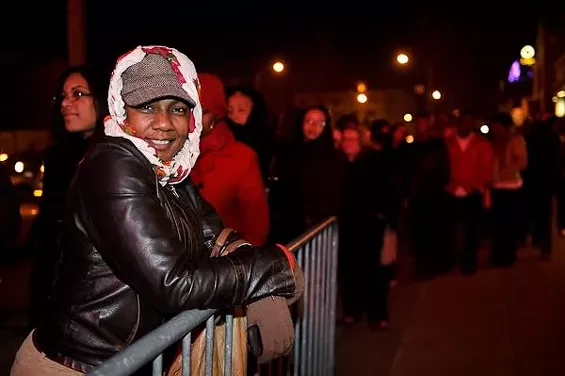 Todd Owyoung
A fan waiting in the cold to enter the Pageant before the show
"Ex-Factor," however, was perhaps the biggest departure - and probably the most polarizing song. Hill and the band basically performed the song two different ways: once as a loud, rap-rock number and the other in a mellower fashion, with U2-esque lullaby guitars and backup singers chirping like delicate angels. During this particular song, it was clear that the audience was unenthused by Hill's reinvention. People stood still and unresponsive; a few even left.
Those who stuck around, however, witnessed some remarkable music. "I suppose you wouldn't mind if we did a few Fugees records," Hill announced to the crowd. (She supposed right.) Keyboards zoomed like a martian landing to introduce the energy-shot "How Many Mics," another insanely fast tongue-twister. And the similar blur "Fu-Gee-La" was simply bananas: The crowd and the entire band jumped in unison, as Hill just commanded the stage and the song's lyrics with precision and snarling intensity.
Hill then asked for the stage and house lights to be dimmed -- the perfect mood-setter for a stellar version of "Ready Or Not," which had a seedy, crackling beat and sinister bass. "Killing Me Softly" kept ratcheting up the energy; it started off slow and mellow and ended up a brash funk-rock workout that stopped and started at Hill's whim. The encore's highlight, of course, was "Doo Wop (That Thing)." As the song's familiar plinking piano chords began, the crowd embraced it with joyous abandon.
Throughout the night, Hill herself was lucid and gracious. She thanked the audience multiple times for coming to the show and any ribbing she gave her band mates was good-natured and meaningful: "Band - don't waste this tune," she said at one point. "You're responsibility is to move them [the crowd]." A gravelly, smoky tint to her voice made her singing sound mature and weathered, but in a good way; Hill sounds like she inhabits the intimate sentiments of her songs even more deeply than before. Her rapping, meanwhile, was spot-on and impressively fluid and quick. In fact, Hill oozed confidence - whether she was directing the band to go in a certain direction with a flick of her arm, dancing like a bow-legged ballerina or strutting across the stage with assertive, aggressive movements. There was nothing tentative about her performance - nothing to indicate anything less than devout sincerity and genuine engagement.
Her phenomenal backing band helped match her swagger. The only complaint was that they were turned up rather loud - sometimes to the point of distortion, and often so loud than genre nuance became muffled or lost under layers of noise. Still, their grasp of dynamics brought Hill's songs to life. The slow, steady build in tempo and intensity within many of the set's individual songs was an emotionally stirring experience. In fact, the set was paced very well overall.
Still, it's easy to see why fans were disappointed in Hill's new arrangements. Hearing a beloved artist deconstruct a favorite, meaningful song isn't easy - and often, it isn't welcome (or an improvement). But perhaps Hill is reinventing her music to avoid boredom, or perhaps she's doing it to challenge herself musically. Or perhaps Hill's revisions are a defense mechanism, a way for her to continue performing these songs with enough emotional detachment that their vulnerability doesn't cripple her. Splicing old sentiments with new genres creates new associations that are no less valid or absorbing - but they might be less raw than they were before.
For now, analysis fades behind the memory of last night's kinetic, vibrant show -- and the powerful messages contained within it. At the end of "Ex-Factor," for instance, Hill expressed some compelling, evocative sentiments. "St. Louis, we care," she said. "Be love - be present - be fearless - don't compromise. We're going to be fearless." The mantra fit her performance to a tee.
Critic's Notebook: I'm confused why anyone was upset - or surprised -- about the show's late start time. The Pageant clearly stated that doors were at 9 p.m. for last night's show. Doors. The venue had no actual start time listed, probably because Hill regularly starts her shows very, very late - and even they didn't know when she would come onstage. When people showed up at the venue, we were told that show time was slated to be around 11 p.m. Hill ended up coming on at 11:52 p.m. This also shouldn't be a total shock; she's been coming on late for months now.
Most of the grumbling about the show starting late seemed confined to social media anyway. DJ Wood kept the crowd highly entertained for two hours by playing a solid, danceable mix of hip-hop, soul, reggae and rap; the vibe was festive, celebratory and happy. People around me were dancing, singing along and generally enjoying themselves. DJ Rampage came onstage around 11 p.m. and kept the good feelings coming. In fact, the atmosphere at the Pageant was extremely positive and fun - perhaps the most loose, respectful crowd I've seen at the venue in a long time. Waiting several hours didn't feel like a chore. Perhaps that's why the show was such a success.
As we were leaving the Pageant, Hill was still at the back of the venue in a car - and apparently hanging out the window and talking to fans, who were crowded around trying to snap pictures. People were yelling, "I love you!" and other things. It was incredible that she was still there, much less greeting people.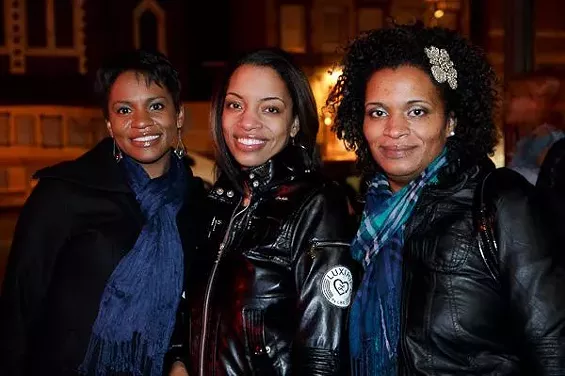 Setlist: "Forever Loving Jah" (Bob Marley) "Lost Ones" "When It Hurts So Bad" "Ex-Factor" "Final Hour" "How Many Mics" (Fugees) "I Only Have Eyes For You" (Flamingos cover) "Fu-Gee-La" (Fugees) "Ready or Not" (Fugees) "Killing Me Softly" (cover)
Encore: "Turn Your Lights Down Low" (Bob Marley) "Doo Wop (That Thing)"
(Did I miss anything, setlist-wise?)