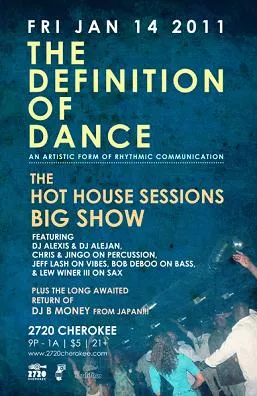 Have cabin fever yet? If you don't, I'd be surprised. Thankfully, this weekend will be a little respite from the cold. Go check out some of the shows listed here. Or explore the events below.
Friday STL Loud EP Release @ Off Broadway The first EP in the STL Loud series is being released tonight. The bands/musicians on the release -- Langen Neubacher, Andy Berkhout, The Warbuckles, The Orbz, The Dive Poets and Via Dove -- will be performing together at Off Broadway. Read Christian Schaeffer's review of the EP here. 8 p.m. 21-plus:$10. Under 21: $13.
Definition of Dance + Ernest Trova Art Show @ 2720 Cherokee ArtDimensions is curating an art show with works by Ernest Trova, while the Hot House Sessions Big Show -- that's DJs Alexis and Alejan, along with percussionists Chris and Jingo, bassist Bob Deboo, vibist Jeff Lash and saxophonist Lew Winer III -- brings the noise. 9 p.m. $5. 21-plus.
Tef Poe, Chalk Boyz, Family Affair, Whiteout @ Cicero's Solid local hip-hop through and through; info here.
Dubb Nubb/Cory Taylor Cox Record Release @ Foam The "Shiny Mountain" split seven-inch we first told you about in December is finally arriving. Available for $10 at the show. 8 p.m.
Cognitive DIssonance @ Cranky Yellow Thrashing punk-metal from Minneapolis. With Maximum Effort, Suburban Smash, Drizzlin' Shits. 8 p.m. $5. Saturday Tony LaRussa's ARF Stars to the Rescue benefit @ Fabulous Fox Billy Bob Thornton and the Boxmasters, country singers Easton Corbin and David Nail, actor/comedian Kevin Pollak and the city's own Kim Massie highlight this year's stars. Story of the Year is also apparently playing some acoustic songs, according to a Tweet from singer Dan Marsala. 7 p.m. $40 and $60.
The Jans Project/Deciders @ Off Broadway The Jans Project is comprised of Champaign/St. Louis musicians; in fact, three of them -- Nick Rudd and Jeff Evans and Steve Scariano -- were in the B-Lovers, a well-loved early '80s regional band. The Deciders -- Mike Martin, Mark Buckheit and Ann Hirschfeld -- were in a group called Long Pig in the late '80s. 9 p.m. 21-plus: $8. Under 21: $11Facebook event
The Union Electric @ Lemmons The Union Electric is currently running a Kickstarter campaign to fund a new 7". With Mooncussers, Music For Plants, The Union Blue. 8 p.m. $5.
BoomBox @ 2720 Cherokee A duo which lives up to its name; house, funk, soul, disco collide like a free-form radio station. With Cor(e)yography + Justin Torres' Loop Project. 9 p.m. 18+ $12, plus $3 minor surcharge.
Sunday Middle Class Fashion @ Lemmons A piano-pop-tastic band from Tight Pants Syndrome members Jenn and Brian McClelland. Music available on iTunes, with a preview right here. With The Skekses, Andy Hyland, Kill a Drifter, Itchy Hearts. 7 p.m. $5.