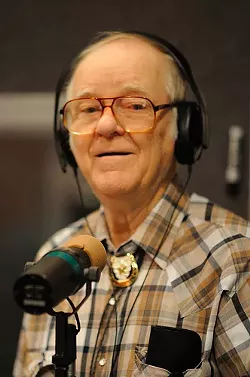 Sara Finke/KDHX
Gene Roberts on May 6, 2008
Gene Roberts, who hosted the long-running KDHX show "Country Function, Bluegrass Junction," until August 2008, died on Wednesday. He was 82.
"Gene had what is likely the most extensive collection and knowledge of country and bluegrass music there is," says Bev Hacker, KDHX's co-executive director. "I've been told that he had so many records, when he parked his car in the garage, he could only get out one door because the garage was so packed with music. He also knew so many of the original artists in both genres. He kept in touch with them and kept their music playing on the airwaves. He also helped a lot of new acts by playing their records and having them on the air.
"From a personal standpoint, he and Fred Gumaer taught me to really appreciate country music, which was a genre that I really never listened to very much," she continues. "I'm sure I'm not the only one. He had fans of all ages who loved his show and loved the way he put it together.
"Gene's love and knowledge of the music always came through. He will be missed."
In an obituary published on KDHX's blog, RFT writer Roy Kasten expanded on the scope and breadth of Roberts' radio career, which spanned over sixty years.
His involvement with radio dates back to the 1940s. Before going on-air with KDHX in the early '90s, Gene broadcasted with WGNU, KWRE and KCLC. His birthday parties were always well-attended, joyous celebrations of old time music and he supported local and national musicians by regularly hosting them in the KDHX studios, interviewing them on-air and playing their records. Gene also hosted the annual Hank Williams Special on 88.1 KDHX, a 2-hour radio show that brought together some of the finest musicians in St. Louis to cover songs by the legend.
His trademark exclamation, "Mighty fine!" is just one way to describe his spirit.
KDHX's blog also has streaming audio of the first hour of Roberts' 2007 Hank Williams special.
Visitation will take place at the Bradford Funeral Home, 305 North Main, Summersville, Missouri, on Saturday, January 15, from 5:30 p.m. to 8 p.m. The funeral is Sunday, January 16, at 2 p.m.