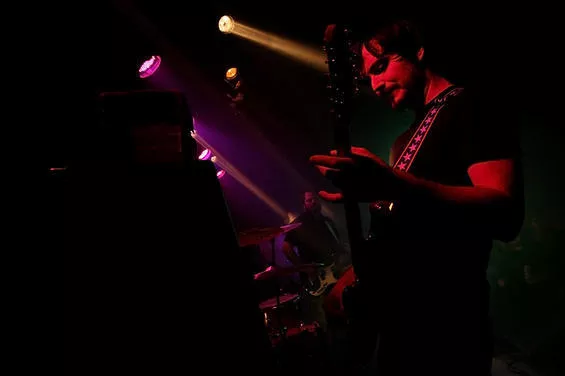 Nick Schnelle
Andrew Elstner, playing with Riddle of Steel in October 2009
Tilts vocalist/guitarist Andrew Elstner is joining the well-regarded stoner-metal band Torche. The latter group, which has members in Atlanta, Gainesville and Miami, has known Elstner since he was the vocalist/guitarist for Riddle of Steel. When that band ended a few years ago, it coincided with Torche splitting with guitarist Juan Montoya.
"[Torche] singer/guitarrer Steve Brooks found out I was a free agent, and we've been in touch ever since," Elstner says. "He's also a big fan of Tilts too, so we'd been trying to coordinate a jam/hang session for a long time and scheduling has been tough."
That session finally happened this week in Gainesville, Florida -- and by all accounts, it went well.
"It's been sleep, eat, jam since I got here," Elstner says. "Surreal and awesome."
He adds, "I've been looking forward to this for a long time as I'm a huge fan. But I can be shy in a new situation so it wasn't like 'instant awesome.' We'd all hung out a coupla times before, but there needed to be a couple warm-up days before everyone felt 100% comfy I think."
In Torche, Elstner will be playing guitar and contributing back-up vocals -- "and possibly a lead vocal or two," he says. He'll also be moving to Atlanta in March.
"St. Louis, my friends, my family, my bandmates in Tilts -- everyone has been super supportive and crazy excited as I am," Elstner says. "It's been humbling and awesome. No matter how it all ends, I'm having a good time now, spoiled with the musicians in Tilts and Torche alike. I'm very, very lucky."