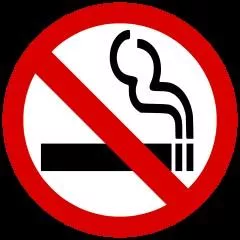 Walking into a bar in St. Louis now, your nostrils might have a little trouble adjusting to the smell. With the new smoke-free law, formerly hazy bars and restaurants are now places where all five senses can function without environmental interference. (Without that smoke smell though...well, it's a pity those old Smoke-Eaters don't do anything about the faint aroma of farts lingering in the air.) Have you been avoiding your local watering hole because of the smoke? New year, new law, no excuses not to explore the places you once eschewed. Been to any more newly smoke-free bars in the city? Drop a line in the comments.
Upstairs Lounge 3131 South Grand Avenue Once a smoky den with practically opaque air, walking into Upstairs on a Monday night feels a little surreal sans fog--you can actually see faces. Though without the busy-making aspect of cigarettes, everyone looks a little bored -- at least until 1 a.m., when the serious dancing gets underway.
Jack Patrick's 1000 Olive Street
The Bleeding Deacon 4123 Chippewa Street Since its arrival on the South-side scene in 2008, the Bleeding Deacon has been a smoky sanctuary for the punk rock crowd. However, we're overjoyed to see the place go smoke-free because damn, their food rules. If you've never stepped in the Deacon before, it's time to meet your new favorite pub. Rue 13 1311 Washington Avenue
Lemmons 5800 Gravois Avenue The timeworn music venue has a blue-collar charm and fuck-all attitude that sums up everything we love about St. Louis. See a show here, enjoy the Wednesday night trivia, or partake in their toothsome pizza pies.
O'Connell's 4652 Shaw Avenue
Novak's 4121 Manchester Avenue The seminal gay bar is smoke-free for the first time ever, but Nancy Novak is nothing if not a pro at knowing her public: The bar is hosting a Lose the Cigs contest until March 1, and a new heated pavilion has been constructed on the bar's massive patio. SubZero 308 N. Euclid Avenue
Herbie's 405 North Euclid Avenue
Morgan Street Brewery 721 N. Second Street
And a bonus one just over the border between the city and the county that went smoke-free: Cicero's 6691 Delmar Boulevard