"So St. Louis" rapper Corle2da is dropping a video tonight at the Old Rock House for his brand new single, "Digital." Local rockers Last Night's Vice will be performing a few songs with Corle, and rounding out the bill are the Fu Fops, up-and-coming pop artist Joshua and LMNOP. Doors are at 8 p.m., and the video premieres at 9 p.m.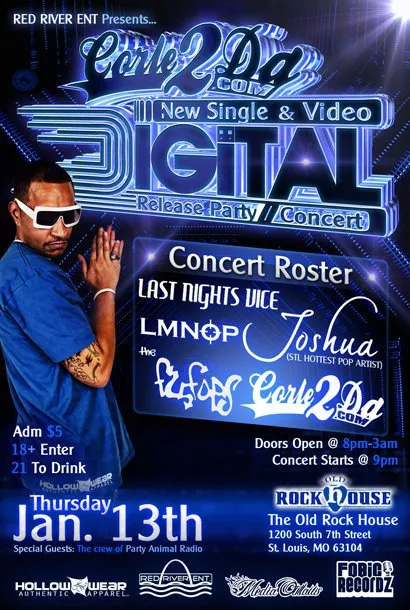 "We're expecting a big turnout," said Ron "Noodle" Boles, Corle's manager and the head of Red River Entertainment, one of tonight's sponsors along with Media Outlaws and Hollow Wear. (The latter is responsible for the sold-out So St. Louis t-shirt popularized by Corle's last video of the same name.)
"Digital" was supposed to drop on January 1, but Boles said after tonight's premiere of the new, hi-tech video at the Old Rock House, it will make its Internet debut tomorrow at noon.
In a recent meeting with Corle2da and his devoted cadre of accomplices at A to Z World Headquarters, Corle gave us a peak into his hip hop philosophy: bring the national focus back to the surfeit of talent in St. Louis, keep the game positive and -- most important -- stop the motherloving violence.
"We don't hate, we just keep it moving. The more you hate, the more you fall behind," Corle said.
Corle2da is also doing an appearance on KFNS 590 am today at 2 p.m. with Sara Bruce