We're twelve days into the smoking ban, and there's still no master list of places in St. Louis city exempted from the ordinance. In an A to Z post published yesterday, Kara Bowlin, Mayor Slay's press secretary, explained that exemptions are determined after the Department of Health coordinates its application data with the city's Excise Division, the department in charge of tracking food and drink sales. Nobody's quite sure when this process will be completed -- and so in the meantime, we've compiled a list of some of the prime spots in the city that should qualify for an exemption. In other words, where can you puff your American Spirits in peace and decry the vile Draconian nanny state? Think we're wrong about one of these establishments or know a few we forgot? Let us know in the comments!
Diana Benanti
The quaint little gloryhole closed its kitchen and put up cigarette sculptures to cement it's status as a smokehouse.
Soulard Bastille 1027 Russell Boulevard
Cat's Meow 2600 South Eleventh Street
Friendly's 3503 Roger Place
The Trophy Room 5099 Arsenal Avenue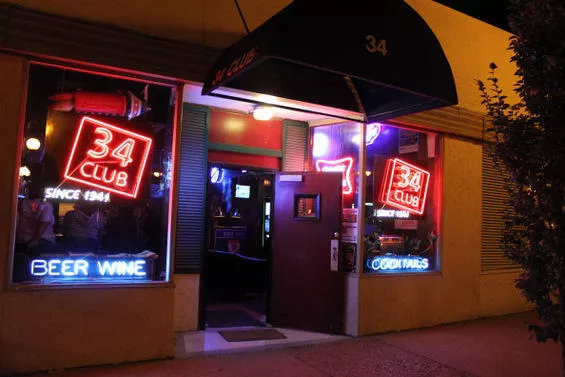 Diana Benanti
One of the oldest bars in the area, The 34 Club harkens back to the heyday of Gaslight Square. Let 'em keep their squares.
34 Club 34 North Euclid Avenue
The Crack Fox 1114 Olive Boulevard
Frank's 1st Alarm Bar 7800 Virginia Avenue
Diana Benanti
Only the pig from the 1995 film is more adorable than this teeny nightspot.
Babe's Tavern and Garden 3215 Ivanhoe Avenue
Nellie Glenn's Saloon 6109 Gravois Road
Shamrock Pub 1131 South Broadway Street
Rosie's Place 4573 Laclede Avenue