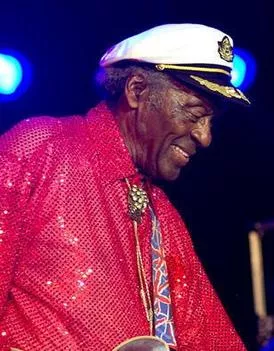 Erin Kinsella
Chuck Berry at Kiener Plaza, July 29, 2010
Chuck Berry's New Year's Day concert in Chicago ended prematurely, after he slumped over a keyboard and had to be helped from the stage.
"Chuck had played a bit of very spotty piano earlier in the set during 'Let It Rock,' so when he headed for the bench we assumed he was going to play some more," says Heather West, a veteran music publicist who was at the Congress Theater show. "I don't know how long he paused over the keyboard, less than a minute, but his shoulders slumped, his head went down and from my perspective, he looked like he had lost consciousness. ...His people very quickly helped him off the stage, to everyone's shock."
"People definitely didn't think it was part of the show," she added. "This was a huge audience, probably 2000 or more, and everyone was super jacked up, very excited. It was multi-generational in nature as well, lots of families. When he was performing poorly, some of the audience began to leave, but the majority were still there. People were definitely shocked and upset."
According to the Chicago Tribune, paramedics were called to the venue and examined Berry, but he did not go to the hospital after the show. (The 84-year-old rock & roll pioneer reportedly left the scene in a limo.) On Sunday, Berry's long-time booking agent, Dick Alen, told West, "Chuck was unfortunately suffering from exhaustion at his concert last night, but is home resting comfortably."
Berry, who last played in St. Louis at Blueberry Hill's Duck Room on December 15, had a busy weekend. He played two New Year's Eve shows at B.B. King Blues Club & Grill in New York City, before heading to Chicago for the Congress Theater gig.
West says that there were warning signs that something wasn't quite right on Saturday night. Chuck Berry addressing the audience after leaving the stage: "Chuck sounded somewhat tentative and shaky very early in the set," she says. "[He failed] to complete entire songs and spen[t] an inordinate amount of time on guitar tuning, noodling and employing slower tempos than the songs are usually played at. His voice was pretty strong, but musically it was clear to me early on that something was amiss.
"Because the music was so unsteady and disjointed, everyone was looking at each other and wondering what was up," she adds. "He didn't appear tired as much as confused."
About fifteen minutes after the keyboard incident, the Tribune reported that Berry and his band unsuccessfully attempted to re-start the show. Berry did return to the stage to address the audience before leaving the premises, however. As the remaining crowd cheered wildly, he said, "I have been checked out by the registered doctor - and he's standing right over here now - and I begged him, 'Could I come out and say something to my fans here?"
He went on to explain what happened: "When I was sitting at the piano and stopped playing, I was about a ten - I felt like I was a...maybe a fifteen. I had to lay my head on the piano, I had no strength at all. And now, ten minutes in there, with the blood pressure and all that stuff" - he touched both arms, as if to mimic the blood pressure cuffs on them -- "I feel like I'm about 65 or 70." The crowd cheered again.
Ever the consummate entertainer, Berry then looked for his guitar -- to no avail. "They're afraid I'll do my scoot!" he exclaimed. "Well, I'm going to try to do my scoot for you anyway." As the crowd roared its approval, he planted his left foot in front of his body, mimicked strumming a guitar and indeed, did a few steps of the duck walk across the stage.
"It was a bitterly cold night and it was so great to people of all ages packing the Congress to see a show," West says. "It's not that often that you see that in the live music scene here. I -- and everyone else -- was so excited to see a musical giant, so it was sort of a sick feeling when things started to go south. That said, I'm incredibly relieved to hear of his well-being."
Look for A to Z to update this story later today with local comment