It takes cojones to play a set that, save for one song, draws entirely from Pink Floyd's The Wall -- when Roger Waters himself played the entire album in your town less than two months ago. But the masterminds behind El Monstero, St. Louis' annual December Pink Floyd tribute supergroup, have never lacked for stones. Or anything else for that matter. Case in point: This year's edition of El Monstero features confetti, smoke, scantily clad pole dancers, about twenty monitors displaying evocative footage and much more. All of this takes place on a brand new stage that extended from midway on the Pageant's stage over three quarters of the pit, thus allowing for a theater-in-the-round setup with seats on all of its sides. Needless to say, it's an immersive show; while ironic considering The Wall's themes of isolation, the stage set-up made for a thrilling communal experience.
View a slideshow of photos from El Monstero at the Pageant
The band wisely unfolded this spectacle gradually, escalating it throughout the first of two sets. This allowed the audience to take in the masterful performance from the group with minimal distraction. El Monstero immediately instilled drama into the air with the striking opening of "Is There Anybody Out There? (Part I)" and built tension as they transitioned into "The Thin Ice." When they hit the part where the full band jumps in, the group demonstrated how well versed they are in Floyd's sound: Drummer John Pessoni crushed the downbeat, minimalist pattern with style as Bill Reiter and Jake Elking rained down the oppressively dark organ drones. All the while, Jimmy Griffin and Bryan Greene set off mournful screaming leads that perfectly captured David Gilmour's bluesy feel.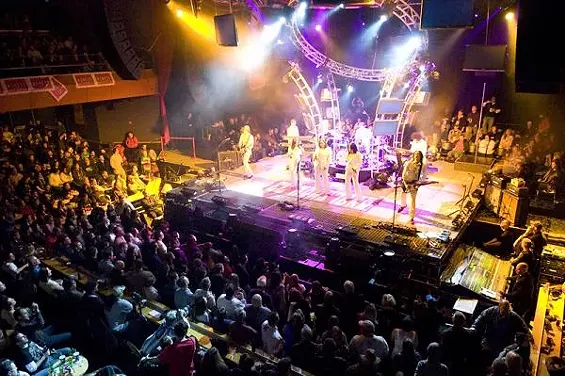 The two would trade off accomplished solos in this vein throughout the night, feeding off each other's abundant talent. And with his strong, clear pipes and broad range, lead singer Mark Thomas Quinn made an excellent Roger Waters surrogate. Quinn also played the role of The Wall's Pink with great aplomb, seeming equally at home flashing rock star poses as he was crooning a ballad at his side stage's mini-room setting, complete with a lamp, chair and Jack Daniels. Griffin also acquitted himself nicely in taking on Gilmour's vocal parts by bringing a tender, slightly breathy feel to the material.
As expected, bigger songs such as " "Goodbye Blue Sky," "Hey You," and "Another Brick in the Wall (Part 2)," received the best reception. (The latter even featured a deranged teacher to recite the famous "If you don't eat your meat, you can't have any pudding" speech.) Actors like him portraying everything from vapid girls to fascist policemen would pop in from time to time to sell us on Pink's world and pay tribute to Floyd's grandiose arena show. Because of superb pacing, these actors always enhanced and never overwhelmed the action.
It all built to a climax on a propulsive "Run Like Hell," where Quinn and bassist Kevin Gagnepain (who did a fine job holding down the low end) alternated fiery verses before a six-piece drum corps from Pacific High School emerged. The corps pounded out a martial beat and traded solos from a liberated Pessoni, who brought the crowd to life with a sterling performance. It was a highlight matched in the first set only by saxophonist Dave Farber running wild both on flashy runs and over the Pageant's drink rail during closer "Shine On You Crazy Diamond."
After a brief intermission, the band returned to take on abbreviated versions of epic Floyd songs such as "Echoes," "Dogs" and "Pigs (Three Different Ones)." This served as a further showcase for Griffin and Greene's chops, and they didn't disappoint. Greene even managed to thrill with a talk box on "Pigs." Save from a guest turn from a slithering, fake money-throwing Matt McInerney of Lucabrasi fame on "Have A Cigar," the second set toned down the spectacle to let the music shine, especially during the full run through Dark Side of the Moon. Monstero played it straight, replicating the songs perfectly with no extra improvisation. The trio of backup singers, Tandra Williams, Erminie Cannon and Mindy Mierek, deservedly got the biggest ovation for their soulful wailing in "Great Gig In The Sky." Overall, the Dark Side portion of the show was a welcome return to a familiar staple.
The night only had a few minor blemishes that kept it from being perfect. Guest Jerry Jost (Lucabrasi/The Urge) had some trouble getting his guitar to work, which delayed the crucial transition to "Money" and a shot of feedback threatened the otherwise excellent sing along encore of "Wish You Were Here." And for some reason, there was too much talking amongst the audience during a few of the softer numbers in the first set. ("Nobody Home" stood out as the worst offender.) But these gaffes were spread out and were insignificant in the grand scheme of what El Monstero accomplished. The show illustrated not only Pink Floyd's enduring legacy but also what a deep reservoir of talent there is in our local music scene. The result was a heartfelt tribute that should have left Floyd fans of any stripe happy.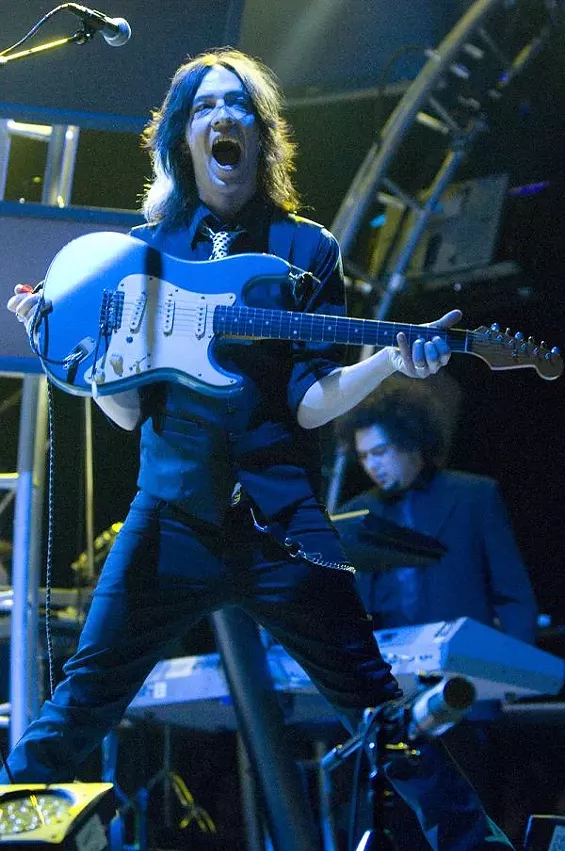 Setlist: Set One: Is There Anybody Out There? (Part I) The Thin Ice (Part II) Another Brick Pt. 1 Happiest Days of Our Lives Another Brick Pt. 2 Mother Is There Anybody Out There? (Part II) Goodbye Blue Sky Empty Spaces Young Lust One of My Turns Hey You Nobody Home Vera Bring the Boys Back Home Run Like Hell (Another Brick In The Wall Pt. 3) Waiting for the Worms Stop Shine On You Crazy Diamond
Set Two Echoes Dogs Pigs (Three Different Ones) Have a Cigar Pigs On The Wing Speak to Me / Breathe On The Run Time Great Gig In The Sky Money Us and Them Any Colour You Like Brain Damage Eclipse
Encore In the Flesh Pt. 2 Wish You Were Here Comfortably Numb