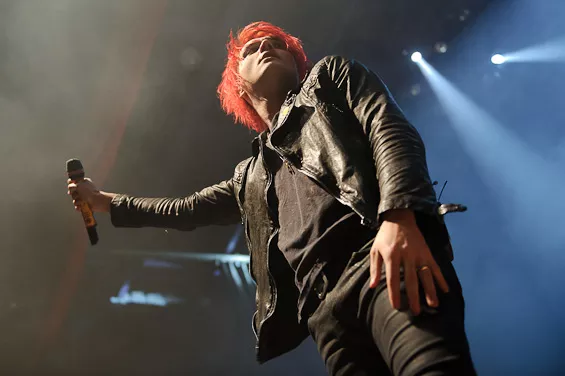 Todd Owyoung
Gerard Way of My Chemical Romance
Near the end of My Chemical Romance's very-sold-out show at the Pageant, the band took a break and left vocalist Gerard Way and touring keyboardist James Dewees alone on the stage. Way, sporting simple black pants, boots and a T-shirt, clasped the mic; his cartoonish, dyed-red-hair clung to his face and hid his eyes. Dewees started playing the simple, affecting piano chords of "Cancer." Way's voice - strong, confident and nearly Broadway-esque - reached the rafters of the venue as he sang the song, and quieted the crowd into near-silence.
View a slideshow of photos from My Chemical Romance at the Pageant
Frankly, it was a stunning moment - and not something usually seen during a raucous rock show. But that's My Chemical Romance: always unpredictable, always willing to take risks and always unafraid to show its vulnerability. The first two traits especially stood out last night: The group made a Dylan song sound like the Sex Pistols crashing a piano recital (a fist-pumping cover of "Desolation Row"), indulged its inner Cure fan (the moody, gothic "The Ghost of You") and took cues from theatrical, Russian high-kick ditties (the macabre "Mama").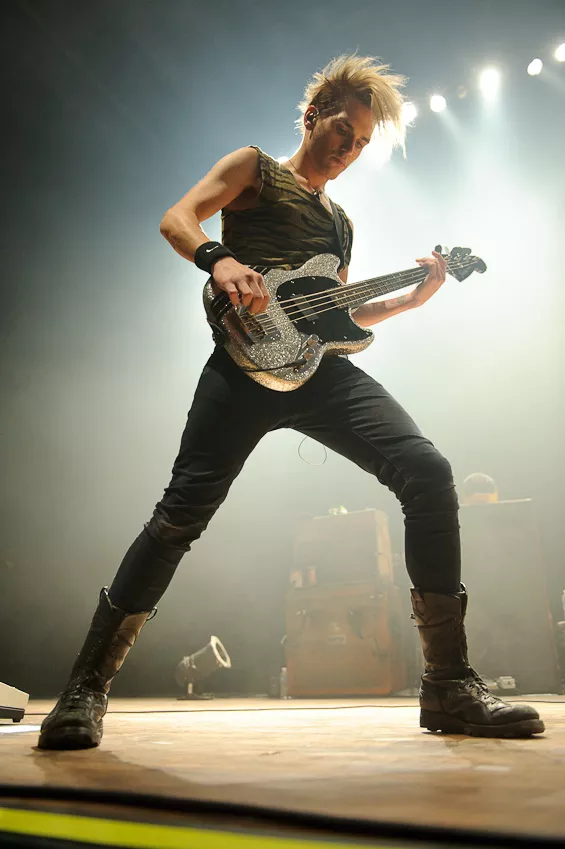 Todd Owyoung
My Chemical Romance bassist Mikey Way
Still, MCR is first and foremost a formidable rock band. "Na Na Na (Na Na Na Na Na Na Na Na Na)," the first single from the new album, Danger Days: The True Lives of the Fabulous Killjoys, was an adrenaline-shot of scuzz-garage with a glammed-up chorus. The song set the stage for an even more ballistic "Thank You For the Venom," which nodded to the band's hardcore punk and thrash roots. Guitarist Ray Toro had the chance to unfurl some gnarly solos on the Thin Lizzy-influenced horror-show "House of Wolves" (which also featured vocalist Way howling like a werewolf), while guitarist Frank Iero and bassist Mikey Way bookended him with their own slash-and-burn moves. Gerard Way commanded attention - throwing his arm in the air like a marching-band drum major, headbanging and stalking around the stage restlessly - but his charisma was never over-the-top or off-putting.
James Dewees held court (mostly) out of the spotlight, although he played a prominent musical role: Keyboards factored heavily in the band's new material, and so he was always in motion, manipulating sounds and textures. "Planetary (GO!)" was a bizarre hybrid of bombed-out disco and plastic synthpop, with hip-hop-cadenced vocals layered on top. (Despite the contradictions, the song totally works.) "Sing" was far creepier than its studio version: Eerie synths zoomed and streaked like space junk, calling to mind the dark electronica of '90s alt-rock footnotes Stabbing Westward and God Lives Underwater.
The younger kids in attendance probably don't know those bands. But that's the beauty of MCR: The band takes familiar influences and twists them into something fresh. For instance, the classic-rock-ape "Teenagers" is (amusingly) a dead-ringer for the Georgia Satellites' "Keep Your Hands to Yourself." But in MCR's hands, when the twang-rock riffs pair with lyrics such as, "They said all teenagers scare the living shit out of me/They could care less as long as someone'll bleed," the tune becomes something more than a vapid love song. Acknowledging recognizable sonic touchstones keeps the band accessible; simultaneously, this makes it appeal to a broader fanbase. MCR is the equivalent of the kid in high school who floats between social groups, someone who dabbles in many cliques but never quite fits in anywhere.
Most bands couldn't pull this off, this assimilation of influences. But MCR does, because the group oozes sincerity. (Heck, Gerard Way is one of the few front men who doesn't sound like a total douchebag when he asks fans to put their cellphones in the air.) There's no sense that any of its musical curveballs have any ulterior motive; the motivation for diversity is self-directed. With so much radio rock that's contrived, digitally stitched together or just plain derivative, My Chemical Romance proved last night that for once, the misfits shall inherit the earth.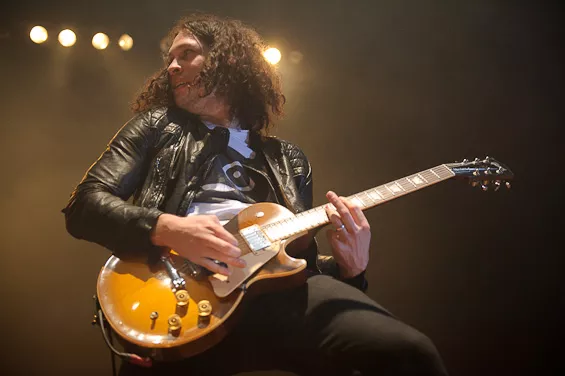 Todd Owyoung
Guitarist Ray Toro
Critic's Notebook: A Pageant employee told me that fans starting lining up for this show at 9:30 p.m. Monday night. Yes, you read that right: People stayed overnight in the near-zero cold to get prime spots.
Shout out to Ellen and Tricia, the two women sitting next to me, both of whom were the responsible adults for younger (teen) relatives. I like seeing cool parental figures at shows.
I had my KDHX radio show beforehand, so I missed both Brookroyal and Middle Class Rut. How were they?
Personal Bias: I've lost count how many times I've seen MCR live. This was my second (or third?) time seeing the band at the Pageant, and I saw them several times before that even. Everyone gives me shit for liking them, but I don't care.
James Dewees is also the keyboardist in the Get Up Kids and fronted Reggie and the Full Effect. Damn, I loved that band; I miss them. Reggie's doing a one-off show on New Year's Eve in Philadelphia. Here's "Congratulations Smack and Katy":
Also, Dewees' parents were there. Gerard Way had the crowd greet them at one point.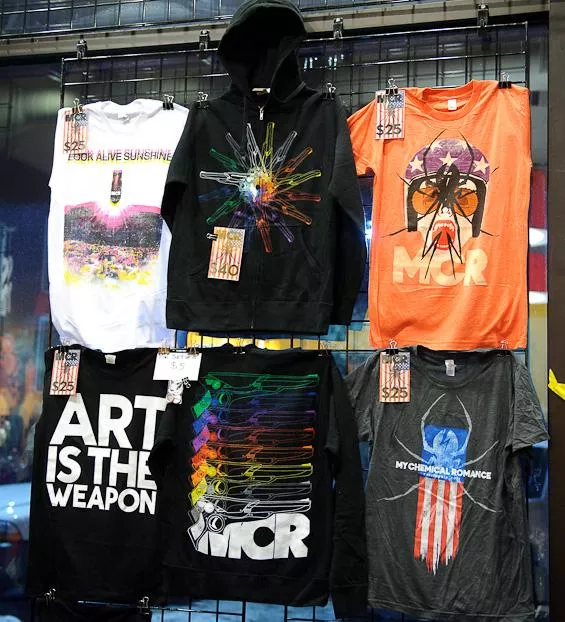 My Chemical Romance Setlist: "Look Alive, Sunshine" "Na Na Na (Na Na Na Na Na Na Na Na Na)" "Thank You For the Venom" "Planetary (GO!)" "I'm Not Okay (I Promise)" "Sing" "House of Wolves" "Mama" "Teenagers" "Desolation Row" (Dylan cover) "The Ghost of You" "Welcome to the Black Parade" "The Only Hope for Me Is You" "Helena" "Cancer" "The Kids From Yesterday"
Encore: (thanks, commenter Greg!) "Vampire Money"