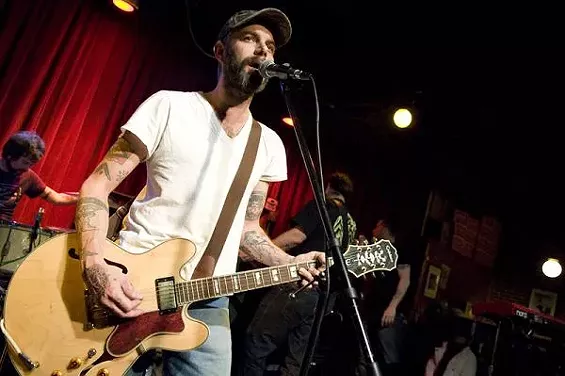 When I interviewed Ben Nichols a couple weeks back, the singer recognized that St. Louis was due a proper Lucero show. After the band's LouFest set was cut short due to Nichols' health, and its previous Off Broadway gig was slightly interrupted with a couple of hair-pulling girl-fights, Nichols told me he was hoping this performance would be "just a good rock & roll show." True to his word, Nichols and the band -- which featured a two-piece brass section comprised of renowned Memphis players -- delivered in a serious way.
View a Lucero/John Henry and the Engine at Off Broadway slideshow
Locals John Henry & the Engine opened. The band slowly built momentum as frigid fans filed into the near-sold-out club and thawed out. Henry & Co stomped through some unassuming honky-tonk rompers with decent energy and plenty of gusto. While the crowd was mostly just ready for Lucero to come on, JH&TE did manage to move some hips when they tried its hand at a well-executed--yet slightly too aggro--version of Tom Petty's "Refugee."
After an animated introduction by the illustrious Beatle Bob, Lucero spared no time at heating up Off Broadway. The band's opening tune "The Devil and Maggie Chascarillo" from Lucero's 2009 full-length, 1372 Overton Park, served as the perfect tune to showcase the band's new-found fuller sound. The horns blared through the verses and chorus like sirens, as keyboardist Rick Steff came in at the bridge with a clinking E-Street-approved keyboard demo.
You could tell the band was having fun too. Nichols was appreciative of the turnout for a Tuesday night, aptly stating "Fridays and Saturdays are for amateurs... Tuesday night is the 'real drinker's' night." Nichols later took a break in the set to tell a story of how he was fined $100 by the band the night prior for puking on the tour bus. Apparently the band's sound guy gave Nichols the opportunity to decrease the fine by $20 if he was able to hit him behind the soundboard with a newfound hacky sack. No such luck for Nichols--he skied it into the balcony and found himself $100 poorer. Lesson learned? Doubtful.
Lucero, as a whole, has always been greater than the sum of its parts. And by adding more parts, the whole has certainly grown stronger. Guitarist Brian Venable's riffs bit harder with the wall of horns behind him. Drummer Roy Berry's sometimes confusing backbeats synced perfectly with Steff's impeccable chops.
The dynamics are changing too. While Lucero has always worn its Memphis roots on its sleeve, the band has never sounded so much like a Memphis neo-soul group as it did on "Goodbye Again." And when the band eased into the bluesy "Nights Like These," decked out in plaid shirts and beat-up jeans, the Lucero Army raised their tall cans of PBR to the rafters and hugged it out as they sang along in unison. As things sped up on "I Can Get Us Out of Here," the Army emptied said cans and anointed the band with cheap beer and grateful vibes.
Dear Lucero, forget your previous abbreviated LouFest show. You promised us a good rock & roll show at Off Broadway last night and you (more than) delivered. We're definitely even.
Feel free to fill in the holes in the set list below:
The Devil and Maggie Chascarrillo That Much Further West Can't Feel a Thing Nights Like These Chain Link Fence Sounds of the City Kiss the Bottle (Jawbreaker cover) I'll Just Fall ? (Raising Hell?) Bikeriders ? Drink Til We're Gone Last Night in Town Goodbye Again Slow Dancing ? Sweet Little Thing The Last Pale Light in the West (Ben Nichols, and Rick Steff on accordion) Davy Brown (Nichols, and Steff on accordian) The War Mom What Else Would You Have Me Be I Can Get Us Out of Here Tears Don't Matter Much ? ?
Jon Gitchoff
You-know-who introducing Lucero