Can we just agree that Hanukkah food kicks all sorts of ass over Hanukkah music? Yes, yes, yes, there's "The Hanukkah Song". Let me tell you about "The Hanukkah Song." It's the Hanukkah version of "Grandma Got Run Over By a Reindeer": amusing the first time you hear it, exponentially more annoying every time thereafter. The song that probably best expresses the American Jewish experience in December is "A Jew on Christmas" from South Park. Except for one thing: There's absolutely nothing wrong with eating latkes. Latkes, the Yiddish term for potato pancakes, are awesome!
The wonderful thing about Hanukkah is that since it celebrates how a tiny vial of oil miraculously lasted eight days (after an equally-miraculous defeat of the Syrian Greek army by a ragtag bunch of Jewish guerrillas), it offers a built-in excuse to eat oil. Or, rather, since oil doesn't taste that good on its own, foods fried in oil.
Think about it: an entire eight-day-long holiday devoted to the consumption of fried food! (Well, OK, and exchanging presents and lighting an eight-branched candelabra and playing a ridiculously-boring gambling game with a spinning top called a dreidel.) What could be any better than that?
Nonetheless, every year, somebody tries to reinvent Hanukkah music or write a new classic Hanukkah song or something. Last year, Orrin Hatch did the honors. This year a music writer named Marc Weidenbaum asked some of his DJ friends to do remixes of Hebrew and Yiddish Hanukkah classics and compiled the results into an album called Anander Mol, Anander Veig, available for download at Tablet Magazine.
The last time I heard most of the songs on Anander Mol, Anander Veig (which translates from Yiddish as "another time, another way"; sadly, there's no Yiddish word for "remix") was at Hebrew school during music class. It pleases me to announce that the remixes are better than the originals -- though it's really hard not to improve on 80 off-key sixth graders accompanied by a cranky accordion-player -- and sometimes even unrecognizable. That is a good thing.
Another good thing about Anander Mol, Anander Veig is that most of the songs are instrumentals, or whatever you call an electronic piece of music with no words. The problem with all those songs is that we learned the phonetically, in Hebrew, so our grasp on the lyrics was always uncertain and, for all we know, we could have been unwittingly singing obscene drinking songs for years and years and years. Obscene drinking songs are great and all, but it takes all the fun out of it if you think you're singing about children happily lighting menorahs and playing dreidel.
Anyway, aside from Paula Daunt's remix of "Sivivon Sov Sov Sov" (which I do happen to know means "Dreidel Spin Spin Spin," a shining example of how simple-minded and annoying most of these songs probably are -- and I only say "probably" because of the obscene drinking song thing), none of the songs have words. ocp's "Chanukah Chag Yafe" sounded a little too Mannheim Steamroller-ish for my taste, but I was also scarred by working at a nature store the holiday season I was sixteen where they played New Age Christmas carols and whale songs constantly and now anything that sounds remotely like that sort of music makes me twitchy.
The best songs were the ones that sounded most electronic. Electronica, it turns out, makes a really good background when you're frying things. It's pretty easy to get a good latke-flipping rhythm going if you've got a heavy beat in the background, like the ones that run through Diego Bernal's "Ose Shalom," Dance Robot Dance's "Thermoglyphics" (the album's one original composition, by the way, and thematically it kind of goes with hot oil) and xntrxx's "Die Goldene Chasene". The last, with its klezmer introduction, is by far the album's best blend of tradition and modernity, though Roddy Schrock's "Hava Negilah" did inspire me to lift up my spatula and do a little hora. (My kitchen is small.)
Anander Mol, Anander Veig is not a long album. I listened to it twice, once while making latkes, once while making apple cider doughnuts. It did not last long enough for me to finish either, though, to be fair, making doughnuts takes forever, especially when you're waiting for the oil to heat up (technically, shortening, which makes for a less greasy doughnut). It is -- though I admit my experience is somewhat limited -- the best Hanukkah cooking album you'll find this year. And it's free!
Now, about those apple cider doughnuts: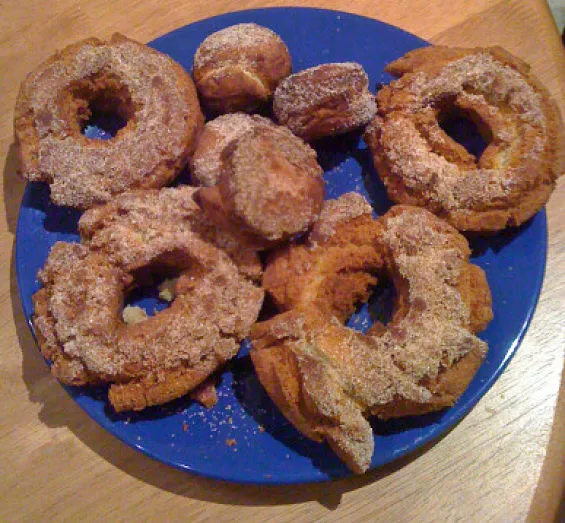 The recipe came from Smitten Kitchen, where you can also find many recipes for latkes, potato and otherwise. Traditionally, Hanukkah doughnuts, called sufganiyot in Hebrew, are jelly- or custard-filled. But I suspect this is because they originated in Germany and the parts of Eastern Europe where Jews were allowed to live, and non-Jewish Germans, Poles, Russians, etc., also eat jelly and custard-filled doughnuts.
It's true we have those here in the Midwest, too, but in my humble opinion, the plain old homely apple cider doughnut trumps them all. Its main ingredient comes from fruit grown in our Missouri/Illinois soil. What could be more representative of the St. Louis Jew on Hanukkah than these?