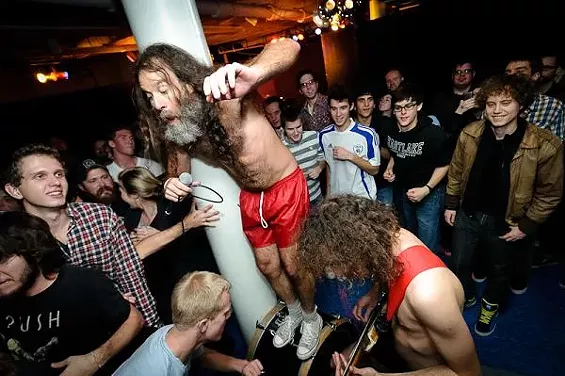 Jason Stoff
Monotonix at the Gargoyle
A question posed by someone in the audience at Monotonix last night: "Where are all the grungy St. Louis hipsters?" The girl went on to state her disappointment in the seeming lack of Southside punks in the crowd, but the answer to her query seemed self-evident: They thought a Monotonix show at the Gargoyle would suck.
They were wrong. So very wrong. But with the venue's no alcohol policy and general uptightness about fun, one wondered what Montonix would be allowed to do, what with nudity off the table, crowd surfing a no-no and nary a drink in sight for front man/hierophant Ami Shalev to steal and pour on himself. Despite the venue strictures and wary security, Monotonix handily destroyed the crowd and delivered one of the most badass shows the Gargoyle has seen in a long time.
View a slideshow of Monotonix at the Gargoyle
Monotonix's reputation preceded its live performance. The band's been known to light things on fire, hang from the ceiling and generally lay waste to any venue it comes across, which is why it's been banned from playing most clubs in their native Israel. Drummer Haggai Fershtman said after the show that the band will never forget its St. Louis debut, when it played part of their set in the Firebird's bathroom and got so rowdy that it broke a toilet. Earlier this year, the 45-year old Shalev broke his leg 15 minutes into their set in West Palm Beach. He demanded ice and a chair, insisting he could finish the show seated, but the paramedics disagreed.
The crowd was modest for openers Heavy Cream, but the venue began to fill as if by magic when Monotonix hit the floor. As is its custom, the band eschewed the stage and set up in the crowd. Off went their shirts, out came a bottle of water (Shalev used it to anoint the crowd) and with the very first blasts of the primal drums and jagged '70s guitar, the room went apeshit. In a stultifying acrobatic move, the sinewy Shalev balanced himself on Fershtman's shoulder for a what seemed like a minute, while the drummer pounded away, totally unfazed. Shalev didn't stop moving for the 40 minute set. Any other headliner playing for 40 minutes would be unforgivable, but for Monotonix, it was a blessing.
Shalev prowled through the crowd, parting it like Moses and the Red Sea. He looked like a cross between the savior of the Israelites and Abbie Hoffman, only hairier. He saw me writing furiously in my notebook and snatched it out of my hand, and probably glimpsed the very word "Moses" before I had occasion to grab it back, afraid he'd lob it into the sweaty mass of bodies if he didn't like the biblical comparison. It was almost more fun to watch the faces in the throng, varying from euphoric to half dead, visages screwed up into grotesque masks as their sweat-drenched owners jumped and boiled over in carnal ecstasy.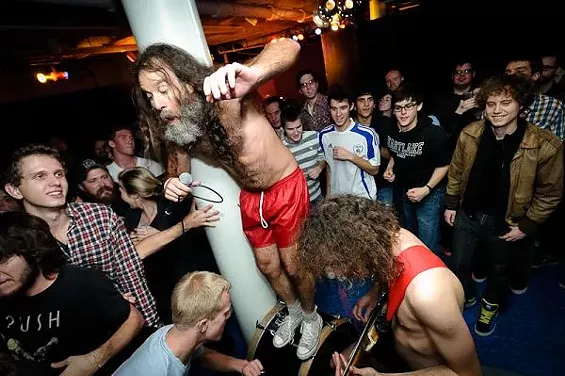 Every few songs, the band migrated across the room, giving those entrenched in the punk fray a break and affording those on the outside a chance to swarm around them on the front lines. Pulling down his red gym shorts, Shalev rubbed his bare ass on a pillar while guitarist Yonatan Gat wrenched distortion-heavy riffs out of his instrument and Fershtman flayed increasingly ferocious salvos from his spare kit. Shalev was hoisted above the crowd, an obliging dude held up a drum for him to beat on like he was keeping time on a primitive work ship before he tossed his sticks into the human sea.
Shalev's guttural vocals were indistinguishable in the heady instrumental battery, but it hardly mattered. His antics were more than sufficient, he could have skipped singing altogether and simply yelled "Happy Hanukkah!" every few minutes, which he did anyway.
Toward the end of the set, Shalev requested that everyone sit down and the house lights come up--"I want to see all the beautiful people, beautiful people." The crowd and the venue obliged him, and for a few minutes the show turned into a grade school assembly, everyone seated Indian style and expectant. Shalev singled out a shirtless, tattooed crowd member, saying "Whoa, what a body!" He beckoned the guy forward, and he volunteered to let the seated crowd surf him to the front of the room but Shalev said "No, no, no, we're not allowed to do that."
"What do you like," Shalev said. "This tattoos, or the natural tattoos," displaying his hirsute chest. "What can I say, this is the Middle East magic." He led the crowd in a call and response, "When I say 'Yeah, you say Yasoo!'" No encore was needed, they came, they saw, they destroyed and that was that.
It was a miracle that nothing was broken and no one was injured in the mêlée. Surprisingly, the only shit that got broken during the show was during Heavy Cream's brief set of raucous, straightforward punk. By their third song, the bassist asked "Anybody have any sweet guitar picks? I just broke all mine." One cheeky smart aleck yelled "Use your penis!" A few short songs later, "In addition to guitar picks, do you have snare drums?" While another snare drum was located, the band joked with the crowd, "You guys like Rage Against the Machine or what?" and "Do you guys know the words to 'Bulls on Parade?'"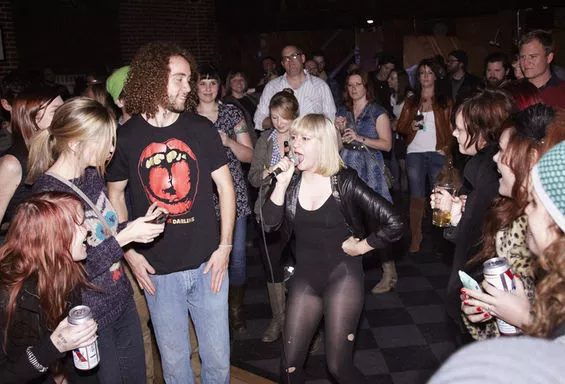 Heavy Cream was decent for what it was; unadorned, derivative and a little homogenous (but mostly innocuous) punk for hipsters. Most of the lyrics ready like an algebra equation: You've got (a) + stiff leg 2 x I've got (a)+ stiff leg 2. Karen O. divided by Bikini Kill is greater than or equal to Heavy Cream.*
Setlist Flesh and Blood Nasty Fancy Before I Pass Away Fun Fun Fun Body Language I Want Everything I See Try Try Try Never Died Before Summers and Autumns
Critic's Notebook: *As you can probably tell, math is not my strong suit. I cried a lot in Alegbra, and only passed geometry because my teacher didn't want to have me in class again.
Random Comment: "I haven't seen a good rock n' roll show at The Gargoyle in a long time. Probably The Hold Steady was the last." I didn't see The Hold Steady at the Gargoyle, but I can say without question that their brand of ball-less dad rock doesn't belong in the same sentence, let alone the same class as Monotonix's primitive, testosterone-fueled showmanship.