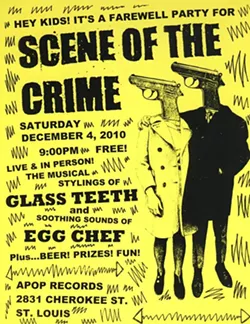 No getting around things: It's cold. Really cold. Still, there are plenty of reasons to leave the house this weekend. Start here with the music previews -- and continue below with more local goings-on.
Friday Beth Bombara and Benjamin Riley @ The Map Room An acoustic apertif to your Friday night shenanigans. 7 p.m. Free.
Homegrown Showcase @ the Pageant Theodore, Union Tree Review, HUMDRUM and Animal Empty unite on the Pageant's stage. 8 p.m. Free with a ticket if you're over 21; $5 without a ticket or if you're under 21
The Ragbirds @ The Gramophone A luminous mix of rock, pop, folk and world music, tied together by dynamic vocalist Erin Zindle. 9 p.m. 18+. $8 plus $2 minor surcharge. Show info.
Saturday Scene of the Crime Farewell Party @ Apop Records KDHX's long-running punk, power-pop and hardcore show Scene of the Crime went off the air in late October. Send it off properly with music from Egg Chef and Glass Teeth, along with free CD-Rs of the last show, beer and other goodies. 9 p.m. Free.
Cherokee Print League Holiday Sale @ Cherokee Street Wander up and down Cherokee Street and get your holiday shopping done early, in the form of arts, crafts, jewelry and print-related goodies. 10 a.m.-7 p.m. Free.
New Music Circle Event, Steinberg Auditorium @ Wash U's Campus Eric Hall, Zlatko Cosic, Lauri des Marais, BaBa Mike Nelson and Ron Coulter are performing at a concert billed as "an opportunity to experience the creativity of five innovative regional artists as they present individual sets of recent work. These performers are masters of all things experimental: video poems from Paris, movement, self-built instruments, sound art, electronics, and experimental vocals - all on one concert? Yes, it's true." 7:30. $7 for students with a valid I.D., $15 for the general public. Facebook event. Skrillex @ SOL Lounge Skrillex -- a.k.a. Sonny Moore of From First To Last -- is fast becoming known for glitchy dubstep and futuristic electronica. The Chaotic Good, Thomas & Drue and Andy Mon&y are also spinning. 9 p.m. $10 Facebook event.
'Stache Bash 2010 @ Mike Shannon's Steakhouse Flavor Savers and Hazard 2 Ya Booty entertain at the annual charity bash, which celebrates the mustachioed hordes yearning to breathe free. 8 p.m. $15. More info.
Sunday Tommy And The High Pilots @ The Firebird Ambitious California pop-rock band signed to Ludo Moogist Tim Convy's Redbird Records (and featuring Ludo drummer Matt Palermo). One Lone Car and Mostly Harmless are also on the bill. 8 p.m. $8.
Dave Simon's Rock School @ Blueberry Hill's Duck Room See the future of music at a special matinee performance. 12:45 p.m. $5.