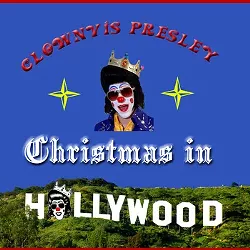 Clownvis Presley presents: Christmas in Hollywood!
Clownvis is a lot of things: a clown, an Elvis impersonator, a wedding officiator, a burlesque emcee, a controversial television show contestant, a nice dude. If there's one thing he's not, however, it's traditional.
Thus, the Clownvis Presley Christmas in Hollywood EP. The EP is Clownvis' holiday gift to all the naughty little girls and boys. It can be downloaded for free here.
Christmas in Hollywood takes on traditional songs in a way only the king of clowns could -- ad-libbing lyrics to classics such as "Rudolph the Red-Nosed Reindeer" and "Here Comes Santa Claus" while singing in that signature drawl. He also wrote an original piece for the album, "Jesus Christ Eatin' On a Chicken Wing," which you can check out after the jump.
*Still not enough Clownvis in your Christmas? Here's a video montage of some of Clownvis' other holiday hits.