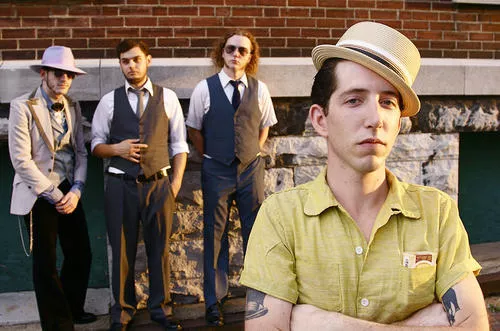 Bill Streeter
Pokey LaFarge and the South CIty Three do a holiday show
November 10's May Day Orchestra release show at the Sheldon Concert Hall functioned as the inaugural concert in the Sheldon Ballroom Series. In an interview with Michael Dauphin, organizer Ryan Harris explained the aim of the ongoing concert series -- and what's in store for the future.
Michael Dauphin: What motivated you to put this series together? Ryan Harris:The Sheldon is looking for creative ways to bring younger audiences into the hall. After a recent long-term planning process, the foundation realizes that long-term sustainability of the Sheldon relies upon cultivating the next generation of [Sheldon] concert goers. It's inevitable that our programming will have to evolve as patrons' aesthetic preferences change. We don't know what that's going to be yet, but as part of this process, it's important that more young people know who we are and what we do. Ultimately, that comes down to programming music that appeals, aesthetically and financially [lower ticket prices], to young people.
Is there any special reason you are hosting these shows upstairs and not in the concert hall? Our thought in programming this series in the ballroom was to make the atmosphere more casual. The concert hall has a certain formality and etiquette attached to it "Shhhhh. The performers are going to make their art now, everybody sit down and shut-up!". Many younger concert-goers consume live music as part of a casual social setting -- the ballroom -- as opposed to a formal "chamber music" setting -- the concert hall. So, we wanted to create an environment that is more comfortable and familiar.
I know they used to host all kinds of shows upstairs, right? I know acts like Jeff Buckley and Guided by Voices played up there several years ago. Over the years the ballroom has been used for a wide range of concerts, both local and national. I've heard wild stories of Murder City Players shows up there twenty-plus years ago with crowds shoulder to shoulder. Others that come to mind are Jeff Buckley, Asleep at the Wheel, BR5-49, Kitty Carlisle Hart, Johnnie Johnson, Oliver Sain and the Ethiopian.
What will these shows upstairs offer that you feel the concert hall couldn't? A relaxed atmosphere to enjoy some great tunes, and the ability to socialize.
Do you have any intentions to branch out and book touring bands for this series Yes. These first few shows are a test to see how St. Louis responds. But, there are many things in the works, and we're optimistic that this will be an ongoing series.
The complete schedule of the Sheldon Ballroom Series so far:
Sheldon Sessions with KDHX! Pokey LaFarge (Christmas with Pokey!) Friday, Dec. 17, 2010 8 p.m. Special guest: The Western Satellites Tickets: $10 through Metrotix or at the door
Sheldon Sessions with KDHX! Jon Hardy and the Public Friday, Jan. 21, 2011 8 p.m. Special guest: Maid *Rite Tickets: $10 through Metrotix or at door
Last to Show, First to Go Friday, Feb. 18, 2011 8 p.m. Special guests: Union Tree Review and Syna So Pro Tickets: $10 through Metrotix or at door