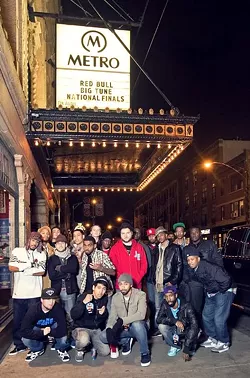 courtesy of Trifeckta
A photo of all the Red Bull Big Tune finalists
In October, local producer Trifeckta won the regional heat of the Red Bull Big Tune contest. This earned him a spot in the finals of the competition, which took place on November 18 in Chicago. How did Trifeckta fare? Well, we'll let him describe the scene in his own words.
Annie Zaleski: Describe your performance there. What did you decide to do -- what did you play? Trifeckta: I already knew since day one that they had me going up against 14KT, pretty much one of the favorites to win the whole thing. Knowing that, I knew that in that first round, I had to at least make a statement. I played the "Silly Human" Rick James-Mary Jane sample, because its one of my favorites, and also because I played it for Just Blaze and S1 ([who] produced Kanye West's "Power") and they both said they thought that it was a creative flip and liked it.
My second beat had more playfulness(a New Birth sample beat); which ended up makin' them move a little. After the crowd judged, and I was ruled the loser, I made sure to thank the crowd for their time, went back to the VIP area with all the other contestants, and had a lot of people ask me for my business card. You win some, you lose some. Its all about what you do with it, either way. Had I played the role of "sore loser, I would've represented myself, friends, associates and my city poorly. And who wants to invite people around who don't know how to act?
How was the crowd reaction? I liked the crowd. They were all there, in the spirit of competition and good music. You'll always have some that go bananas for just their guy, and some who honestly cheer for what they deem to be good music. STL was in the building. I wore STL fitted hats in Chicago all week, and made sure nobody was confused about wherre I was from and who I represented. The night of the event, a lot of the competitors made mention of the STL crew in the all-black "STLOUISDOINTHEDAMNTHING" T-shirts. I guess they may have had concerns that the mob of shirts would overtake the crowd or something, but we played nice and did our thing. Shout out to the Force, IAMME Collective, BSS, Made Monarchs, DELUX and Radio Rock.
Did you meet anyone/make any connections there that you hope will help you in the future? Anybody specific? I bonded with all the participants; we're all brothers in beats. We shared a whole week of great living accommodations, top-notch equipment, great food and good times, all provided by Red Bull and its collaborators. I intend to reach out to all of them to collaborate, learn and grow with our music. Jake One, Vitamin D, Jonathan Moore, Just Blaze, DJ Premier, and S1 were all great mentors and friends throughout the whole adventure, as well as the whole Red Bull Big Tune organization. I will definitely text/email/tweet all of them, as long as they have time for me. [laughs] They're pretty busy people.
What did you learn from the experience? I learned that if you want it, you have to make a plan to go get it, and then follow through. I also learned that having talent is just the beginning; business is key. I picked up a lot of production tricks and techniques that will definitely help me get to where I wanna be with my craft. I learned that a little confidence can go a long way. I learned people outside of home also like what I have to offer; which was pretty much what I wanted to find out.
[Editor's note: 14KT did end up winning the entire contest.]