The number of chain record stores nationwide has dwindled. However, St. Louis has become an unlikely safe haven for indie record shops as well as for DJs who prefer to spin the black circle instead of scrolling their iPods. In this weekly column, we'll focus on personal portraits of St. Louis' record aficionados and the rooms where they store their treasures. Meet the last collectors standing. (Know a collector who deserves the spotlight? E-mail us. Miss any previous ones? Read 'em all here!)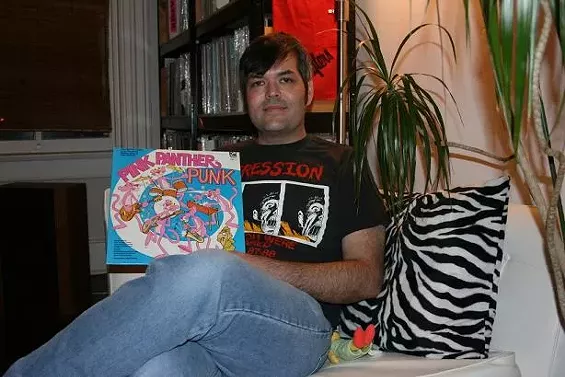 For many St. Louis punk fans, October had a bittersweet ending. With the Ramones' "Glad To See You Go" and Roy Rogers and Dale Evans' "Happy Trails To You" playing in the background, Jason Rerun ended his late-night KDHX (88.1 FM) punk show "Scene of the Crime" after twelve dedicated years.
Jason Rerun is the other half of local reissue label BDR Records with previously featured collector Matt Harnish. He's also a die-hard punk record collector. We caught up with Rerun late on election night to discuss the ending of "Scene of the Crime" and how his mom's recipe for Russian tea ended up in the inner sleeve of Killdozer's Twelve Point Buck.
Last Collector Standing: Your KDHX show "Scene of the Crime" had its final show on October 28. What was the final show like for you? Jason Rerun: Very odd. Trying to figure out how to sum up almost twelve years of a radio show in two hours is way more difficult than I thought it was going to be. I was also probably as nervous for the last show as I was for the first show. I knew a lot of people were listening because it was the last show, so I was a little nervous about that. I think I worked myself up trying to think, "I want to make sure to play this song. I want to make sure I cover this. I want to make sure I say this." I probably covered and said about ten percent of what I actually wanted to.
What was the number one song or record that you wanted to make sure was represented on the last show? Iggy's "Scene of the Crime," because that's where I took the name for the show. That for sure, and then the first three songs I played because they were the very first three songs I played [when I started the show]. Suicide Commandos "Burn It Down." That's one of my all time favorite bands, songs and records, and because that was the very first song I ever played on the radio, I wanted to start that last show off with that.
[Editor's note: The other two introduction songs were "Television Addict" by Victims, and "Better Off Dead" by La Peste.]
What's a song that didn't make it into the show? I had the idea that I wanted to play both sides of a couple of 45s or EPs. Just some of my all time favorites, like the very first 45 by the Japanese band the Plastics. I really wanted to play both sides of it. We'd played both sides of it on the radio show a lot over the years. When it got down to it, I got to the station and had everything with me, [and] I realized I wasn't going to be able to play all the single songs I wanted. I really can't narrow it down to one song I didn't get to play. There were probably fifty songs at the end of the show that I was really disappointed I didn't get to squeeze in.
Why did you decide to end the show? I'm pretty much just burnt out on it. I did radio back in Wisconsin [at] a college station. During the summer, Lawrence University in Appleton, Wisconsin, would basically let anybody have a show. I did that I guess two summers before I moved down here. I started "Scene of the Crime" three months after moving to St. Louis. After doing it for twelve years - and I work really early mornings - it just... part is being burnt out on it. [The other] part is the music that we were playing when I first started in '99, most of that music a lot of people hadn't heard or couldn't find. With the Internet, ninety percent of what I play you can go out on a blog and find. There are blogs that specialize in obscure early punk rock, like half the stuff we play. So some of the thrill is gone. It doesn't feel like as unique of a thing.
Looking back over twelve years as a DJ, do you have a favorite experience? I had a few people request songs. I had a guy call up and request this old New York band called the Fast. He called a few weeks in a row. He was listening online from Los Angeles. We had played them before and it fit into the show. We found out after a few weeks that it was the guitarist from the band calling. That was probably the oddest thing. I think that's very odd to not say, "Hey, I'm in this band. Would you play our record?" Or, "Have you ever played our record on your show?" But to request it and not say you were in the band, I think that's a little odd.
I've met a lot of people from old bands that had been online searching for information on their band and see that they had a 45 out in 1979 and we've played it a dozen times over a three year period. They'll contact me. That's how I met Bruce Cole [Screaming Mee-Mees].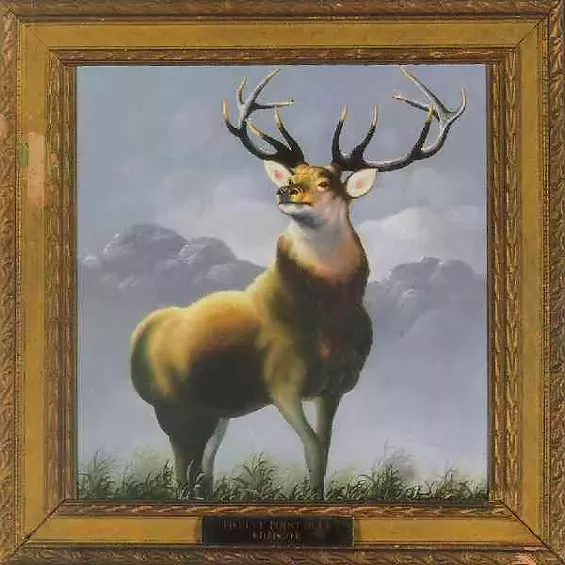 Killdozer's Twelve Point Buck
How do you think radio has changed since you started? In non-commercial radio like KDHX, [it's changed] drastically since I started doing the show. Now, there are dozens and dozens of podcast-only shows that play the same type of stuff I was playing on "Scene of the Crime," where in the beginning of '99 when we were doing [the show] that just wasn't there. I think that's made the way listeners look at radio differently, especially younger kids. [They] don't really see what the difference is between regular old-style terrestrial radio and downloading a podcast of somebody in their bedroom basically making a mixtape.
It's odd that younger kids don't understand that. When I first started doing the show I couldn't believe they were going to let me play the music I was playing on the radio. Knowing that it was an independent station, but it was not college-affiliated or anything that you would typically find that music on. I was just blown away that I proposed the show and, wow, they approved it! To only play punk rock from the '70s and the '80s, that's how I presented it from the beginning, and that's what I stuck with. It's changed that even only twelve years ago it was such an odd thing that [KDHX] were going to let me do it. Now I don't think kids see it as unique as it once was.
When did you first get into music? I think I'm different than most people because my dad's in radio. That's been his career his whole life, so ever since I was a little kid my dad always had a lot of records at home. He worked at Top 40 radio at the time. When we were kids, my brother and I would listen to my dad's radio station. This was like 1981, and if we heard, like, the J. Geils Band doing "Love Stinks," we would say, "Dad can you bring home the J. Geils Band record?" He would bring it home if they had an extra copy. I didn't have to buy records for a really long time. I really got into music through my dad. Since as far back as I can remember there have always been racks and racks of records in the house. It's in my blood.
If your dad was only bringing home Top 40, what attracted you to punk? Even when we were kids, one of the favorite albums my brother and I played to death was The Best of Blondie. Those were hits on the radio, obviously. We liked Devo and we liked Top 40 music of the early '80s. We were really, really into early MTV. I remember when MTV went on the air, and we had cable. MTV was coming to Neenah, Wisconsin. That was the biggest deal.
I think what really got me into punk rock was my brother was in eighth grade and went to a friend's house and borrowed some records from his friend's older brother. There was a Dead Kennedys record. That was the one that made the biggest impression on me. Basically, as soon as I heard the Dead Kennedys record, I had to hear more stuff like this. Just a few notes of hearing that was all it really took.
This would have been late '85, early '86. I lived in a town called Kaukauna, Wisconsin, famous for its cheese, available at all local grocery stores! In small-town Wisconsin there's an album rock station, a country station and a couple top 40 stations.
I knew punk rock existed, but I didn't know what it sounded like. I didn't know I was going to like it. I remember reading the lyric sheet first and reading the line, "We'll strap you to a pipe. Electrodes on your balls." [From the song "Bleed For Me" off Plastic Surgery Disasters] I remember being twelve and thinking, "I have to hear this." When I heard the music, it just clicked. It's something that you can't explain. It's something that just fits like a glove. It feels right, and it was purely by accident. At that time, there were no record stores in town. The closest record store was 30 miles away. My dad never wanted to go record shopping. He could bring records home for free from the radio station.
Can you remember your first record shopping experience for punk records? I can pinpoint that exactly. The first thing was to get my brother to borrow more records from his friend's brother. Then, I can remember it being summer. My birthday was in October, and I had already formed a plan. The only thing I wanted for my birthday that year was records, and records that I knew my dad couldn't bring home. Probably something that was a lot more common pre-Internet days for people into punk rock or any kind of weirder music was basically you guessed based on album covers and band names.
I went to a record store about 30 miles away. Like a lot of stores at that time, there wasn't even an independent section. They called it the import section, regardless that ninety percent of the section wasn't imports. I knew a couple of bands that I had heard already from those bands my brother had borrowed. "Okay, here's a Dead Kennedys record. I need that!" Now I get to pick out more records. So it was the Butthole Surfers' Live PCPPEP. I bought an album by this old hardcore band called the Fems because I liked the cover. It was purely based on band names, if they looked punk rock and if the record cover looked cool.
Do you have a crucial turning-point record that completely changed your life perspective? The band that was the biggest turning point in being from Wisconsin was the band the Crucifucks, their second album, Wisconsin. They're one of my all time favorite bands. I probably listened to that record 150 times the summer that that record came out. Political-wise, they really steered me away from stuff I learned in small-town public schools. That was the record that it really clicked that it wasn't just the music - it was the attitude.
When I was in junior high I was a huge fan of Killdozer, they were [also] from Wisconsin. I was a big fan of anything punk rock-related from Wisconsin. Their album Little Baby Buntin' had come out and they had on the inner lyric sheet, "Send recipes for the great Killdozer bake-off." I was in study hall in seventh grade, and I remember being bored and not knowing what to do, and I thought to write Killdozer a letter. I wrote the letter and went home and went to a recipe box of my mom's and pulled out a pile of recipe cards. The next day I mailed them to Killdozer and didn't think I'd ever hear anything of it. Out of the blue six months later I got a handwritten postcard from Killdozer. It just said, "Thanks for entering the contest. We've selected you as a winner. We are still deciding on one of your many fine recipes."
Then their next album came out, Twelve Point Buck, and they announced the winners on the inner sleeve of the record and reprinted the recipe card that's in my mother's handwriting. I won third prize for Russian Tea. [Laughs] When you moved to St. Louis in 1999, how did you get interested in the early '80s punk scene, especially since you weren't from the city originally? Part of being a punk rock collector, I've always had this weird thing where I associate bands with cities. I've always kind of obsessed about it. If I heard a band from Minneapolis that I liked like the Suicide Commandos it's like, "What else is from there?" When I moved here, naturally I just wanted to find out about what was around here locally. I didn't know about much before I moved here. I only knew Ultraman, The Screamin' Mee-Mees, Max Load and Drunks With Guns, besides Chuck Berry... oh, and [reluctantly] White Pride. Between what I know now and what I knew then that's very little.
How did you end up forming BDR Records with Matt Harnish? At some point, Matt and I had the idea to put out a compilation of St. Louis stuff. I had pieced together all this information [about the local punk scene], and I thought I knew a lot. These guys did this fanzine called Head in a Milk Bottle and I wrote an article about the history of St. Louis punk rock, which I thought I knew a lot [about]. It turned out I knew twenty percent of what I know now. There [were] a couple of things I hinted about at the end [of the article] saying, "I heard about this record, but I don't know anything about them." Matt was one of the first people to say, "Oh yeah, The Clones. They had a flexi disc with two songs out. I have an extra copy. I'll trade you a record for it." I think that was the key. I knew Matt from going into Vintage Vinyl and seeing Bunnygrunt play.
Given that you could potentially reach a much larger audience by releasing BDR 's titles digitally, why is it important to you to release vinyl? I want to own the physical thing. It's probably a generational thing. With an MP3 or a file that you distribute online, it just seems like it's going to get lost in the sea of everything. It's different with punk rock than with more mainstream genres because vinyl died in a lot of genres but it never died in punk rock. At this point in the game, vinyl is far more popular than CD.
Would you consider yourself an archivist? Yeah, sort of, I don't want to think that I'm preserving things just to preserve them. Anything I'm involved with I'm truly passionate about the music.
What's next for BDR? We have an LP by the Retros, and then an LP by Max Load from Belleville. After that, it's a little up in the air.
Will you be a life-long advocate of vinyl? Yeah. Magnetic media, CD-Rs and CDs, I've seen it fail, where vinyl I never have. There is a reason why [when] the Smithsonian archives important speeches and inaugural addresses, they actually cut an acetate or cut it on vinyl. A lot of important recordings are archived on vinyl for the reason that they are much more durable and permanent as long as it's taken care of. It seems more permanent to me.