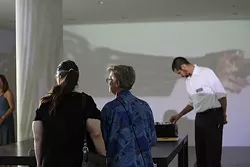 Viewers can participate in the exhibit in several ways, including playing records on a turntable.
Stylus, Ann Hamilton's installation currently residing at the Pulitzer, relies heavily on you.
The exhibit explores communication, both through gesture and "call." A visitor can speak into a microphone which activates a player piano in a different room, or they can play educational records obtained from the St. Louis Public School system on a turntable. Visitors are also encouraged to call in a voice recording, which will be broadcast throughout the exhibition as well as into the street from speakers atop the Pulitzer building.
On the third Thursday of each month from September through January, the exhibition will open to accompany Sound Waves, an event series which features live performances from local musicians and KDHX DJs playing tunes representing various cultures.
Another installation of Sound Waves takes place tonight, November 18, from 6 to 9 p.m. The cultural theme is jazz, and will feature music by Josh Weinstein of KDHX's All Soul, No Borders and Charles "Bobo" Shaw.
The DJs and musicians will work together to create a culturally focused experience for the visitors, complementing Stylus' goal - to make the "viewer" think about the ways we communicate.
The DJ schedule is already set throughout the end of the series (view the entire schedule here), and KDHX will announce the accompanying musicians prior to each individual event.