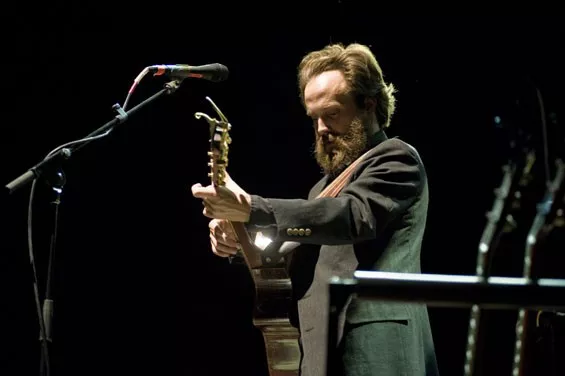 Kholood Eid
Sam Beam of Iron & Wine
As soon as he strode onto the low-lit Pageant stage, it was clear that Sam Beam was a changed man. Not only had the Iron & Wine leader trimmed his famed beard and flowing locks to a respectable length, the singer and guitarist was downright chatty even before he played the first note. Gone is the shy, shambling Beam whose low-slung, intricately crafted folk songs pierced the soul like a devastating secret. Instead, last night's show confirmed his status as charming, engaging bandleader, an oft-heartbreaking singer and a tireless tinkerer of his own work. But after nearly two hours of largely reworked material with the aid of a new backing band, this new direction seemed like either a half-baked idea or an outright misstep.
For longtime fans, the show began in a comforting, familiar fashion. Beam played a five-song set of solo acoustic songs from all corners of his catalog, starting with the Twilight soundtrack inclusion "Flightless Bird, American Mouth." He performed the majority of the song a cappella, pushing his strong falsetto and full-bodied croon toward the rafters. With a largely respectful audience already in rapt attention, Beam could have easily stepped away from the microphone and let his voice carry. He followed with another soundtrack-based rarity, "The Trapeze Swinger"; here, he altered the tempo to allow the song's circular pattern to facilitate a push-and-pull that worked perfectly in the solo setting.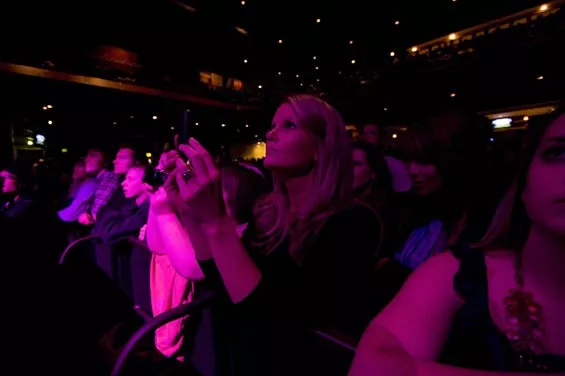 As the bulk of the concert would prove, Beam has no qualms about changing the arrangements and overall moods of his songs; even during the solo section, one had to listen closely to pick out the tune of even his best-loved songs. "Evening on the Ground (Lilith's Song)" slowed to a menacing gait, which allowed Beam's rich, knotty lyrics to take on a darker tone. The song highlights one of his songwriting specialties: taking Bible passages and turning them into short works of Southern Gothic fiction. The next song, "Naked as We Came," displayed one of his other trademarks: writing beautifully fatalistic love songs. No one else makes the prospect of growing old and dying in the arms of a lover sound so enticing.
The solo set wrapped with the Oedipal ballad "Upward Over the Mountain," a standout from his 2002 debut The Creek Drank the Cradle. It was an appropriate transition from the Iron & Wine of old to its current incarnation, as Beam introduced his six-piece backing band. Some familiar faces helped Beam flesh out his songs, as Calexico cohort Nick Luca sat behind a bank of keyboards and fellow Sub Pop alum Rosie Thomas sang harmony vocals. The full-band set began shakily, as the b-side "Morning" never quite congealed - the punchy electric piano and slinky Telecaster tones didn't blend well, and the presence of a full-time percussionist steered the whole affair uncomfortably close to an anaesthetized Grateful Dead jam.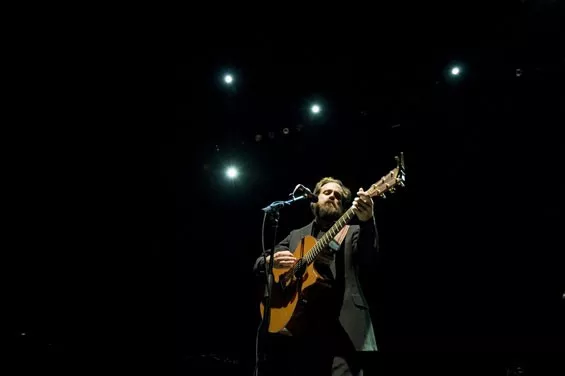 "My Lady's House" only upped the weirdness by turning the acoustic ballad into an honest-to-God slow jam. Beam's songwriting has always exuded a certain sensuality, but the new arrangement suggested "Sexual Healing" for the heavily flannelled. When the band found the groove, the results veered from interlocking polyrhythmic jams to reggae-folk riddims to something approaching worldbeat. Sometimes, it fit the mood of the songs: "Sodom, South Georgia" made good use of the synthetic bass tones emitting from the bassist's tiny keyboard, and "Pagan Angel & a Borrowed Car" recalled some of Wilco's best experimental bits.
Too often, though, the band member's adherence to sonic tinkering was a distraction. Each member employed some electronic gadget during the set. (Multi-instrumentalist Jim Becker was perhaps the biggest offender; there is never a reason to run a banjo through a battery of Moog effects pedals.) Likewise, too many songs lingered on meandering codas that never evolved into anything interesting. The proper set ended with a blend of "Woman King" and "The Sea & the Rhythm," but the final five minutes of ocean-static was indulgent. That indulgence took on another face for the encore, which turned "Cinder & Smoke" into a simulacrum of Teddy Pendergrass' "Love T.K.O.," complete with 16th-note hi-hat beats and smooth electric piano.
Since the next Iron & Wine record, Kiss Each Other Clean, will be Beam's first for major-label Warner Bros., fans have speculated how this move away from beloved indie Sub Pop will alter his sound. In 2010, the major/indie label debate often seems like a false dichotomy, especially for an established success like Iron & Wine, but last night's show gave credence to those fears. At his best, Beam can add new, surprising layers to his songs. At his worst, he comes off like a thinking man's Jack Johnson. A new song from the forthcoming album rode a feel-good wave of electronic drumbeats and synth bass as the lyrics preached peace, love and unity. Good things, to be sure, but it was a far cry from the thorny issues of human frailty he tackled with such grace on his first few albums.
And that's the problem with artists, isn't it? They keep evolving when we want them to stay the same. Certainly, some fans would have loved an all-acoustic, sweetly whispered set of folk songs, but that would have stagnated Beam's considerable talents. Growth is good and necessary, and from album to album, Beam has built his arsenal of apt contributors and a broadening palette of available sounds. Time will tell if this particular outfit reflects Beam's new direction, but if so, he may have set aside much of what made him such a rare talent.
Setlist: 1. "Flightless Bird, American Mouth" 2. "The Trapeze Swinger" 3. "Evening on the Ground (Lilith's Song)" 4. "Naked as We Came" 5. "Upward Over the Mountain" 6. "Morning" 7. "My Lady's House" 8. "Sodom, South Georgia" 9. "Bird Stealing Bread" 10. "Carousel" 11. New Song 12. "Love & Some Verses" 13. "House By the Sea" 14. "Pagan Angel & a Borrowed Car" 15. New 16. "Wolves (Song of the Shepherd's Dog)" 17. "Woman King" 18. "The Sea & the Rhythm" Encore 19. "Cinder & Smoke"