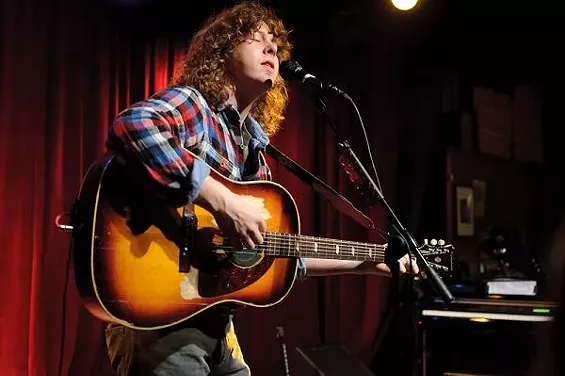 Jason Stoff
Ben Kweller at Off Broadway
Last night at Off Broadway, Ben Kweller put on a raucous acoustic show with a DIY vibe which got the audience in on the act.
View a Julia Nunes/Ben Kweller at Off Broadway slideshow (link coming soon)
Though Kweller hasn't been to town or had a radio hit in a few years, the venue was sold-out and buzzing by the time Julia Nunes got things started. Forget elbow-room - there wasn't enough space between bodies to thumb your ukulele if you brought it - and several young women in the front row had done just that. Nunes bopped onstage with that diminutive instrument of choice and launched into goofy yet fully-committed strumming and beat-boxing.
Jason Stoff
Julia Nunes at Off Broadway
Going in, the question for me was whether this YouTube phenom - a 21-year-old college student from upstate New York who makes videos in her dorm room - could pack enough muscle for a live show. For all of Off Broadway's coziness, it's nothing like the webcam intimacy that endeared her to so many affectionate fans. Yet the dual forces of Nunes' strong voice and a personality bigger than the Internet won the day. Yes, she played cute covers of "Bye Bye Bye" and "Build Me Up Buttercup," but the gleeful crowd knew every lyric to her winking, smirking - yet open-hearted - originals.
Expecting the full-country, pedal-steel sound of his last album Changing Horses, it was surprising that Ben Kweller's stage set-up featured only a piano and acoustic guitar. Every single song seemed to be a crowd favorite, but Kweller kicked off with homespun singalong "On My Way" and slacker exultation "Commerce, TX," during which he used a pedal to occasionally metallize his acoustic. Like Nunes, Kweller seemed genuinely taken aback by the crowd's enthusiasm, and the mop-haired musician matched the crowd in intensity and good humor.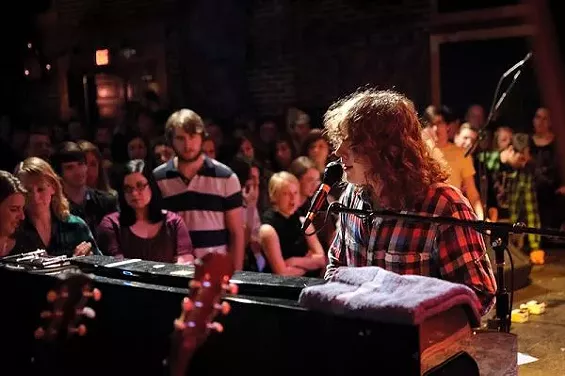 Jason Stoff
Ben Kweller at the piano, at Off Broadway
Without a band, the perpetually baby-faced singer-songwriter had room to make it up as he went along, which made for some of the best moments. After moving to the piano for a quick-and-dirty "How It Should Be (Sha Sha)" and Ben-Folds-jingly "Nothing Happening," Kweller asked audience members to take the stage to "play the keys" - their car keys - for lack of sleigh bells on "Until I Die."
Though Kweller referenced two microphones on either side of the stage, saying "We're recording an album here," he wasn't shy about going off-script: switching up the setlist, flubbing a lyric during harmonica-laced "Thirteen," and playing Roger Miller's "You Can't Roller Skate in a Buffalo Herd" by audience request.
Best of all, Kweller spontaneously called out to Nunes to join him for "Sundress," a song they had never tried together before. You could hardly hear her harmonies, but she filled in the "ba-da-bum-bum" piano parts, and her comedienne's face embodied the over-the-moon exuberance of the crowd.
Jason Stoff
Ben Kweller fans
After 90 minutes, Kweller ended with power-piano-pop anthem "Penny On the Train Track." He would have needed a few extra hands to cover the song's original full-bodied instrumentation, but the crowd filled in the hand-claps, and the rest of it wasn't missed. This is songwriting distilled to its roots, and it stands alone.
Ben Kweller setlist: The written one onstage, as grabbed by photographer Jason Stoff: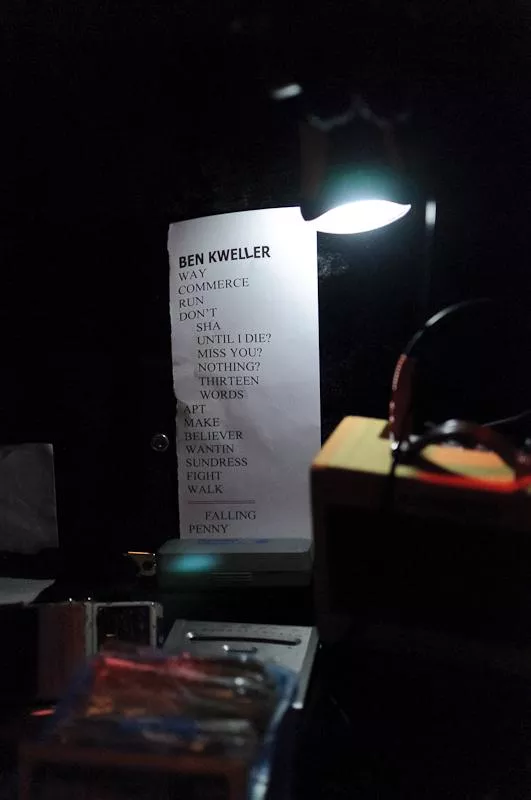 What was actually played, as noted by writer Katie Moulton -- something's missing! Please help! 1. On My Way 2. Commerce, TX 3. Run 4. I Don't Know Why 5. How It Should Be (Sha Sha) 6. Nothing Happening 7. Until I Die 8. Sawdust Man 9. Thirteen 10. ??? 11. In Other Words 12. My Apartment 13. Make It Up 14. Wantin' Her Again 15. Chug-A-Lug (Roger Miller cover) 16. You Can't Roller Skate in a Buffalo Herd (Roger Miller cover, by request) 17. Fight 18. Sundress 19. Walk On Me 20. The Rules Encore: 21. Falling 22. Penny on the Train Track