Todd Owyoung
Justin Bieber at the Scottrade Center. Beam me up, Bieber!
If you believe the Internet (yes, collectively), then Justin Bieber is a colossal joke. Everything about him is grounds for mocking: his hair swoop, his askew baseball cap, his voice, his Canadian heritage, his dance moves, his potential love life, his tabloid photographs, etc. Nothing is off limits -- and no comment about his mom is too mean. To many, cyber-bullying Justin Bieber is a full-contact sport.
What stood out during his packed Scottrade Center show last night, however, was that the sixteen-year-old's many talents are no laughing matter.
View a slideshow of photos of Justin Bieber at the Scottrade Center
By just showing up, Bieber could have sent the crowd home happy. But he didn't just coast on his tween-idol looks and dancing. He sat at a gleaming-white piano and sang "Down to Earth," as billowing smoke curled around him. He strummed an acoustic guitar and sang "Never Let You Go" and "Favorite Girl" while floating above the crowd, encased in a heart-shaped trellis. (Later, he made the same rounds while standing in an egg-shaped contraption; cue a Mork & Mindy-styled Mork from Ork image.) "Runaway Love" and "Somebody to Love" allowed him to show off fluid b-boy dance quickness - moves indebted to 'N Sync's hip-pop style and Justin Timberlake's lithe, liquid-funk sleekness.
His skilled band and back-up vocalists - a troupe known as Legaci, which was apparently also discovered via YouTube - easily handled the hip-hop/pop hybrids. (The latter spiced up the proceedings with an impressive a cappella medley of hits by artists such as Train, Usher and Timberlake.) A troupe of faceless but talented dancers added muscle and flash to Bieber's moves. And the stage set was suitably simple - wisely, it relied more on good lighting and Bieber's presence than bells and whistles for effect. While computerized backing tracks (music and vocals) seemed to crop up here and there, that's to be expected in an arena show that needs a gigantic sound to drown out screaming girls and to reach the upper rafters of a cavernous venue.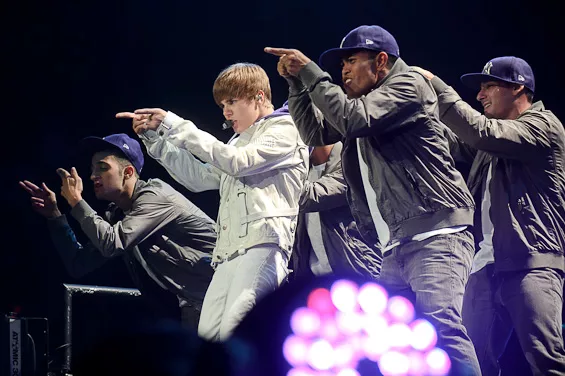 Todd Owyoung
Bieber and his dance crew
The idea and concept of Bieber is more important anyway. He's the archetypical teen idol, the ideal My First Crush; he's pretty, asexual and nonthreatening. He represents the impossibly perfect boyfriend - as in songs such as "U Smile," in which he sings lines uttered by a sweet, caring, sappy beau - and represents an idealized, fantasy version of love. (Or an idealized, fantasy version of the just-past-puberty boys many of Bieber's fans have to deal with on a daily basis.) And he's sensitive when he's hurt, as captured accurately in the solid, puppy-love-gone-awry ballad "That Should Be Me."
Todd Owyoung
Justin Bieber: "Can you hear me now? Good."
Later in the set, one of Bieber's bandmates asked the crowd, "Who came here tonight to fall in love with Justin?" (Duh, the answer was everybody.) But his question had purely G-rated intentions, like the rest of the set. For instance, when Bieber brought a girl onstage and gave her flowers during "One Less Lonely Girl," he touched her shoulder briefly and then gave her a chaste hug. The girls in the audience screamed with joy anyway, delighted by the thought that one day, Justin might also hug them. The night (and his gesture) was free of sexual tension or creepy romantic undertones - a refreshing move away from pop culture's push to rush kids into adulthood.
In fact, any complaints about the show had to do with pacing. Many of the young kids in the crowd appeared tired and bored soon after Bieber started, likely because they were overstimulated by three opening acts and drained from hours of Bieber anticipation. But the show veered between ballads and uptempo numbers and didn't gain any real momentum; its excitement happened in occasional spikes rather than through sustained hysteria. Additionally, non-musical interludes -- the trailer for Bieber's 3-D movie (seriously), a PSA warning against texting and driving (again, seriously) or adorable videos of baby Bieber mugging for the camera - lost the crowd's attention as well. People rallied near the end to dance and sing along to "Eenie Meenie" (featuring special guest Sean Kingston), but the lags in energy can definitely be improved upon in the future.
The crowd was ethnically diverse, although comprised mostly of girls in the age range from pre-kindergarten through high school. Unlike other pop stars such as Lady Gaga, Bieber's not really that relatable to those over a certain age. He's an artist suitable for a certain time in a girl's life - perhaps the last innocent time many girls experience. That innocence certainly explains why he's a magnet for criticism; it's never been cool to be wholesome and romantic. Tell that to the kids who screamed themselves hoarse last night, however. And tell that to Bieber - who's laughing all the way to the bank thanks to endeavors such as his new fragrance line.
Todd Owyoung
Bieber
Critic's Notebook: As the show had barely started, I saw two cops guiding a man who looked to be in his 40s or 50s. His hands were handcuffed behind his back, and he was being walked away into the "credentialed only" part of the venue. I have to say, seeing someone potentially being arrested and/or detained at a concert before it began - especially considering I was at a Justin Bieber concert - is a new one.
Opener Sean Kingston was a huge hit with the crowd. His 30-minute set switched between his reggae-pop originals and top 40 snippets he DJed via laptop. (Naturally, the booming beats of Far East Movement, Rihanna and Usher riled up the crowd and endeared them further to the singer.) Kingston brought out St. Louis rapper Jibbs as a guest to sing on his latest single, "Letting Go (Dutty Love)," but few in the crowd seemed to know who he was. The Led Zeppelin-sampling "Me Love" and "Beautiful Girls" were also well-received.
Nice to hear that the Cardigans are getting some mad royalties since Bieber laced some of "Lovefool" into "Love Me."
Bieber's voice has changed and matured since he released his debut, which was obvious when he sang a snippet of Michael Jackson's "Wanna Be Startin' Somethin'" and "Down to Earth." You have to feel for him: Going through puberty while a global superstar - when you rely on your voice for your reputation/superstardom - can't be easy. Setlist: (what did I miss, if anything?)
"Love Me" "Bigger" "U Smile" "Runaway Love" "Never Let You Go" "Favorite Girl" "One Less Lonely Girl" "Somebody to Love" "Overboard" (with Jasmine V) "Never Say Never"
Legaci medley
"Up" "One Time" "That Should Be Me"
Band/dancer intros, along with a medley of "Wanna Be Startin' Somethin'" (Michael Jackson cover) and "Walk This Way" (Aerosmith cover) "Eenie Meenie" (with Sean Kingston) "Down To Earth" "Baby"