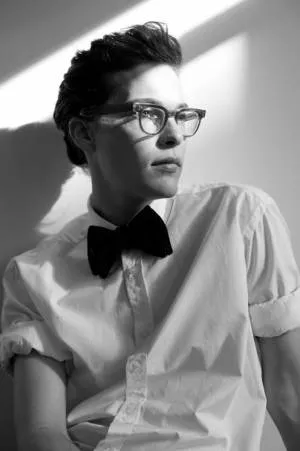 Patrick John Wessel, 1985-2010.
People who know someone who becomes a celebrity often say that they just "knew" that person was destined for stardom. Patrick Wessel wasn't a star - yet -- but he was on his way. And his friends, and even acquaintances, agree: Whatever "it" is, he had it in spades.
Wessel died on October 24. He was 25 years old. The cause of his death was complications from cancer.
He was born in Arcadia Valley, Missouri, on July 16, 1985. He was the youngest of eight children born to Thomas and Susan Wessel, and from an early age, he was the family entertainer. Wessel's older sister, Molly Killeen, said he was always a character.
"I remember sitting at the breakfast table when he was maybe five years old, his brother Tommy was six, and our brother Mike was eight," she says. "Mike was eating his breakfast very seriously, Tommy would sit there and eat seven bowls of cereal in a row, and Patrick, it depended on his mood. If he was in a bad mood, he would insult everyone and be very sassy, if he was in a good mood - which was most of the time - he would barely eat a thing. He would just sit there and entertain us all and tell stories, and tell us about the dreams he had the night before and just laugh.
"My mom would have to push him out the door to go to school. That was him his whole life. He was always the entertainer, always brightening people's lives."
Wessel attended Saint Louis University from 2003 to 2007 and earned a degree in entrepreneurship. At SLU, he was a student leader who helped establish SLU TV, the student-run station that broadcasts on campus. He also worked as a cartoonist for The University News and was a resident adviser in student housing.
Michael Galvin was one of Wessel's partners in crime at SLU. The pair met randomly on campus during Galvin's freshman year.
"I was walking down the middle of campus actually, he was sitting outside, and we both had really long hair and basically women's pants on," Galvin recalls. "So we were like, 'Hey, we're the same person.' He was like, 'We should be in a band, we should hang out all the time,' and I was like, 'Totally, totally.'"
Wessel adopted St. Louis as his home during his time at SLU. He led the charge against the demolition of a historic building to make way for a new SLU parking lot. Although the building was eventually demolished and a parking lot erected in its place, Wessel remained a tireless advocate and a trendsetter. He could often be seen wearing a furry aviator hat and carrying a retro Samsonite suitcase instead of a backpack, chatting up anyone who looked like they didn't fit in on SLU's campus. He rode a scooter before it was chic, he wore vintage glasses before vintage was ubiquitous, and he encouraged his peers to take public transit and experience life outside the "SLU bubble," as it is commonly (and derisively) termed by students.
"He was constantly texting me that he was on the bus somewhere," Killeen says. "He explored all over St. Louis. He made a rule at one point that he wouldn't step out of St. Louis City; he never wanted to go to the county. He actually did it for a year and a half or two years, but we have a brother who lives in Webster [Groves], so he had to give in eventually."
After graduating college, Wessel moved to New York to pursue an acting/modeling career while working as a manny for Killeen's son, Jude.
"He moved to New York to pursue, like, every dream he ever thought he would have," Galvin says. "He was a rapper, he was an actor, he wanted to be a producer. He actually completely signed up to join the Navy and took the test. And then at the last minute he was like, 'I don't want to be in the Navy.'
"At the time you're like, 'Why does he want to do every single thing he wanted to do all at the same time?'" he continues. "Now, looking back on it, you're like, 'Thank God he at least he went for everything, he actually didn't have a lot of regrets.' The boy did not lack ambition, that's for sure. He hated sitting and watching TV. He couldn't think of a bigger waste of time." A version of Jumbling Towers' "Gilberta" mashed up with Beyonce's "Single Ladies." Video created and edited by Patrick Wessel:
Wessel was discovered by photographer Clarke Tolton at a rooftop party in Manhattan, and when he finally got around to sending his headshots to modeling agencies, he got phone calls the next day. He eventually signed with Next Models. He made quick headway in the modeling world, appearing in a photo spread in Interview magazine in May 2010.
But Wessel never forgot his friends back home, or his favorite band in the universe, local indie rockers Jumbling Towers. He created music videos for them, and worked to promote them even from New York.
Nate Drexler of Jumbling Towers sent him footage from the band's "Gilberta" video, and Wessel re-worked the video, creating an offbeat visual mash-up of their song with Beyonce's "Single Ladies" to great effect.
"Essentially, he was a fan," Drexler says. "Not only that -- he was our biggest fan. He had always expressed his love for the music, and we saw him at virtually every show. One night about two years ago, Patrick emailed me and said, 'Hey man. Just wanted you to know I'm up in New York and I'm currently unemployed, which is actually a good thing because it means I have a ton of time to be creative with. If there is anything that I can do for your band, like make flyers, post stuff online, make videos, or just go down the street telling people that you guys are awesome, let me know. I'd love to help.' That was Patrick. He was just there to do stuff. You could always count on him."
Adds Galvin: "That was like his personal goal...to get them famous."
When Wessel was diagnosed with testicular cancer in 2009, he was unfailingly upbeat, so much so that he took to carrying around a Uniball pen as a prop. He told friends that one day he'd like to be the spokesman for the company.
"After his surgery [testiculectomy] last summer his hormones were off, and he had so much estrogen that his breasts were starting to grow," Galvin recalls. Not the least bit ashamed, Wessel would urge his friends and family members to grope him. "He was just never embarrassed about anything," Galvin says. "He just didn't really care. He thought it was funny."
At the end of August, Wessel's family and friends were blindsided when they found out that the cancer had spread to his abdomen, lungs and brain. Still, his positive attitude was unquenchable. He joked about his illness, saying he went to lunch and ordered the "tumor melt." When he was transferred to Barnes Jewish Hospital a few weeks ago, his priority was getting Steak 'N Shake before heading back to the hospital.
When Wessel started undergoing chemo, Galvin says, he couldn't wait for Halloween. "He was like, 'I'm going to be Voldemort and it'll be great,'" Galvin recalls. "He actually assigned his family different characters [from the Harry Potter series]. Everybody was assigned."
But Wessel didn't make it to Halloween. Surrounded by his family, he died in the hospital a week before the holiday..
In the days following his death, former SLU students got the ball rolling on projects in his memory. Christine Sanley and a few of Wessel's friends are spearheading a benefit concert in his memory, tentatively slated for spring 2011.
Andrew Clifton, the former president of SLU TV, is working with the University to get the SLU TV studio named after Wessel. The organization wouldn't exist if it weren't for Wessel's contributions, Clifton says.
The majority of Facebook comments left by Wessel's friends echo the sentiment that he was a "true original." Even though he had a bright future ahead of him, he left a legacy that won't be easily forgotten.
"I feel like my life is going to be harder without him," Killeen says. "He just really loved the babies and was so helpful. But my life is going to be darker without him too, because he just had a way. He was such a lithe spirit; a bright spark of a person."
Wessel knew who he was at a time when his peers were still trying on different personalities. The saying goes that death is easy and living is the hard part. But Patrick Wessel made life look easy - and that's what makes his death so hard.
A memorial service will be held at St. Francis Xavier College Church (3628 Lindell Blvd.) in Patrick Wessel's name tomorrow, November 5, at 10:30 a.m.
Note: The author was a friend of Patrick Wessel.