The number of chain record stores nationwide has dwindled. However, St. Louis has become an unlikely safe haven for indie record shops as well as for DJs who prefer to spin the black circle instead of scrolling their iPods. In this weekly column, we'll focus on personal portraits of St. Louis' record aficionados and the rooms where they store their treasures. Meet the last collectors standing. (Know a collector who deserves the spotlight? E-mail us. Miss any previous ones? Read 'em all here!)
Ben Salyers, singer and frontman of St. Louis hardcore band Shaved Women, has an iconoclastic view on the culture of record collecting. It serves him well, then, that he volunteers his time at Apop Records, an epicenter of strange vinyl. The record store also doubles as his home: He lives in the lofts above the business. We met on a breezy fall afternoon in his loft apartment to talk about punk philosophy, bizarre gems found at Apop and jokingly changing his name to Ben Slayers.
Last Collector Standing With vinyl being a very important element to the hardcore scene, has your band Shaved Women ever released vinyl? Ben Salyers: Shaved Women has a record coming out early next year. My old band Las Contras had a seven-inch recorded, everything was set up for it to be released, and then the record label pulled out at the last minute. That never got released, but sleeves got made for it, and it got mastered.
Is it important to you and your bands to put it out on a vinyl format? For me, I like vinyl for my own personal music to be released on because it is the only format that is archival. [With] tapes, the more you play them the more they lose their electrostatic charge, and they degrade over time. I think CDs are only supposed to last 50 or 60 years before they start to rust. Whereas [with] vinyl, as long as you take good care orf it, it can last indefinitely. I also like that vinyl has larger artwork.
That's important to me, but other than that I'm more interested in getting the music out there than the format, per se.
How did you get into music in the first place? I think, if I remember correctly, the first piece of music I bought was a Weird Al CD in second grade, which really has no relevance anymore. I got into punk and metal when I was like 11 or 12. The first thing I heard was The Misfits. From there I used Amazon; a lot of punk rock people are not particularly fond of the internet... from there I discovered Black Flag. Everything else started coming all from there. I started going to local shows pretty soon after that. I had a lot of older friends who played in bands.
What first introduced you to the Misfits? I was at a friend's house and his sister was listening to it. I have always been into thrash metal since I was a little kid. I recognized that Metallica covered [it], but this was way cooler than the Metallica version because [it] sounds more raw. Being 12 and kind of the weird kid, a band about skulls and blood was pretty appealing.
When I was preparing for the interview I accidentally transposed the A and the L in your last name to read Ben Slayers. Have you ever considered changing your name to Slayers? A lot of people call my Ben Slayers, or Bone Slayers, but I think nicknames are stupid. It's not something I'm really into, but I won't get mad if somebody else says that. I do love Slayer!
What's your favorite Slayer record? Hell Awaits, or Show No Mercy is great too. Once they got signed to America records... Reign in Blood is a great album, but I think after that it goes downhill. I think their stuff on Metal Blade is a lot more interesting.
When do you first start collecting vinyl in earnest? I bought my first record when I was 18. It was Nineteen/Rock Over London split seven-inch. I saw them a whole bunch when I was younger, and they were definitely my favorite local band. I stumbled across that and had never seen it before. So I picked that up, and it just kind of took off from there. I bought a ton of records within six months of that.
A lot of punk rock releases are only on vinyl, so there is incentive to get a record player. If you see the band there is no other way you're going to hear them unless you buy the record and have a record player at home to listen to it.
What do you think attracts punk rock to the vinyl format in this day and age? Punk rock is kind of a social club almost, like a society on its own. With vinyl it's like the extra step of proving that it is something that you're into. In the '90s or early '00s, vinyl hadn't taken off like it has now. Things were exclusively released on vinyl then, so if you were really into it you had to get a record player to be able to listen to the stuff you wanted to get into, to prove that what you were into wasn't just a passing phase. It makes it more exclusive. I wasn't easy for an outsider to just hop in really quick.
Do you buy music as a listener or as a collector? Definitely as a listener. There are some things that I'm kind of collector-y over, but it's only [for] a record that's incredibly important to me. If there are records that I felt influenced me, then I want every version of it possible. The band Insect Warfare, I like that LP a whole lot. So I have every pressing of that. The band La Piovra were the first punk band from overseas that I ever saw. That's important to me. So I have every pressing of their record. Bands that are important to me I like to collect them, but overall I don't feel like too much of a collector.
I don't have any problem with the CD format. Generally, where I listen to most [of] my music is in my car, so sometimes I would rather get the CD - depending on what it is. If it's something I know I'll listen to in the car a lot, I'll buy it on CD. If it's something I know I'll listen to at home a lot, I'll buy it on record. I'm more interested in the music; really the album format is what's important to me.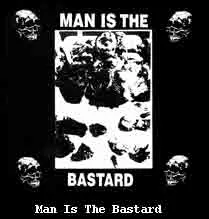 What's a band that you would want to listen to their music specifically as an album? Man is the Bastard is one of my favorite bands. I feel like listening to their stuff as an album. All their lyrics are very sociopolitical, and you can tell where their heads were at. It's all very concise and you can see their view on the world and reality. That's one of the things that is really important to me with music is getting inside other peoples heads with their lyrics or how they set songs up. I think that's something that can carry over with any record, but with them in particular you can see their politics and rhetoric change over time. Their releases get a little more extreme... a little more anti-capitalist.
I know this is a relative term, but what's the strangest record you've ever found at Apop? That's a really hard one because there is a lot of weird stuff down there. I remember one day going through the tapes and there is some release, I think it's a CD-R, that comes with a pig's ear that's inside the packaging. Who knows how long it's been there just rotting and gross. A whole lot of the experimental and noise scene just has incredible, bizarre packaging, like a cassette inside a plastic bag full of dirt. That's all the information that there is on it so unless you were there and bought it from whoever it was, chances are you're not going to know who this is. That's the dirt cassette. Purely on aesthetic I think that's really bizarre and really interesting.
Did you happen to be the lucky person to purchase the pig ear? No. They're still down there. [Laughs] They are ready for who ever would like to buy them.
Will the physical format of music, like records or CDs, ever have the mass appeal that they once had? I don't think so. I don't really think music as an art form has the appeal that it has had in the past. I like that vinyl has a renewed interest and because of that, music as a whole is getting to people that maybe would not have gotten into it.
For me personally, if no one bought records I would not be able to do bands at the level in which I enjoy doing. Part of a tour is making money to continue to tour. If no one is buying your things, you probably won't make it to the next city. Then you will have to go home. Playing shows and going on tour is really important to me, and the physical format of music and everything that goes along with it is really the only way to maintain fiscally without putting yourself in a huge amount of debt. Even in the punk rock scene where a lot of people refuse to admit you need money to survive, it's still important to you, even if you might hate it.