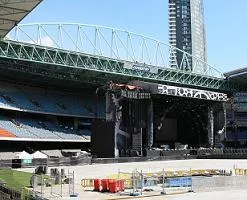 Adam.J.W.C./Wikimedia Commons
AC/DC's huge outdoor stage. Is this who's coming? We'll find out Monday.
Just got a rather intriguing press release in the ol' inbox from LiveNation and the St. Louis Cardinals, inviting the media to a press conference at 11 a.m. Monday morning. According to the release, LN and the Cards are going "to announce the largest concert stage and tour production in history coming live to Busch Stadium next summer." Now, these are the kinds of surprises I like! Who do you think it is? I have some ideas -- and so do some commenters on the STL Today message boards -- but I'm keeping 'em to myself until I attend the conference. We'll find out Monday -- and I'll report back right away!