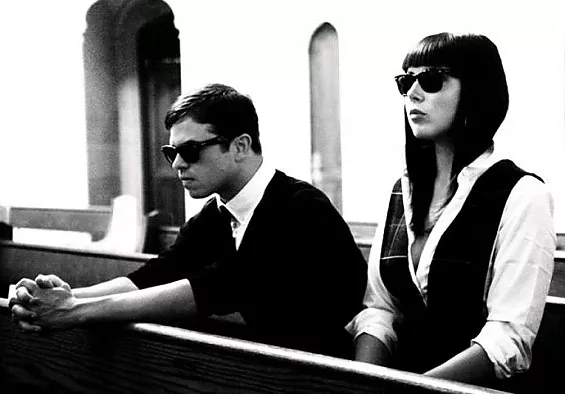 Derek Miller and Aleix Krauss of Sleigh Bells. The duo plays tonight at the Firebird, but if you don't have tickets, don't bother; the show has been sold out for weeks.
What's it like being one of the most buzzed bands in recent memory? 2010 has been a watershed year for Sleigh Bells, the playground crunk band that fuses explosive guitars and busted speaker noise with cheerleader-esque chants and a whole lotta camp.
And while any meteoric rise to the top of HypeMachine comes part and parcel with a big glass of Haterade from, well, anyone with an Internet connection and a bone to pick with the music industry, the Brooklyn band is too busy selling out venues nationwide to take notice. (Local case in point: Tonight's Sleigh Bells show at the Firebird has been sold out for weeks.)
A to Z caught up with one half the operation, Sleigh Bells' Derek Miller. The band's songwriter, guitarist and producer was fresh off a sold-out night at the El Rey Theatre in Los Angeles.
Miller left the hardcore band Poison the Well in 2004 and began looking for a vocalist for a new project called Sleigh Bells. It wasn't until 2008 that Alexis Krauss and her mother sat down at Miller's table at the Brazilian restaurant he was working at in New York. Miller mentioned he was looking for a vocalist, and Krauss' mother volunteered her daughter, then a music teacher and session singer helping songwriters shop their goods to the likes of Britney Spears. It wasn't long before the band's CMJ debut in October 2009 got the attention of Spike Jonze and M.I.A.; the latter quickly signed them to her N.E.E.T. imprint on Interscope. Sleigh Bells released its 32-minute banger of a debut album, Treats, in May.
A to Z: Some of the initial reactions to Treats -- people were saying "this rules, but in five minutes we're going to lose them to the mainstream." Did that color or effect your creative process at all? Miller: It doesn't, you know what I mean, I think nothing factors into the decision making process or the creative process. You can't really control it. If I could some way affect it or change what came out, I'd make it better. But I can't, I just have to live with what it is. It's always changing and growing. We're constantly trying to define what we sound like, because I think we're pretty far from it -- we're just getting started. As far as the indie versus mainstream, it's not a conversation that Alexis and I have ever had. We both kind of maintain that no one person deserves to hear music or specifically our music more than another. Whether it's a Lady Gaga fan, fucking anywhere, Indianapolis. Or someone who spends all their time reading blogs."
How has the Honda commercial changed things for you guys? I can pay my rent now. Seriously. [laughs]
No more waiting tables? No, it's great. That was really great. We were excited about it. I think that people understand. Besides touring, you know, it's kind of difficult to make a profit touring. It's a little easier for us because we're a two piece and it's a really limited set-up, so it's efficient by design. Most people are psyched for us. I mean, we're not rolling in money but we're not broke anymore.
So you said the new album is going to be a little less party and a little more metal? Probably, yeah. [laughs]
Have you started writing at all? Yeah, definitely. I don't regret talking about it this soon; we're going to be on tour for Treats for a while. Probably until July of next year, we still have so many places to play for the first time, let alone possibly coming back for a second after more people have heard the record, if that's going to be the case. There's a ton of new stuff already. After we finished up Treats, on the last day, we just left on such a creative high note and felt really good about everything, but we were like forced to leave the studio because we had to get to South By Southwest to start the touring cycle. But yeah, we're excited to get back in the studio, even though it won't be for a while.
Have you been debuting any new stuff on the road? No, we haven't. We probably won't. I kind of don't like that idea. We're still arranging everything and it's all really new. Once you play it live its essentially released; it'll be all over YouTube. It just kind of kills it. I'd like the chance to sit down, and at least work out the idea and get to a place that I'm happy with and then go out and play it for people. It's going to be a while.
Are we going to be treated to some guest vocals from M.I.A. on the new album? Possibly, but when we record, we're pretty insular. There are three people involved basically. It's myself, Alexis, and we work with an incredible engineer named Shane Stonebeck, and it's sort of like, nobody goes in and nobody comes out. It's just the three of us locked in there. And I like that idea. So, probably not, but you never know. That could change. I'd love to work with her again. She's really inspiring and a good friend, but we like to keep the work solely our own. That way any failures are on you and it's yours alone. When other people get involved, if it does well, they'll be quick to take it away from you. We're pretty happy with the fact that we did it ourselves.
But you enjoyed working with M.I.A.? I did. It was amazing. I was only in the studio with her for like a week, but it was great. It gave me a lot of confidence, actually, because that was in October, a year ago, almost a year ago to the day. I think this was the week last year that I was working with her. And that was before Treats, we didn't go to the studio for Treats until January. Yeah, I just felt really good about it. "Infinity Guitars" So have you gotten any flak from your friends or ex-band mates in the hardcore community for going in a more accessible direction, or are they pretty excited for you? Not really. If anything, people I used to be involved with are just really psyched, because when I left Poison the Well, it looked like I didn't do anything for years; the reality of it was very different I was moving around and writing songs the entire time and looking for a vocalist, but I didn't release anything. So when this finally came together, everybody was really happy. It's also kind of rare that people escape hardcore. People kind of turn it into a cage for you, they want you to stay there where you belong. If anything people are just psyched that I was able to make it out. Because it's a really restrictive genre, as you probably know. People don't want want you to do anything different or creative it' s just muted E chugga chugga parts, and screaming and leave it at that, don't try anything funny, no melodic shit. It's suffocating.
What was it like to become one of the most talked about bands in the universe based solely on your demos? Honestly, the only time we're only aware of it is when we talk about it in interviews. This is a really boring response. Most of the time, you're too busy trying to keep it all together, trying to make smart decisions. You have to build a team relatively quickly. A label, a booking agent, a lawyer. You have to find people you trust because decisions are going to be made and if you fuck up early on, it can affect you for years. We didn't really notice because we were just so wrapped up in the process of getting it all together. Now we've been on tour since March, I still go on the Internet and whatnot, but I'm not just sitting around Googling "Sleigh Bells." Everyone does that at some point, that's tempting, but's it's pretty unhealthy.
Do you ever feel the urge to correct people's wrong assumptions about the band when you see things online? When I do come across anything like that, of course. Just because you're in a band people think they can attack you anonymously but you wouldn't walk up to a stranger on the street and insult them to their faces because they'd probably knock you the fuck out. It's the Internet. You just have to deal with the fact that they're are people who are going to be jealous, and they're probably miserable or have a chip on their shoulder to start with. In the beginning I was a little more on top of stuff. Now I've let it go and try to worry about things that actually matter.
What was it like touring with LCD Soundsystem? [Exhales] Amazing. I've been a fan, I like all of his records, it's humbling because they're on the opposite end of the spectrum because of how they're presenting their stuff live. For us, when we started, it made sense for it to just be the two of us, cost effective and easy to travel around. They kind of are in a similar place creatively they have one foot firmly planted in rock or pop and another in electronic music. But everything they do is live, you know, there's 6 or 7 people on stage and everyone is very, very good at what they're doing. It was interesting; it was another way to do it and definitely an influence on me. Outside of that they were just amazing to watch every night and really, really great people as well.
Well you said you liked keeping it really efficient and easy, but watching LCD Soundsystem, were you like, 'Shit, we could do this all this live'? Honestly, James has been doing it for eight years. We put out our first record in May -- we have time. There's room for expansion if we chose to do that. For the duration of this tour, we'll keep it pretty stripped and basic. But you know, maybe in the future when we have more resources we could expand things a bit.
What are you and Alexis listening to on your down time on tour? I've been listening to a ton of Def Leppard, I'm obsessed with the sound. We both really love Motown, she's a big soul fan, pop music from whatever decade... I'm a really big fan of this band called Magik Markers, I'm always listening to them, they've got, I don't know, a couple hundred CDR releases. Royal Trux, Jennifer Herrema's band. It's like this full-on classic arena rock sound. Her vocals are amazing; doesn't sound like a person a lot of the time.
Do you have any major tour vices? Nothing crazy. I drink a lot of really cheap beer. Not really, we're pretty simple. Our biggest vice is we drive five to seven hours a day and I have my headphones on the entire time.