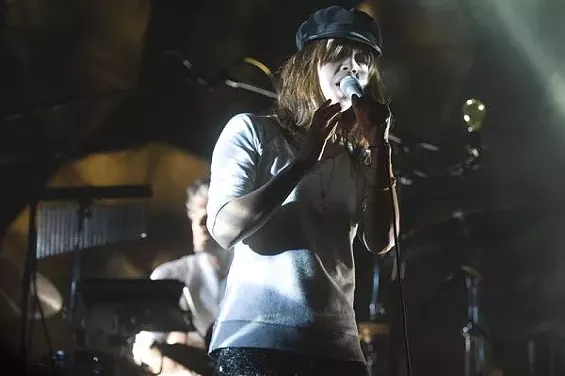 Jon Gitchoff
Blonde Redhead at the Pageant
There's a certain paradox that comes with being a fan of a band: You either have to put your faith in its efforts without questioning its all-important artistic vision, or you become one of those people who eschews the new and whines that "it's just not the same" as the old stuff. Unfortunately, I found myself in the latter category last night watching Blonde Redhead at the Pageant. The band hasn't played St. Louis in a decade, since they came here in 2000 and opened for (wait for it) Red Hot Chili Peppers, so it was a bit shocking to see how few people showed up.
View a slideshow of Pantha du Prince/Blonde Redhead photos from the Pageant show
The New York-based trio of twin brothers Amedeo and Simone Pace and Kazu Makino just released its eighth studio album, Penny Sparkle. By all accounts, the LP is either a triumphant, natural evolution of its slowly-mellowing sound or the final nail in the art-rock coffin. Whether Blonde Redhead comes back in another three years with an album harkening back to its diet Sonic Youth roots, full of churning guitar and almost danceable rhythms, remains to be seen. (At this point, such a move seems as likely as Sufjan Stevens finishing the other 48 state albums.) It's not that the band doesn't do the dreamy, borecore thing extremely well; it does. It's that while all the tracks on Penny Sparkle have the exquisite melancholia we've seen before, they seem to slide into the ephemera without leaving the indelible mark of say, Misery is a Butterfly-era Blonde Redhead.
Jon Gitchoff
Pantha du Prince at the Pageant
German producer Hendrik Weber (a.k.a. Pantha du Prince) played a 45-minute set of impressionist minimal house, that may or may not have been viewed by some in the crowd as well-formed background music. A Blonde Redhead show may not be the best place to showcase the talents of one of Germany's top producers, but his set was pretty fantastic. His builds are slow and deliberate, colored in with organic sounding chimes and tame synth lines, but a few of his lead-ins to new compositions lacked the smoothness you'd expect from otherwise fastidious adherence to ambient techno. Weber closed with "Stick to My Side," featuring the unmistakable vocals of Panda Bear's Noah Lennox.
Kazu Makino walked out in vaguely equine white mask that had a tuft of long blonde hair spilling from each eye--something you'd probably find in Karin Dreijer Andersson's trunk of bizzaro head gear. (It's possible, since Penny Sparkle was produced by Fever Ray's producers, Van Rivers and Subliminal Kid.) The stage was set with flickering, exposed element light bulbs and glowing gold umbrellas, set up face-out and photo-shoot style. "Black Guitar" opened the set, a song awash with Amedeo's sad guitar and Makino's whisper-light vox. Makino purred over the delicate synth on their new single, "Here Sometimes."
To deliver the kind of intimacy Pace and Makino's singular voices are capable of requires a certain je ne sais quoi, not just guitars and synth, but raw passion. However, their voices convey moods with an ease that most enigmatic indie rockers wish for daily, but they've been doing this so long that their performance felt like a business transaction. You pay to sit, we play everything really well, and that'll be the end of it.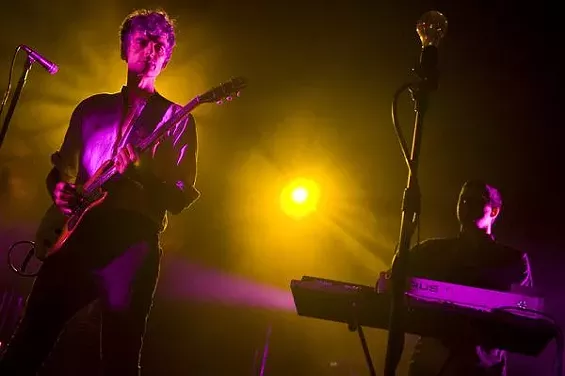 Jon Gitchoff
Blonde Redhead at the Pageant
The stringy, spare guitar opening of "In Particular" got an immediate reaction from the crowd, and on that song at least the band shone, with Amedeo ripping angular crunch from his guitar and Makino's winsome voice slithering appropriately through the chorus. "23" and "Falling Down" were also appropriately gutting; they finally put some blood behind all that heartsick emotion.
There's a measure of distance in the band's material that should be alleviated by seeing the songs come to life on stage. Maybe my familiarity with the earlier stuff took its toll, but hearing one of my favorites from Penny Sparkle, "My Plants Are Dead," after "23" and "Spring By Summer and Fall" sort of felt like listening to a Led Zeppelin encore where Robert Plant is like, "Let's take it up a notch and bust some Mozart." The crowd talked through the first two songs of the encore, but were won back over by "Melody of Certain Three." The song was beyond reproach, both in its loud, maximal execution and its placement as the night's finale.
Critic's Notebook: I was by no means disappointed in Blonde Redhead. The set was enjoyable, but far from transporting. Maybe I was too far away to see the sweat on their brows, but they were polished to uninteresting perfection.
Random Comment: One of the small cadre of people grooving down in front to Pantha Du Prince: "What's the DJ's name again?"
Setlist Black Guitar Here Sometimes Dr. Strangleluv SW Oslo Spain In Particular Will There Be Stars Falling Man 23 Spring By Summer and Fall
Encore Penny Sparkle My Plants Are Dead Melody of Certain Three