Last week, hundreds and hundreds of musical acts descended on New York City for the annual CMJ Music Festival. St. Louis had a few artists there performing, including Rockwell Knuckles and Scripts 'N Screwz. Screwz (a.k.a. Damon Davis) was kind enough to pass on some photos and a few words about his group's experience. Enjoy! BTW: SNS is performing at this weekend's St. Louis Secret Sound Festival.
Jerrime Rogers, Damon Davis
Who knew Elmo was the exact same shade as Cardinals red?
So, this week, we descended upon the isle of Manhattan for this year's CMJ conference. It was amazing! We here in St. Louis have no idea what it means to be able to get everywhere you need to go without a car, but we definitely learned this week. I think my feet are permanently swollen from walking all over the place. This subway was also an adventure. I saw people breakdance, pass out, make out, throw up -- and that's just what I can remember. It was crazy. All the shops and store where cool, too. (Not a Walmart in sight -- down with the evil empire.)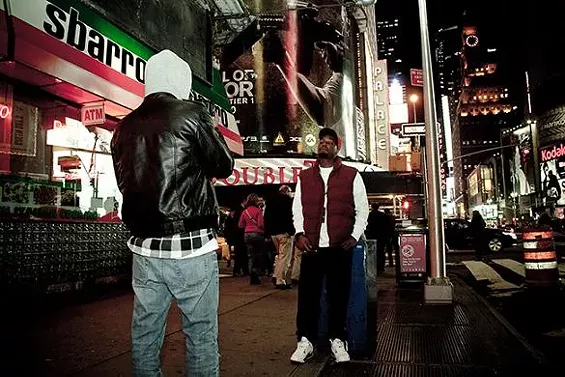 Jerrime Rogers, Damon Davis
When we first got there, we all thought the people were rude, cause no one would look you in the face, but as I got more use to the culture there, I noticed people were just so focused on what their next move was that they all kinda just lived in their own world. Everyone I talked to was uber-cool, with the exception of your occasional jerk, but they aren't as rude as everyone says.
Jerrime Rogers, Damon Davis
Our show at the ReCoup Lounge was dope, and the people were really receptive to our work. People say, "If you can make it in NYC, you can make it anywhere," but I think they should change that to, "If you can make it in St. Louis, you can make it in NYC, and then you can make it anywhere." We met some dope artists, caught some dope shows, and even doper parties. We saw some familiar faces and got some awesome food. All in all it was a great experience, and I would do it twelve times over.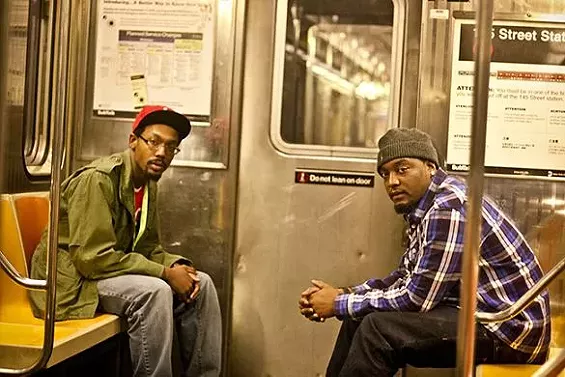 Jerrime Rogers, Damon Davis
Scripts 'n Screwz on the subway.
Jerrime Rogers, Damon Davis
Leaving their mark in NYC...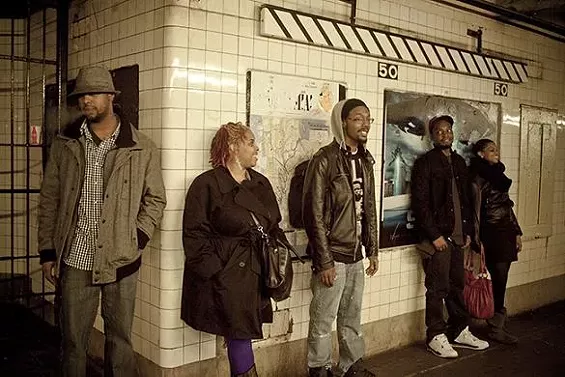 Jerrime Rogers, Damon Davis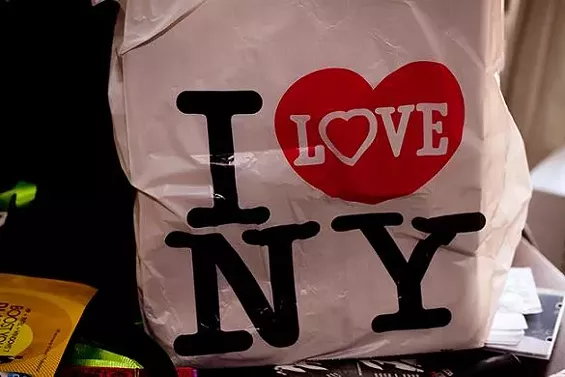 Jerrime Rogers, Damon Davis