(For a review of of Montreal at the Pageant, click here.)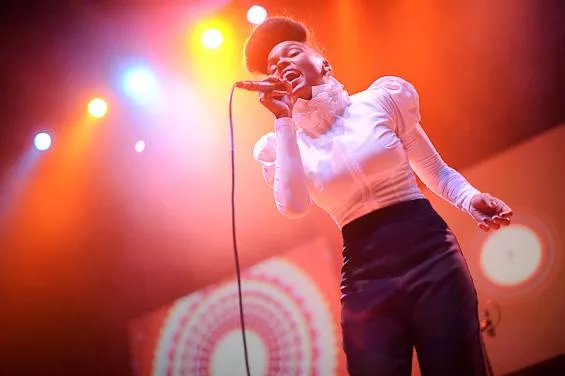 Todd Owyoung
Janelle Monáe opening for Of Montreal at the Pageant.
Janelle Monáe is proof that there's hope for music yet. The pint-sized singer/performer doesn't conform to any one genre; she openly flaunts sonic limitations and musical boxes. In fact, knowing the Kansas City native's style and sass, she'd probably do a well-choreographed, funky dance in retaliation if anyone tries to pigeonhole her.
Her 55-minute opening set before Of Montreal underscored her individuality. The lights went down around 8 p.m. and a video screen fired up with a picture of her, as the appreciative crowd started screaming with excitement. Monáe recited a mission statement in a fierce monotone, ending it with: "You will dance or die."
View an entire Of Montreal/Janelle Monáe slideshow
As dramatic music wafted over the crowd, several hooded figures draped in robes crept onstage and danced. Monáe burst out from beneath one of them, transformed it into a cape and immediately spat into "Dance or Die." Laden with calypso beats, funk guitar and Monáe's impossibly fast flow -- think vintage Salt-n-Pepa or vampire b-girl - the song seamlessly evolved into "Faster." That skiffling tune's Bjork-doing-the-Charleston vibe meshed well with "Locked Inside" - a song whose playful, "Wanna Be Starting Something" rhythmic stutters and vibe foreshadowed her appearance with Of Montreal later in the night.
A keyboardist, guitarist and drummer - all of whom kept up with her relentless pace and energized movements - kept the dizzying musical detours coming. Groups of dancers, who were dressed as everything from nuns to monsters, wandered on and off stage to add more color. Monáe's restraint was just as noteworthy, however: A cover of Charlie Chapin's "Smile" - a song also covered by one of Monáe's influences, Michael Jackson - was stunning. As her guitarist played softly faded melodies next to her, Monáe let her voice soar to its upper limit and well with emotion; she became a trilling songbird reminiscent of Judy Garland.
Later, she beckoned Of Montreal mastermind Kevin Barnes to the stage with a breezy exhortation, "Kevin Barnes, where are youuuu?" The pair then dueted on "Make the Bus." Barnes' gawky dance movements and gestures - while so fitting for Of Montreal's patchwork dance-pop - felt a tad out of place next to Monáe's lithe, natural moves. The pair's voices also didn't quite mesh, either, mostly because the music was so loud. This was a problem throughout the set; at times, Monáe had to struggle to be heard over her backing band.
Monáe's charisma and spectacle often compensated for this imblance, however. During "Sincerely, Jane," Monáe artfully killed off zombie backing dancers and sent the goons away with a combination of pretend finger-guns, ballet moves and tap dancing. Her exaggerated pompadour, black tuxedo pants and white blouse - which featured bulbous shoulder pads, like an '80s fashion nightmare - was at once androgynous and feminine. The outfit was the perfect representation of her otherworldly strength.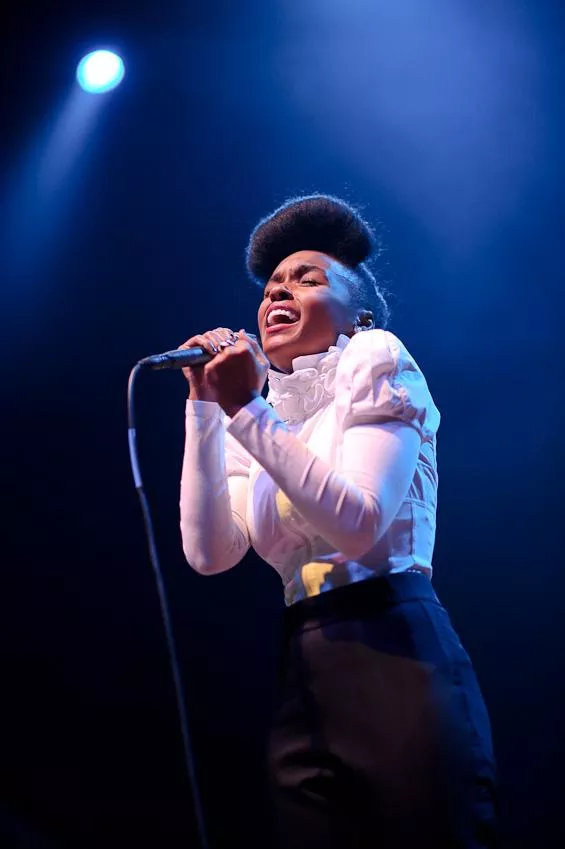 Todd Owyoung
Janelle Monáe at the Pageant
Monáe's debut full-length, The ArchAndroid is a dense, Kaleidoscopic album whose execution often lags behind its ambition. That occasionally hampered her live set as well. The sequencing of the songs felt off, which drained energy and momentum. Stretches of meandering psychedelic guitar and a long interlude where she painted an outline of a human derriere with the word "Love" especially dragged.
However, the show picked up near the end, with the indomitable triptych of "Oh, Maker," "Cold War" and "Tightrope." The first song is one of Monáe's more traditional compositions, a modern R&B showcase; live, ot felt more reminiscent of Lily Allen's reggae confections. The final two songs perked up the pace even more, with a frenzy of soul breakdowns, high-stepping footwork and double-time drill beats. Monáe ended "Tightrope" by singing a line or two a cappella, and leading her band through some pointed sonic punctuation marks. The clarity and strength she summoned ended her set in an appropriately theatrical way - and just made the audience adore her more.
Critic's Notebook: A friend described Monáe like this: "Nona Hendryx meets Teena Marie."
Setlist: (think I have everything -- if I missed something, give a shout!) "Suite II Overture" "Dance or Die" "Faster" "Locked Inside" "Smile" "Sincerely, Jane" "Make the Bus" (w/Kevin Barnes) "Wondaland" "Mushrooms & Roses" (? Is that right?) "Oh, Maker" "Cold War" "Tightrope"