Jon Scorfina
Safety Words: Ian Jones (left) Sean Price (right)
Safety Words consists of Sean Price (a.k.a. Dr. Phelonious) and Ian Jones (a.k.a. Parisian). The pair's Ghostfaced Pixels Mixtape has made quite a stir in the local music scene, with its mash up of Ghostface Killah's rhymes and eight-bit-Nintendo beats. Safety Words can be seen performing cuts from the album live on October 30 at Cranky Yellow as part of the St. Louis Secret Sound Society festival. As you might expect, both Jones and Price are also record collectors with vast, diverse collections. We met at the latter's house, although Jones brought over a few crates of records and we discussed DJ Shadow, Ethiopian jazz and a whole lot about 8-Bit music.
The conversation also spawned a Last Collector Standing first: I was asked to pick a favorite video game theme, and Safety Words would take on the challenge of creating an original track around that song. I picked the music from the first Dr. Wily stage in Mega Man 2 for the NES and, as promised, Safety Words delivered! Check out the RFT Last Collector Standing exclusive:
MP3: Safety Words, "Helmet Under Helmet"
Last Collector Standing: Why do you both still collect records in a time where you can download so much music for free? Sean Price: I started collecting records when I was a teenager because they were cheap. They were cheaper than CDs in a lot of cases. That's why I started. I guess I still do because if I like something I feel like I need to own it. At least put some money toward that thing I like rather than just downloading it. I still check stuff out on the internet. But if I really like something, I'm going to go look for it.
Ian, do you notice any real difference between records and CDs? Ian Jones: Not sound.
Price: A lot of people talk about [how] they sound different.
Jones: I always hear people say that if you pick up this 180-gram vinyl versus a CD you will notice a big difference, but I've honestly not noticed any difference whatsoever.
The reason I started buying records and continue to is because before I started producing, I would DJ...
[Sean's cat Chibi jumps on the table to interrupt the conversation]
Jones: Chibi, what up? [laughs]
Jon Scorfina
Chibi the cat!
Price: That derailed the conversation.
Jones: The thing that started me buying records over CDs was listening to DJ Shadow and his record Endtroducing...... I listened to that and was like, "Huh, all this is comprised of old records!" It's a hip-hop record, but I found out he used a bunch of old records. So I started buying records instead of buying CDs.
Price: Another thing is a lot of stuff isn't on CD or digital format. One of the reasons I do collect records was because you go somewhere, and they will have crates of [records] that are just mixed up. You may not know what it is. A big part of it is just the surprise element of finding something really cool that you've never heard of before, and is probably not likely to be released on a CD or digital format anytime soon.
People seem to care a lot less about CDs now.
When the last time you bought a CD? Jones: The last CD I remember getting was... Mulatu Astatke has this record Ethiopiques Volume 4 and it's this collection on Ethiopian jazz. That CD blew my mind. Actually, a lot of the music on that is in the movie Broken Flowers. That probably is my favorite record. Sean gave me that on CD because I couldn't find the vinyl.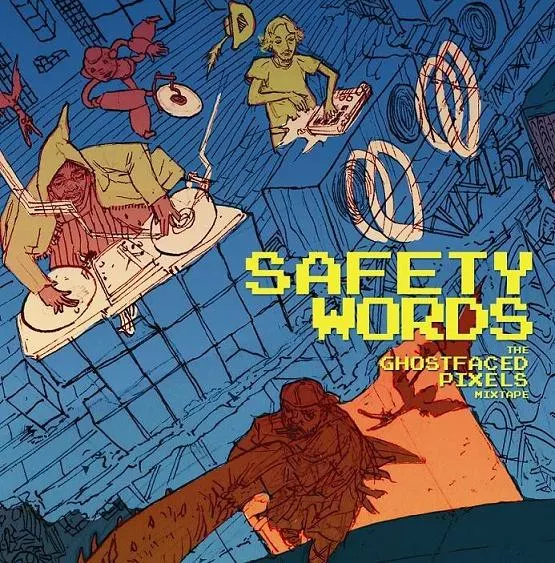 Price: It wasn't pressed on wax initially. I had to do some finagling with a dude from England who had a copy of it. As far as I know now, it's still out of print.
Jones: That is the only reason why I got the CD. I felt like I had to have a physical copy of it, but it's not on wax. I've got to get it somehow.
How did you both get into music in the first place? Jones: I know what my first record is, but... my dad passed a bunch of his old records to my aunt. When I got out of school in elementary school I used to go over to my grandma's house and hang out with my aunt. She would play records for me. She gave me a bunch of Doors and Zeppelin. You think that my first records would have been that but somewhere in there I picked up a Cyndi Lauper record. I think "Time After Time" was that first record.
Price: Nice.
Jones: I don't know if it was nice or not. [laughs]
Price: I think the first CD I bought was Nirvana's Bleach. I'm trying to remember the first record I bought. When I first started buying records I was into bop jazz. It could have been a Thelonious Monk record. Some of my earliest records are that type of record.
How did your group Safety Words begin? Jones: I was going to UMSL taking Japanese. Jenny [Sean's wife] was the Japanese teacher, and I used to DJ at all of the events that they had. At one point, she was like, "You should talk to my husband. He makes beats and music."
I remember Sean actually came to one of these things where I'm playing records, and I'm looking at this guy. Sean had long hair. I'm like, "What is this supposed to be, really?" I didn't think he was somebody who was going to be into hip-hop. That's me judging a book by its cover.
I came over here and he said, "Dude, check some of his beats out." I listen to a lot of his shit and was like, "Oh man, I can't handle that. That's pretty intense." We started hanging out from there. We both like old-school Nintendo games. We sat down and I was like, "We should take lyrics from Ghostface and Wu Tang and all these Nintendo beats we've been making and make a CD out of it." That's how we got started.
Do you have a favorite video game theme? Price: What was that one guy's name who was doing all that crazy Nintendo music?
Jones: I don't know. The same guy who did the video game music for Wolverine on the NES... what else did he do?
Price: Solstice.
Jones: He's an 8-bit composer. While we were doing that album we [tried to find] as much Nintendo music as we possibly can. There are like a thousand games out there, so what's the easiest way to narrow this down? Us narrowing it down was trying to find different 8-bit composers who said they did stuff with this many channels of music. I don't know what my favorite theme is.
Price: What's a game with some awesome music?
Jones: Ninja Gaiden got some fire in it!
Price: Yeah, Ninja Gaiden does. The previously mentioned Solstice has some pretty crazy music.
Jones: I do like Super Mario Bros. 2, but I don't know if it's because of the music in it. Actually no, Super Mario Bros. 2 is pretty badass. One of the reasons why we came up with the idea to make more out of it was because I learned from an interview with Oh No, he's a producer on Stones Throw, he was talking about if you play the game you can listen to the music and everything. But if you pause it all the melody drops out and there's a bassline there. We checked it out and we were like, "Aw shit, we can chop up all these different pieces."
Price: It's a pretty badass sounding bass, actually. [Also] the pause music from Battletoads.
Jones: That was the first time I realized that Nintendo music was a viable option for something to sample.
Price: It's [got] some crazy sounding drums! They sound great!
Jones: I remember as a kid, listening to Nintendo music and renting these games from Schnucks. I used to rent games all the time. I remember my mom would come home from work, and then we'd pick up a game. I would play the game, but then in addition to that I would let it sit on the title screen or go to where no enemies could kill me and just listen to the music. Battletoads is definitely one of those games, because you pause it and it's got this real meaty kick and this real meaty snare.
Nintendo music overall is pretty awesome. I don't follow too much of that 8-Bit sound now. The last thing I heard was stuff from the Scott Pilgrim game. All that was the shit! I think it's so cool when you think about what they had to use. Now, if you pick up a Final Fantasy there's all these orchestral arrangements and huge budget they can use. Back then, you had these four channels; you had this sweeping sound and a beep, and a little bit of a range for melody. They took it... like the guy who did Solstice and Wolverine.
Price: I actually found his name. Tim Follin. I think at one time we were like, "This guy's the Axelrod of video game music." [referencing producer David Axelrod]
Jones: He is the Axelrod of video game music!
They were limited with what they could use. So these dudes were like, "Yeah, it's a video game, but this is what we do. We love music so we're going to come up with the most complex compositions that we can."
Price: [Reading from his phone] It says here he did Bubble Bobble, Bionic Commando, Ghouls 'n Ghost, Solstice, Silver Surfer.
Jones: Silver Surfer had some fire to it!
Price: He did a bunch of stuff. All his music was really crazy.
What was the first video game you ever owned? Jones: I definitely had to have been something from the 8-Bit Nintendo era. I got a Nintendo and obviously it came with Super Mario Bros. Everyone who picked up a Nintendo that was one of their first games. The first game I remember getting was... Nintendo Power Magazine had this thing [where] if you subscribed you'd get a copy of Dragon Warrior. I think Dragon Warrior was the first game that I had.
Price: Ninja Gaiden was one of the earlier games that I remember being blown away by. A lot of the games that I own right now are ones that I had to buy when I started getting a little bit of money. When Funcoland was around you could get Nintendo games for like two dollars. Even well past the Nintendo age I was still buying.
Is there the same type of collector culture with classic video games as there is with records?
Price: Yeah, I'd say among our group there is a level of connoisseurship about what games you're into.
Video games started as a digital format. The difference with records was that it was analog. Do you think video games are less likely to be collected because you can download everything, or is there something about having that package and original artwork that makes it more worth owning?
Price: There are definitely people, if you actually have the video game in the original box with the manual, they will pay more money for it.
Jones: For us, we both have modded PSPs so as far as collecting goes I don't really collect video games because I know all this stuff is on my PSP. I know I can just play it this way.
Price: The thing is though, I got rid of all my other systems like Super Nintendo, Playstation, N64, Sega. I got rid of all that stuff except for my Nintendo.
What's the strangest or craziest experience you've had DJing?
Price: We can think of one that's infuriating.
Jones: I've had my equipment for a while. I've got two Technic 1200 M5Gs and a mixer. They are not top-top of the line, but they're expensive enough. For some reason, depending on where you go, people like to fuck with your equipment. That's one reason I made the transition from DJ to producer.
Price: You had that one guy steal your knobs off your mixer that one time!
Jones: I had a drunk woman pushing down on my needle! She wanted us to play "Build me up"...
Price: "Build Me Up Buttercup!" [Laughs]
Jones: That lady asking me for "Build Me Up Buttercup" tore my mind. Really? I don't know how to handle that!
Price: Have you been paying attention all night to the type of stuff we've been playing?
What do you think it will take to keep people buying records 20 years from now?
Jones: As far as going to the stores and buying contemporary stuff I can't really say, but as far as the kind of music we make; we did make the video game themed album, but overall we make all different kinds of hip-hop. In addition to that, we listen to some of everything. People are always going to be buying records because you have to find something that no one else has sampled before. Hip-hop being sample based, you can't grab from everything that's out right now, you have to find something that nobody else has. It's definitely about going to a record store; just going anywhere to dig and find records. I can't really say much for contemporary record buying, but as far as digging through stacks I don't think that will ever die.