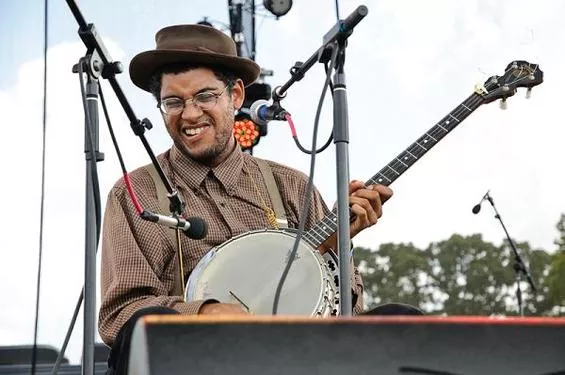 Jason Stoff
Dom Flemons of Carolina Chocolate Drops at LouFest.
It's been a long year for the Carolina Chocolate Drops, who have been on the road in tireless support of Genuine Negro Jig. The trio will make its third St. Louis appearance of 2010 tonight at the Sheldon; earlier in the year, the band hit the St. Louis Art Museum and in August, it played to a huge crowd at LouFest.
As always, CCD brings a unique blend of traditional black-string-band music that's infused with modern touches; interpretations of songs by Tom Waits and Blu Cantrell reside comfortably next to Depression-era blues and traditional work songs. It's a hybrid borne of three musicians connecting on a Yahoo! group for black banjo, meeting at a gathering of Internet friends in 2005, and studying under string master Joe Thompson in the Piedmont region of North Carolina to create a sound of their own. Vocalist and multi-instrumentalist Dom Flemons spent some time during a rare day off to discuss audience diversity, rediscovering history, building a band with old-time roots in the digital age, and what to do in St. Louis when everything is closed.
Robin Wheeler You've played three very different venues in St. Louis. Is this unusual for you to be playing the same city so often, in so many different ways? Dom Flemons Well, yes and no. The thing that's happened with our group is that, this year in particular, we've decided to reach out to a different crowd than we've had for many, many years. We're really reaching out to younger crowds that like rock, compared to the usual crowds we'd been playing for. That's something we've been working on.
There are a lot of very homogeneous shows here, but with Carolina Chocolate Drops shows, there's more diversity. Is this something you've seen in any other places? In terms of audiences mixing it up on a racial and age level, this past year and a half or so, it's really been obvious. As we've worked with Nonesuch Records, as this new album has come out and spread around, it's gotten into a whole new wave of people who are aware of us for the first time and they're having this initial reaction of, 'Oh wow. Why are there black people playing string band music? Wait a minute, let's look in this history book. Oh my God!' And we're seeing a whole new wave of people having that a-ha moment that we had five years previous when we first went to the Black Banjo Gathering [in 2005].
It's been really neat to see that, especially with our black audiences, which have grown. There's a big demographic of younger black people who are open to these strings, very similar in age to us and then a little younger. That's good to see. It's just growing exponentially in terms of age and race. It's a very exciting time.
Rhiannon Giddens and Justin Robinson both came from musical families. How does a kid from Phoenix develop this interest in old-time music and wind up doing what you're doing? I grew up with music in the household. We weren't a musical family where there was music being played on instruments. My parents were always singing with the radio and whatnot. A lot of smooth jazz, and they also watched a lot of the Motown acts when they were first coming out, when they were younger.
My dad's from Flagstaff, and he grew up there in the early '50s and it was really, really rural. It's urbanized a little bit, but he grew up when it was still a one-horse, wild cowboy town. He knew all these country songs because the radio just had one station that would switch every hour. That was the musical background that was the, the musical consciousness that was there with me.
When I got into school I played in the school band. I played percussion first, then when I was about 16 I was in the marching band, then I picked up the guitar and really got into Bob Dylan and the Beatles, a lot of the old-time rock and roll. And I always mention Chuck Berry. He's one of the guys that really opened me up to this whole world of music.
As I went along I kind of learned all these different songs in general, just on my own, learning from song books. Then I played out in coffee houses and around town. I did that all through college. For awhile I stopped playing music, and I did slam poetry for a few years. I picked up music again and I started doing a lot of the older stuff. By that time I had made my way back to the pre-war era, and I really got into that music, so I started applying everything I'd ever heard into that old stuff, mix it with the stuff people like Mike Seeger had been doing for years, mixing and matching different traditional styles.
That's where I was when I went to the Black Banjo Gathering. I picked up the banjo at random. I really liked bluegrass and I was fortunate enough to have a friend who let me borrow a banjo. It was a five-string with no fifth string; it was just four strings. I had to learn to play everything I knew on guitar on the banjo. Then I started learning about old-time music with my old-time banjo. When I heard about the Black Banjo Gathering I thought that would be a really neat thing to go to. It ended up working out that I was able to make it out there, and that changed everything.
Is there a chance of any more Black Banjo Gatherings? There was just the one in 2005 and then there was a reunion this year. There's always a chance that there's going to be something else. It's mostly trying to get people who will organize it. I'm hoping as time goes along there will be more people who want to organize it. CCD, "Cornbread and Butterbeans":
I've yet to hear of another group that's evolved from [internet groups]. There are people around who are playing this stuff, but we're one of the first black string bands to have a web presence. Rhiannon happened to do a lot of corporate work before she started doing music full-time a few years before the group, so she knew how to design a website, and that really helped us out right from the beginning, just having the basic write-up on what we were doing. That in itself drew people in.
We had never even played together as a group, but we had a website. Rhiannon had Photoshopped three pictures of us - we were on the same stage at the Black Banjo Gathering, but she Photoshopped three pictures of us on stage at different times. That was our group shot. People started booking us for gigs shortly after.
Also, we happened to be very fortunate that we started up at the time when MySpace started, and then YouTube came shortly after that, and now Facebook is going strong. That sort of stuff helped out, to where we weren't really needing to go through the normal inroads to book gigs. You had to have your press kit, send those out to press people and hope they got you. But with all that [Internet] stuff, that got pushed to the side. What's been amazing is that we've been able to catch a little bit of that, some of this different, I don't know, cultural revolution, or uprising, or something that's growing, at least in this country. People are wanting to do something different.
Any plans for the next album? We're shooting for next spring to start recording our next album. Right now we have a couple of projects we're working on. One's a vaudeville show that will be in Chicago at the Old Town School of Folk Music. We're working on a project with Twyla Tharp. That's still in the very early stages, but she contacted us and wants to try to do something. As that comes along we'll put up more details about that. Those are the main things going on so far. Just trying to finish out this year, regroup, and try to keep on truckin'.
How do you go about choosing what songs to cover, since you span so many genres? What's appealing and inspiring right now? It's been really scattered out since we've been doing so much touring. With the vaudeville project we've been poking around at a couple of different things. Rhiannon's been playing a lot of minstrel tunes from "The Banjo Instructor", which was put out by a fellow named John Briggs. It's a banjo songbook she's been going through, so that's been new.
One thing I've been going through is delving more into a lot of the earlier vaudeville blues, called classic blues a lot of the time. People like Ma Rainey and folks like that, trying to bring some of that up. And then Justin really likes a lot of indie rock. He really got into the new Janelle Monae album. There's a great article in Blurt Magazine about Of Montreal and Janelle Monae, and their collaboration. [Editor's note: And one in this week's RFT music section, too.]
What does Joe Thompson think of your success, and what you're doing? Every time we talk to Joe, he's really glad to see that we're getting out there and the music's reaching new people. He's been pretty excited about it. Also, we've got the album where we did a set with Joe, and he collects the royalties on that. There's money that's coming to Joe, so I know he's been happy about that, too. Overall it's been a win-win situation.
I saw the pleas on Facebook and Twitter the day after LouFest when you guys trying to find something to do here, because it was Monday as Six Flags was closed. What did you wind up doing? What did we wind up doing? I think ended up going bowling.