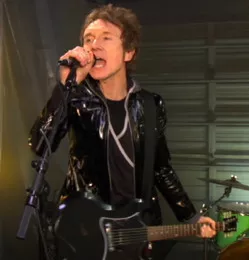 Besides the shows listed on the music page -- including the Skarekrau Radio DVD screening/puppet show extravaganza at Apop Records and tonight's Space Parlour shindig at the Firebird -- here are some other music-centric options for this lovely fall weekend. Have you found your sweaters yet? I'm still looking...
Ongoing: Nowhere Boy @ The Tivoli Set in Liverpool, England, in the 1950s, Nowhere Boy is the story of John Lennon's adolescence. The movie follows the future Beatle as he struggles to reconcile his relationships between the aunt who raised him and his biological mother. Showtimes here.
Friday: Kentucky Knife Fight @ Vintage VInyl A few months ago, Kentucky Knife Fight released its second album, We're All Nameless Here. In his review, Christian Schaeffer said the album "uses punk's energy and drive without sacrificing the band's rustic aesthetic." See the band in action with this free in-store. 8 p.m.
The Lighthouse and the Whaler @ The Gramophone The Lighthouse and the Whaler is wintry, melancholy Indie-folk from Cleveland, Ohio, that's vulnerable and snowed-in sad. The Blind Nils and Pachyderm are also performing. 9 p.m. $5. 21-plus.
Saturday Con-Tamination Halloween Horror Show, with Lost Boys actors Brooke McCarter and Billy Wirth and musician G Tom Mac, Firebird Halloween comes early to St. Louis, as two actors from '80s cult flick The Lost Boys and musician G Tom Mac -- also known as Gerard McMann -- star in the Con-Tamination Halloween Horror Show. While best known for the movie's Sisters of Mercy-like track, "Cry Little Sister," G. Tom Mac has also worked with Roger Daltrey, co-written songs for Chicago and Carly Simon and written music for TV shows such as Scrubs and Smallville. He'll be performing at 10:30 p.m. $20 to $55.
"Cry Little Sister":
Keelhaul/Russian Circles/Call Me Lightning @ Off Broadway More music from Cleveland, this time stoner-metal; last year, the band released the fantastically named Keelhaul's Triumphant Return to Obscurity LP via Hydra Head. 8 p.m. 21-plus: $10 in advance, $12 day of show. Under 21: $12 in advance, $14 day of show.
King Thief EP release @ Cicero's Rockers King Thief release a new EP, The End of the World. Judging by new tune "Write Your Name," the band's strength is still theatrical, well-constructed rock with gothic and punk tinges. Thom Donovan, who recently moved to Nashville, is also on the bill.
Sidewalk Sale @ Vintage Vinyl and Euclid Records Two record stores in St. Louis are taking advantage of the nice weather to have sidewalk sales. Euclid's third-annual event runs Saturday and Sunday; according to the store's description, "All the LPs and CDs found outside will be sold at $3 apiece, or even better, at 3 for $5.00. Posters, record crates, cassettes, videotapes, and ephemera will also be out on the street. But that's not all. The entire selection of $4.99 CDs inside the store will be marked down to 5 for $15. And everything else inside the store (with the exception of the Euclid Sessions 7" series) will be sold at 10% off our everyday prices. That's every new and used LP, CD, DVD, book, 7" single, poster, or t-shirt in the store priced higher than $4.99, on sale at 10% off." Vintage Vinyl's sale is just taking place Saturday starting at noon through early evening; from personal experience, the vinyl is well worth combing through.
Sunday Pigeon John/DJ Abilities @ Lola The LA rapper Pigeon John and DJ Abilities (of Eyedea & Abilities fame) extend the weekend on Wash Ave on the "Dragon Slayer" tour. (It's named after Pigeon John's new album of the same name.) Black Spade, Dusty Wallets, DJ Needles, and DJ Who are opening. 9 p.m. $10. 21-plus only. More info.
Ludo @ The Pageant The hometown Moogpop faves play its first official show in town since releasing Prepare the Preparations. Tommy & the High Pilots, There For Tomorrow and the Graduate are also on the bill.
Tech N9ne @ Pop's Kansas City's beloved, popular rapper makes one of his always-welcome local appearances. E-40, Krizz Kaliko, Kutt Calhoun, Big Scoob, Jay Rock, Glasses Malone, PREACH and Kold Kace are also on the bill. (Whew.) 7 p.m. $23 in advance, $25 day of show.